Harnessing technology to monitor tree stability
Urban trees offer a range of benefits from improving air quality and helping to reduce high summer temperatures, to enhancing the cityscape and bringing people closer to nature. But trees can also pose a danger to the public when they become unstable, particularly when their root systems are loosened by extreme weather events, such as typhoons and rainstorms. In 2018, more than 60,000 trees in Hong Kong were uprooted by super typhoon Mangkhut. Even after typhoons have gone, the risk of trees falling remains, as the strong winds and heavy precipitation might have loosened their roots.
The regular monitoring of trees plays an important role in maintaining public safety, but conventional visual inspections are not always effective. As a result, there is a pressing need to harness technology for large-scale monitoring of trees, enabling timely mitigation measures to safeguard the public and facilitate urban forestry management in a sustainable city.
A smart solution for large-scale tree management
To help solve the issue, a research team led by Dr Charles Wong, Associate Head (Academic) and Associate Professor, Department of Land Surveying and Geo-informatics at PolyU, has invented a Smart Monitoring System for Urban Tree Management.
Leveraging Smart Sensing Technology, the System uses wireless sensors which are attached to the lower trunks of trees. If trees have weak anchorage at their roots, it causes them to tilt. "Equipped with built-in accelerometers, the sensors measure the angles at which trees are tilting, the direction of their tilt, their sway trajectories and any unusual movements," Dr Wong said. Near-real time information from the sensors is then transmitted to a data centre at PolyU for processing and analysis.
The sensors measure the angles at which trees are tilting, the direction of their tilt, their sway trajectories and any unusual movements.
To identify trees that may be in danger, a set of dynamic thresholds has been produced taking into account different environmental factors. If the sensor detects that the tilting angle of a tree has exceeded one of the thresholds, a message is sent to the responsible tree maintenance office. The messages have three levels: Alert, Alarm and Action. The location of the tree and data relating to its environment, such as local wind speed and precipitation, can be obtained using the Geographic Information Systems.
Smart sensors have been installed on about 8,000 trees, particularly in locations with high levels of pedestrian and vehicle traffic, such as those on pavements and slopes and in parks. The System goes beyond simply identifying which trees require a safety inspection. It also uses a set of Artificial Intelligence algorithms, developed using Spatial Big Data Analytics, to predict the leaning trend for trees. This enables tree monitoring on a massive scale and mitigation measures to be taken in advance.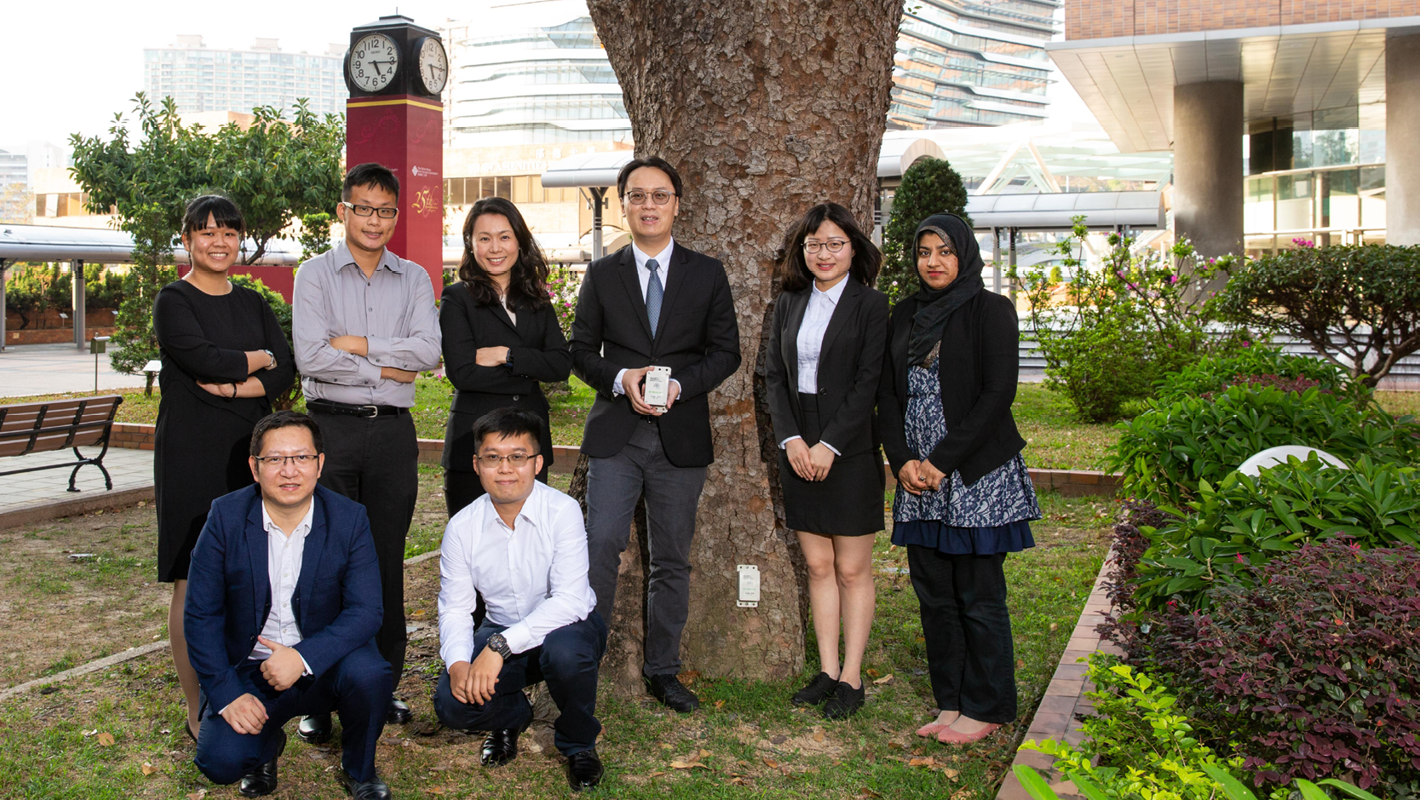 Dr Charles Wong (back row, third from right) and team members developed the Smart Monitoring System for Urban Tree Management.
Alongside monitoring the stability of trees, the System also collects data on factors that may contribute to the uprooting of trees. These factors included the impact of topography, temperature and wind, as well as human-influenced elements, such as traffic and air pollution. The data collected is being used to formulate precautionary strategies.
This PolyU-led project has received HK$32.8 million of funding from The Hong Kong Jockey Club Charities Trust, as well as support from government departments. Other collaborators in the project include The University of Hong Kong, The Hong Kong University of Science and Technology and Friends of the Earth (Hong Kong).
A holistic approach for urban forestry management
The System has significant implication for sustainable development, facilitating a holistic approach to urban forestry management. The data collected not only enables potentially hazardous trees to be detected, but it can also be used to inform the future design of urban landscapes. Understanding the correlation between environmental variables and the behaviour of urban trees forms an important part of smart city development.
In addition, the project includes a public education and engagement element through a "Train-the-Trainer" programme, under which 100 university students attend lectures on tree management and are appointed as ambassadors. They then pass on their knowledge to around 4,000 local secondary school students.
The System has had a far-reaching influence. Recently, the project's impact was recognised with a Gold Medal at the Special Edition 2021 Inventions Geneva Evaluation Days – Virtual Event organised by the International Exhibition of Inventions of Geneva.