PolyU scholar wins Hong Kong Humanity Award 2020
Professor George Woo, Emeritus Professor and Senior Advisor at PolyU's School of Optometry and former Dean of the Faculty of Health and Social Sciences, believes that with timely support people with suicidal tendencies could be saved.
This conviction has motivated Professor Woo to serve with The Samaritans for nearly two decades, working as a hotline volunteer at its centre since 2002, and as its Chairman of the Board of Directors from 2015 to 2019. His devotion to helping people in emotional distress made him one of the awardees of the Hong Kong Humanity Award 2020.
The Award, which is jointly organised by the Hong Kong Red Cross and Radio Television Hong Kong, is given to individuals who have made outstanding humanitarian contributions in three core areas: protection of human life, care for the health of the vulnerable, and respect for human dignity.
Professor Woo is often dubbed the father of optometry in Hong Kong. He studied optometry and physiological optics in Canada and the US. After coming back to the city in the 1980s, he founded the Department of Diagnostic Sciences at the then Hong Kong Polytechnic (the predecessor of PolyU) to promote the development of optometry in Hong Kong.
"When I worked as an optometrist, I realised there were a lot of emotional traumas which we can't see with our eyes," Professor Woo said. "When people were diagnosed with severe vision loss that even surgery and medicine couldn't help, many of them could not accept the reality. They often suffer from depression and developed suicidal thoughts," he explained.
Professor Woo remembered meeting an anesthesiologist who lost his vision because of diabetes. "He wanted to commit suicide. I spent a lot of time comforting him during this immensely challenging phase of his life." Ultimately, he abandoned the idea of killing himself. Since then, Professor Woo has aspired to provide support to other emotionally distressed people.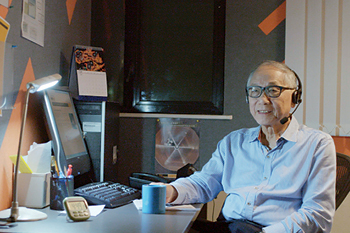 Professor Woo also recalled that many years ago, a colleague and her husband sadly committed suicide due to her pain and suffering from cancer. The tragedy was a personal reminder of the importance of providing timely support.
Despite being aged 79, Professor Woo still works overnight answering calls at the Samaritans' hotline centre. "Those who call us for help are usually having a very hard time. We listen to their concerns with empathy and patience. By understanding their worries, I hope I can walk them through the darkest period of their lives," he said. "We should try our best to protect every precious life."
Big-hearted and well-respected, Professor Woo dedicates his knowledge, time and efforts to not only treating patients who have lost much of their eyesight, but also curing wounds invisible to the eye.
Hear from Professor George Woo:
.