Textile scientist wins Guanghua Engineering Science and Technology Award
Professor Tao Xiao-ming
---
BEng in Textile Engineering, East China Institute of Textile Science and Technology, 1982
PhD in Textile Physics, University of New South Wales, 1987
Joined PolyU in 1994 as Lecturer (College of Degree Studies), Institute of Textiles and Clothing
Chair Professor of Textile Technology, 2002 - present
Head, Institute of Textiles and Clothing, 2003 - 2011
Director, Research Centre for Smart Wearable Technology, 2018 - present
World President, The Textile Institute, 2007 - 2010
---
PolyU textile engineering expert Professor Tao Xiao-ming, Vincent and Lily Woo Professor in Textiles Technology, and Director of the Research Centre for Smart Wearable Technology, was honoured with the 13th Guanghua Engineering Science and Technology Award by the Chinese Academy of Engineering recently.
"I feel proud and deeply honoured to receive the national award. We, as scientists and close partners of the industry, will continue to leverage our strengths in research and development as well as the world's leading technologies to develop innovative solutions," Professor Tao said.
The prestigious award is the latest addition to the impressive collection of accolades received by Professor Tao, who has spent nearly three decades conducting research in intelligent fibrous materials, nanotechnology, photonic fibres and fabrics, flexible electronic and photonic devices, smart washable technology, yarn manufacturing and textile composites. Over the years, Professor Tao has published more than 800 scientific publications and her book Smart Fibres, Fabrics and Clothing, published in 2001, was the first book written on the topic.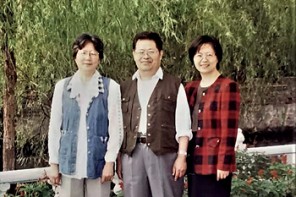 Born and raised in the city of Yangzhou in Jiangsu province, Professor Tao's interest in science was ignited at an early age thanks to a gift from her parents. "They gave me a book called The twentieth century as described by scientists when I was a primary school student. I had a curious mind and loved to dismantle and reassemble things like clocks and toys," Professor Tao reminisced. "It was a real eye-opener and helped broaden my horizons on science and technology."
From Yangzhou to Hong Kong
Professor Tao's fascination with scientific knowledge eventually steered her towards a career in the field of textiles. In 1994, she moved to Hong Kong and joined PolyU as Lecturer (College of Degree Studies) in the Institute of Textiles and Clothing (ITC). She went on to head the Institute between 2003 to 2011.
Under Professor Tao's leadership, ITC became one of the leading fashion and textile departments in the world. Working closely with the textiles industry, she led a team of researchers from the Institute to win a HK$330 million government grant to host The Hong Kong Research Institute of Textiles and Apparel. She also founded the Nanotechnology Centre for Functional and Intelligent Textiles and Apparel, and the Research Centre for Smart Wearable Technology.
Over the past two decades, Professor Tao's team has secured more than HK$180 million competitive research grants. Of the 41 international and national patents it has obtained, 12 have been licensed to companies worldwide for industrial applications.
When inspiration strikes
One prominent example is a major breakthrough in yarn manufacturing that solved a long-term problem of the textile industry known as residual torque. This issue causes fibers to twist together, affecting the smoothness and quality of yarns.
Professor Tao had spent years trying to solve this problem before an idea struck her while she was having dinner one night in 2001. "I suddenly remembered something about yarn structure I had read when I was a doctoral student," she recalled. "A new idea occurred to me and I immediately wrote it down on the back of a paper napkin at the dinner table. It was about increasing the number of residual turns in the yarn and changing the tightness of the twists." When her idea was tried out on yarn spinning machines, it produced straight threads with no kinks.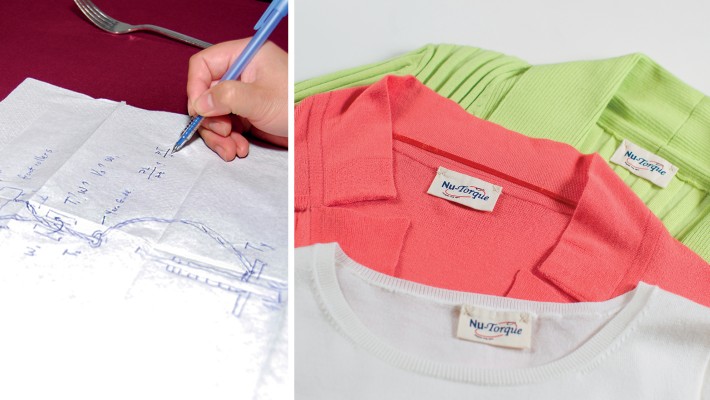 Passionate about solving the problem of residual torque, Professor Tao immediately wrote down a new idea on a table napkin which led to the invention of the Nu-Torque technology.
The process not only improved yarn productivity and garment quality, but also reduced energy consumption and eliminated the discharge of industrial waste. The technology was subsequently trademarked under the name Nu-Torque. Today, the Nu-Torque Singles Ring Yarn Technology has received a number of patents in the US and China, and has been licensed to 12 textile manufacturers in Mainland China, Hong Kong, Taiwan, Thailand and Australia. It has also been used in the production of textile and apparel products worth over HK$13 billion.
Vision, Inspiration and Persistence
Professor Tao's pioneering research achievements over the decades have played a pivotal role in fostering the development of Hong Kong as one of the world's leading centres in the field of textile technology. "From my research team, four technology companies have been spun off," she said. "It is pleasing to see that our work has led to inventions adopted by the industry worldwide, enhancing production efficiency, cutting costs and satisfying the markets with value-added functional products."
Professor Tao is currently focusing on two research areas — smart-textiles integrated with wearable systems for health-related applications, as well as wide-spectrum anti-pathogenic biopolymers and textiles for healthcare purposes.
Looking back at her distinguished career as a pioneering researcher, Professor Tao cited loneliness as the biggest challenge she has had to overcome. "Your work may not be understood or supported by others when new ideas first come out," she explained. "You need to have confidence in your own scientific judgment and persist in the course you have chosen."
To aspiring scientists pursuing their dreams, Professor Tao summed up her advice in three words: VIP (Vision, Inspiration, Persistence). "I would encourage them to follow their vision and be observant of things around them as inspiration can come in any shape or form. With persistence, their efforts will be rewarded in the long run."
To aspiring scientists pursuing their dreams, Professor Tao summed up her advice in three words:
VIP (Vision, Inspiration, Persistence).