A conversation with Treasurer of the University Ms Loretta Fong — Passion and Perseverance
Ms Loretta Fong Wan-huen joined Arthur Anderson, which merged with PricewaterhouseCoopers (PwC) in 2002, after graduating with a Master's degree. She became a Partner at PwC, one of the "Big Four" accounting firms, in just 11 years. Ms Fong's success comes from her passion for her career and an inner drive to advance. Ms Fong, who has an international perspective and extensive experience in providing accounting, audit and consulting services to private and publicly listed entities, was appointed Treasurer of The Hong Kong Polytechnic University in January 2019.
---
With a wealth of experience serving as a board member in other public organisations, how do you see your role as Council Member at PolyU?
I serve as Treasurer on the University Council and the responsibility that goes with this role is much greater than that of just a board member of a public organisation. I have a fiduciary duty to stakeholders, a challenge that is heightened by PolyU being a government-funded university. In my role, I have to ensure that PolyU continues to have stringent mechanisms and proper internal control systems for its financial management. I work closely with the Management, related committees and offices to safeguard and manage the University's finances, ensuring resources are appropriately allocated for PolyU's strategic development. PolyU has launched a number of major initiatives in recent years to develop its human capital, further interdisciplinary research and increase its global presence, with the objective being a world-class university that has a positive impact on society. I am honoured to carry out the role of Treasurer and draw on my expertise and experience to contribute to the long-term development of the University.
What principles and strategies is PolyU adopting to ensure it has sufficient resources for its planned developments?
The University has adopted a prudent management approach for operating expenses and the stewardship of financial resources. While I also serve as Chairman of the Finance Committee and Member of the Investment Committee, I take reference from the system established by my predecessors. At PolyU, we divide the cash needs into three categories, namely short, medium and long term, and allocate the available resources to various pools according to the respective investment duration, so as to gain a conservative yet reasonable return.
Meanwhile, we evaluate our existing investment products regularly and identify new investment directions. Thanks to the many seasoned professionals on our Investment Committee, our performance is comparable to the market benchmarks despite the difficult investment environment caused by global economic volatility, the US-China trade tensions and the COVID-19 pandemic.
What special factors do you think have made PolyU a top university?
At PolyU, we have many dedicated academics and teaching professionals who are devoted to nurturing students, with a view to enabling them to have a rewarding learning experience. Many programmes offered by the University are also recognised for their high quality, for example, a large number of leaders in the accounting profession are PolyU graduates. Furthermore, the University is quick to move with the times by offering new programmes, such as Fintech, to meet rapidly evolving societal needs.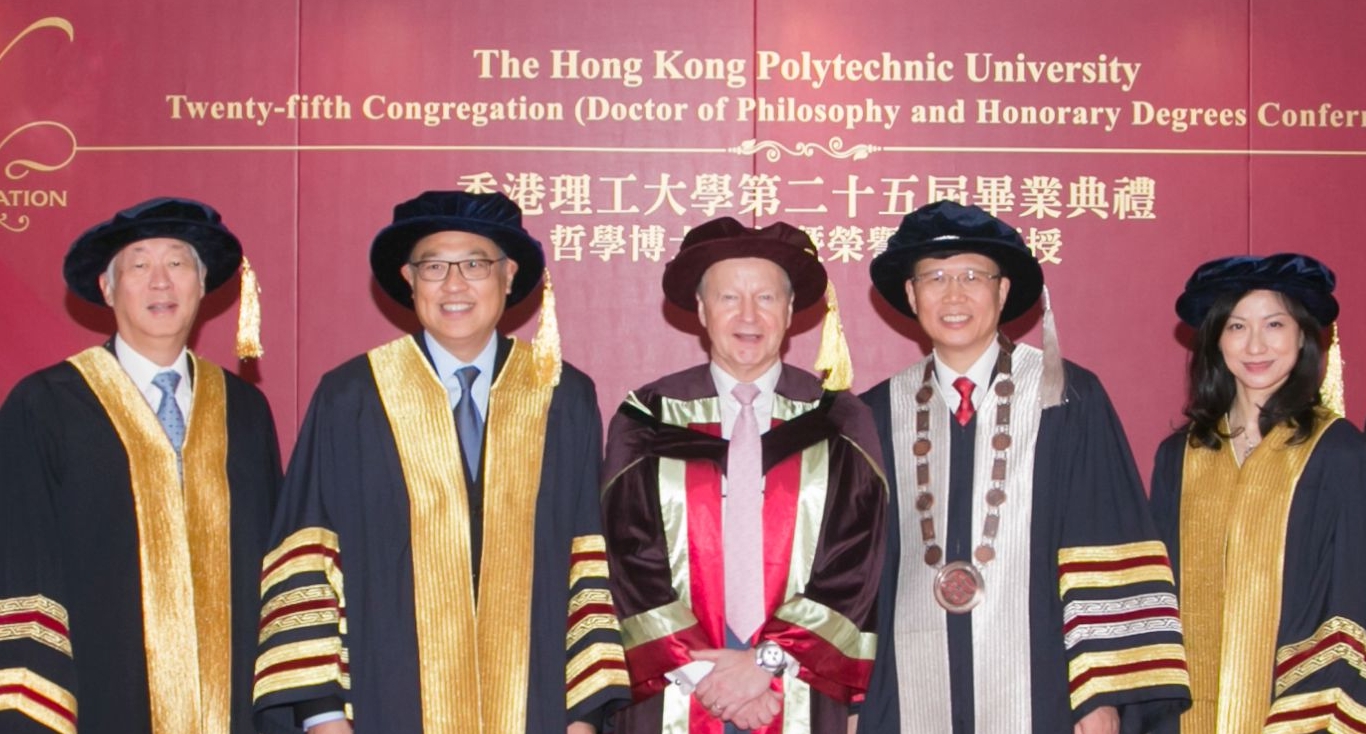 Ms Loretta Fong (right) attending the University's Congregation
You have been working with the same accounting firm for more than 20 years since graduation. What is the driving force behind your career?
Back in my university days, I listened to my father's advice to take up business studies. I picked up accounting so quickly that I thought to myself, "maybe I have a talent!" I aspired to be a partner of an accounting firm ever since I graduated, simply because it is one of the fastest tracks to becoming a boss in 10 years.
Some people say audit is boring, but it's anything but. Through providing audit services, you can get to know the operation of various industries in a very short period of time. What's more, you have to continue learning new things so as to keep up to date with the latest developments in innovation and technology in response to clients' needs.
To me, accounting is an art more than a science. Accountants must exercise judgement in applying accounting and auditing standards. This is why the work of accountants and auditors is so valuable and challenging.
What advice would you give to students with regard to their career planning?
Aspiration varies from person to person. The most important thing is to be clear what they want to achieve in their lives and plan their careers accordingly. They should choose a career that they are passionate about. Like me and many of my seniors, we enjoy going to work every morning.
What important attributes and attitude would you encourage PolyU students to develop?
Besides acquiring professional knowledge and skills, I always encourage young people to explore the world with an open mind, such as through joining the University's exchange programmes. The aim is to experience different cultures and learn how to work with people from all walks of life. They will find it incredibly beneficial to their lives.
Young people should be more aggressive in their careers. Don't loathe getting the short end of the stick.
How do you unwind and relax?
I have a great passion for yoga which helps me stay focused and relaxed. One should develop a hobby and spend some time on something you like.