Veteran engineer reflects on 30 years at the Industrial Centre
Ir Dr Robert Tam
---
Higher Diploma in Production & Industrial Engineering, Hong Kong Polytechnic, 1982
Associateship in Production & Industrial Engineering, Hong Kong Polytechnic, 1983
MSc in Manufacturing Systems Engineering, University of Warwick, 1986
PhD in Management, Harbin Institute of Technology, China, 2013
Ir Dr Robert Tam, Associate Director of PolyU's Industrial Centre (IC), is considered to be a walking encyclopedia of the Centre. After joining the then Hong Kong Polytechnic (the predecessor of PolyU) as an engineer in 1988, Dr Tam has witnessed the evolution of the IC over more than 30 years. He has seen it develop from a training centre offering basic skills training to a learning factory with an integrated learning method to train students. The centre has been further developed then into a unique technical library with facilities and expertise for engineering education and for supporting research projects. Today, the centre is striving to become an innovation and technology centre.
Dr Tam is proud of IC's progression from its early days of mainly providing technical training for students, to later engaging in external consultancy services, and more recently supporting many research and innovation projects at PolyU.
The drive to create an impact
Among the projects the Centre has supported are the development of space tools to support China's lunar exploration programmes and the Railway Tunnel Deformation Monitoring System to enhance the operation of high-speed trains in the Nation. Dr Tam has particularly appreciated having the opportunity to cooperate with distinguished scientists and researchers on projects that have impact and bring benefits to the world.
Dr Tam has derived great satisfaction from driving the development of IC. He was instrumental in introducing computer-aided design (CAD) and computer-aided manufacturing (CAM) training for students, as well as automation technology to IC. "Automation became a trend in Hong Kong industry in the 1990s. Over the years, IC has trained many students with essential skills to meet local industry demand. I am pleased to see that many employers like hiring our students," he added. Dr Tam has also co-authored around 10 books on CAD/CAM and automation technologies, drawing on his experience at IC.
Success through teamwork
Dr Tam said: "One of the most valuable assets of IC is the strong team spirit of its staff." He recalled a time many years ago when IC joined some famous local firms to bid for a project to design an automated vehicle clearance system for the Immigration Department. One of the requirements for the bid was to set up a mock-up of the clearance system at IC's loading dock.
"Our team was in high spirit to finish all the tiring tasks. Every staff member of IC was involved, and we cheered each other on," Dr Tam said. The team successfully completed all the required tasks just before the midnight deadline. "We will never forget that moment. Words just cannot express our complicated feelings," he said.
In recent years, IC has engaged in successful spin-off developments, such as the Aviation Services Research Centre (ASRC) and the University Research Facility in 3D Printing (U3DP) in 2013 and 2017 respectively. "We were filled with pride that the world-famous Boeing Company collaborated with us to set up the ASRC to advance aviation service technologies," Dr Tam said. The U3DP is also the first of its kind in the local higher education sector.
Dr Tam's exemplary service and dedication has won him high respect from his colleagues and recognition from the University, including the President's Awards for Excellence Performance/Achievement in 2000 (Individual Award), 2006 (Team Award) and 2013/2014 (Team Award).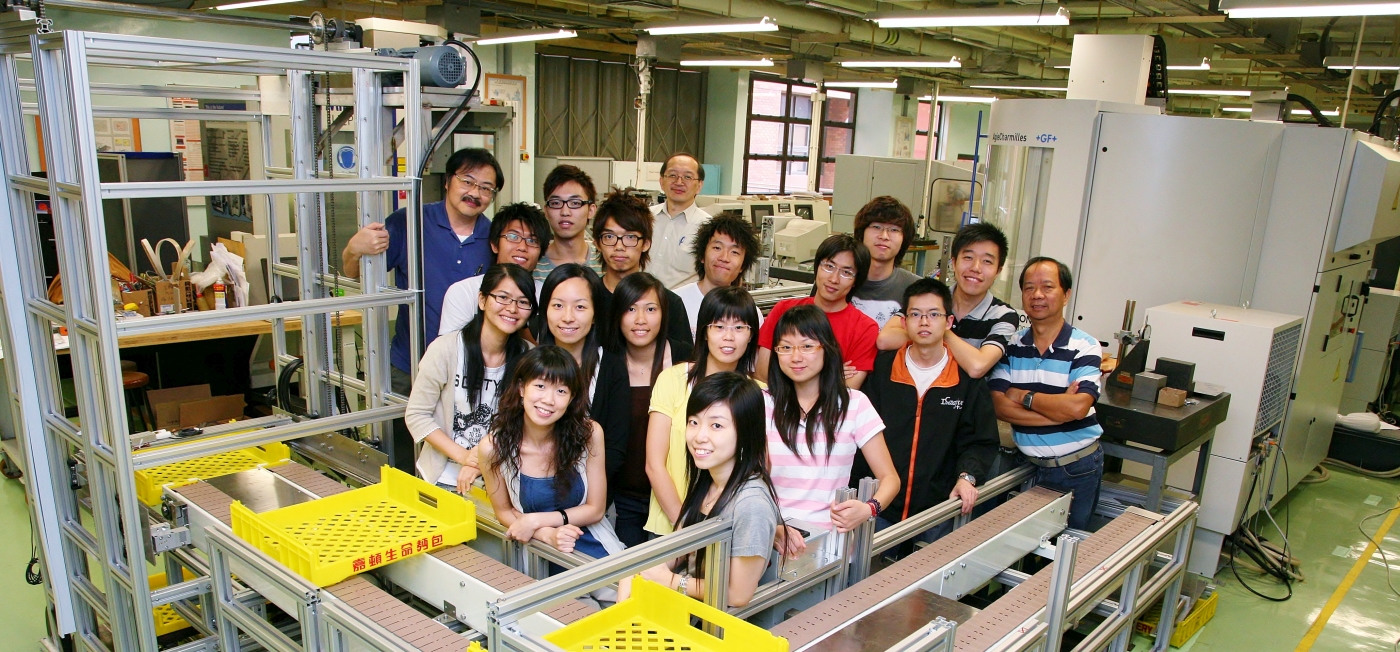 Dr Tam (back) with his IC teammates back in 2008