PolyU scholarships enable student-athletes to pursue their dreams
PolyU has always supported the nurturing of outstanding athletes in Hong Kong, providing an environment in which its student-athletes can excel in academics, sports, as well as whole-person development. Since the University launched the Outstanding Sportsmen Recommendation Scheme (OSRS) in 1998, more than 1,000 athletes from the Hong Kong National Team or Junior Squad have been admitted to PolyU to pursue their sporting careers while studying in its full-time programmes.
In the 2020/21 academic year, 70 elite athletes from 26 sports were enrolled at PolyU through the Scheme. Among them, 40 were awarded entry scholarships, ranging from HK$10,000 to full annual tuition fee waivers of HK$42,100.
Alongside awarding scholarships, PolyU also offers different types of support for elite student-athletes to enable them to excel at both sports and study. These measures include providing student-athletes with individual mentors for their academic work, flexibility in study assessment schedules, and extension of study periods to help them cope with their intensive training routines and worldwide competitions.
In addition, PolyU offers professional physiotherapy services to help reduce the incidence of injuries among all the athletes and speed up the recovery of those who are injured. They include the provision of rehabilitation services, physical training and sports injury workshops.
With the University's support, PolyU's athletes have achieved impressive performances. PolyU won the Yearly Men's and Yearly Women's Overall Championships at the Inter-collegiate Competition in both 2017/18 and 2018/19.
In recent years, PolyU has led the way among local institutions in terms of student-athlete intake and the number of sports scholarships available, with about 50 entry scholarships totaling more than HK$1 million offered to outstanding athletes. Together with other kinds of scholarships, PolyU offers more than 200 scholarships totaling over HK$4.2 million to student-athletes every year, in recognition of their sports achievements and to support their studies.
Handballer Kan Yik-fai, a third-year student of Land Surveying and Geo Informatics, received a full tuition fee waiver through the Scheme. He said athletes have to allocate their time better than other people to manage both their studying and training. "My goal is to represent Hong Kong to compete in the National Games and Asian Games," Yik-fai said.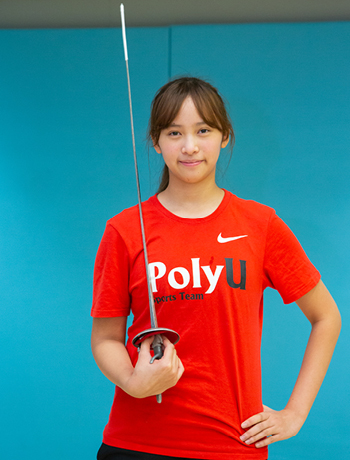 Sophia Wu, a member of the Hong Kong Women's Fencing Team, became a full-time athlete in July 2020, just before she became a first-year student on PolyU's marketing programme. Sophia, who received a full tuition fee waiver, said her training schedule is very packed. She often has meals in classes between training sessions. She said: "My goal is to represent Hong Kong to compete in the Asian Games 2022 and Paris Olympics in 2024." Recently, Sophia was named a winner of the Student of the Year Awards for her outstanding performance in sports. The Awards, organised by the South China Morning Post, with support from the Education Bureau, are among the city's most prestigious honours for local youth.