The ingredients for success of a Forbes China 2020 leader
Dr Li Siyang
---
Bachelor of Engineering, South China University of Technology, Guangzhou (2008-2012)
PhD in Electrical Engineering, PolyU (2013-2018)
Cofounder & CEO, Goal Technology (Shenzhen) Co., Ltd
---
What Dr Li Siyang has achieved by the age of 30 is remarkable. He was selected by Forbes China 2020 as one of the 300 elite entrepreneurs and leaders for its "30 Under 30" list in the "Industry, Manufacturing, Energy and Environmental Protection" category. The prestigious "30 Under 30" China list identifies rising stars in China in 20 different fields for their contributions as leaders and innovators.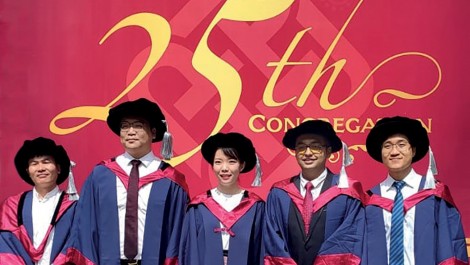 In 2018, Dr Li co-founded Goal Technology (Shenzhen) Co., Ltd. (Goal Technology), which specialises in producing high-precision manufacturing equipment and motors. Before opening his first business venture in Shenzhen, Dr Li earned a PhD at PolyU's Department of Electrical Engineering (EE), studying at the University between 2013 and 2018.
Dr Li focused on conducting high-level research in green technology under his PhD supervisor Professor Eric Cheng, Director of EE's Power Electronics Research Centre. Dr Li used the opportunity to broaden his knowledge in areas such as solar power generation, solar automatic tracking systems, linear rotating motors and permanent magnet synchronous motors. "At PolyU, I met so many talented people who worked together for the same goal of achieving excellence," Dr Li said.
Dr Li aspired to start his own business while he was still a PhD student. Professor Cheng recalled: "Siyang exhibited a very strong entrepreneurial spirit during his PhD studies. Besides conducting top-notch research, he spent considerable time understanding the strengths and weaknesses of different manufacturing products, and was keen to find out what made a product successful in China's market."
Crafting high-precision equipment to meet industry needs
The successful entrepreneur remembers being keen to break into China's manufacturing industry during his time at PolyU. "I always asked myself what type of products China's industry was lacking. I founded Goal Technology with the vision of filling these gaps and taking China's manufacturing industry to the next level," he said.
"China's manufacturing industry has long been over-reliant on imports. Mainland suppliers are weak in making high-precision products. That's why many manufacturers need to import expensive equipment from abroad to produce the components they require for their own products," Dr Li explained.
To address these market needs, Goal Technology positions itself as an innovative enterprise producing laser processing and marking equipment, and high-precision linear rotary motors. Dr Li also set up an R&D division at the company, the Goal Technology's Research Center, which hired several PolyU graduates, to help achieve this aim.
Developing a research-driven spirit to overcome challenges
"Several of my PhD classmates graduating from EE are either doing full-time research work here at the Center or serving as our consultants. Our in-house and consultancy researchers hold regular discussions to brainstorm new ideas," Dr Li said.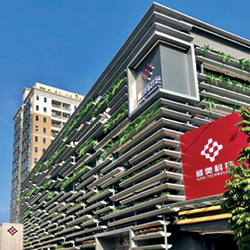 The Goal Technology's Research Center now employs almost 50 staff. Having its own sizable research team reflects Dr Li's emphasis on building up his company's research strengths for its long-term strategic development. "The short-term goal of Goal Technology is to produce the best high-precision linear rotating motors in the market for use in semiconductors, display panels, 3C-automation and medical equipment," he said.
Success did not come easily. When founding Goal Technology, Dr Li encountered difficulties securing funding for the initial setup of the company. He eventually found a large property developer interested in investing in his company. "This developer believed in the future of advanced technologies and shared our belief that China needed to strengthen its capacity in manufacturing high-end products using pioneering technology," Dr Li said.
Today, as the CEO of a high-flying company, Dr Li faces the pressure of ensuring Goal Technology continues to innovate and meet evolving market needs. His staff attend all the major industry exhibitions, forums and seminars on the mainland to help them understand the latest market trends. "We also have a strong social media team to promote our products and collect market information," he explained.
Persistence leads to success
Dr Li is thankful that he had the opportunity to study at PolyU. "It was challenging, but unforgettable. As my thesis relied on experimental testing of a product that I built and refined, I often worked night and day at the laboratory. I enjoyed exchanging ideas with other PolyU students and researchers there," Dr Li said.
Dr Li said Goal Technology's long-term goal is to make a difference in China's manufacturing sector by creating new advanced technologies that will change the industry. It is a mission that is likely to take many years to accomplish, but Dr Li is undaunted. In the meantime, the knowledge and skills he acquired during his time at PolyU help him overcome the hurdles he faces in his entrepreneurial pursuits.
Goal Technology's long-term goal is to make a difference in China's manufacturing sector by creating new advanced technologies that will change the industry.