Lee Hysan Foundation partners with PolyU to tackle elder abuse
Lee Hysan Foundation, as a strategic partner, has made a generous gift to The Hong Kong Polytechnic University to launch a four-year project "Collaborative Efforts to Intervene and Prevent Elder Abuse". The project will create the first evidence-based protocol for detecting, intervening and preventing elder abuse.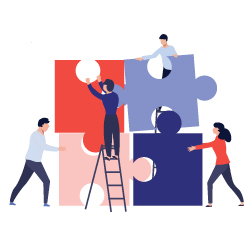 By 2038, it is estimated that 32% of Hong Kong's population will be aged 65 or above. The rapidly ageing population could lead to increased cases of elder abuse, with victims at risk of suffering mental distress, physical harm, and even death in extreme cases. Without timely and effective intervention and mitigation, elder abuse could become a serious social issue and a huge public health problem.
The project will be spearheaded by the Faculty of Health and Social Sciences, with expert input from its five disciplines of Applied Social Sciences, Nursing, Optometry, Rehabilitation Sciences, and Health Technology and Informatics. It will also collaborate with external partners, including six NGOs and two medical professional bodies.
PolyU's project team will develop a set of screening tools, a practice manual and training procedures to better handle and manage cases of elder abuse. The abuse assessment service will initially be made available to 1,500 elderly people, with 400 at-risk and confirmed abuse cases also receiving a follow-up service from the project. In addition, the team will run a training and awareness programme to equip 2,000 elderly people and their caregivers, as well as 600 professionals and students, with the knowledge to detect elder abuse.
In the long run, we hope the project will raise community awareness of the issue and train up professionals to detect suspected cases, contributing to the prevention of elder abuse in society.