PolyU researchers create radiation-free device to assess scoliosis
Researchers at the University have found a safer and more cost-effective way of assessing and monitoring the spinal deformity in children and adolescents
A team of researchers from PolyU's Department of Biomedical Engineering has invented a way to harness 3D ultrasound imaging technology to monitor the spinal condition scoliosis in children. Their innovative solution makes the assessment of scoliosis both easier and safer.
Scoliosis is a medical condition in which sideways curvature of the spine occurs. It affects millions of people worldwide and is the most common spinal diseases among adolescents. Health professionals have traditionally used X-ray imaging to diagnose and monitor scoliosis, with rapidly growing teenagers requiring regular X-ray check-ups. However, repeated exposure to X-rays increases the risk of cancer, limiting the frequency at which they can be carried out on patients.
Another shortfall of X-ray imaging is that the technology can only take 2D images of the spine. As most spinal deformities in patients with scoliosis are 3D, this does not provide enough information for non-surgical treatment of the condition. These shortcomings prompted scientists at PolyU to find an alternative solution for assessing and monitoring scoliosis.
The research team, led by Ir Professor Zheng Yongping, Head of the Department of Biomedical Engineering, and Henry G. Leong Chair Professor in Biomedical Engineering, has been working on the development of a 3D ultrasound solution for scoliosis diagnosis since 2006. Their research has demonstrated that 3D ultrasound technology can be used for both spinal imaging and spinal deformity measurement, with the team's novel volume projection method able to generate a radiography-like image of the spine.
Benefitting patients in HK and beyond
Based on their pioneering research work, the team developed a 3D ultrasound imaging system specifically for scoliosis assessment, which was successfully licensed for commercialisation under the trademark Scolioscan in 2010.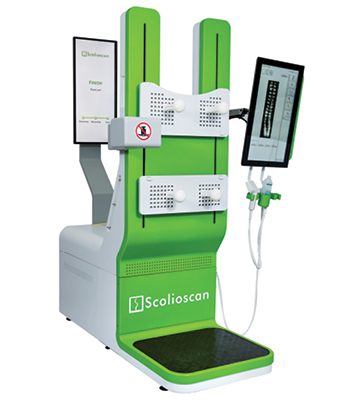 Because it is radiation-free and more cost-effective than X-ray imaging technology, Scolioscan can be used for mass screening and frequent follow-up monitoring. Clinical trials conducted by multiple research groups have also proven that it is reliable, with the accuracy of spinal curve measurements comparable to that of X-ray assessments. The 3D images of the spine produced by Scolioscan also enable healthcare professionals to understand the condition of their patients better.
Scolioscan is seen as a breakthrough in the diagnosis and monitoring of scoliosis, and is being used in medical centres in multiple countries and cities, including the Netherlands, Italy, Australia, Poland, Romania, Bosnia, Beijing, Guangzhou, Shenzhen, Macau, and Hong Kong. More than 6,000 scoliosis patients have been scanned by Scolioscan, while a total of 24 patents for the related technology have been awarded to, or filed by, PolyU and the company with which it is collaborating.
A device that fits in a suitcase
Professor Zheng's team has also developed a portable version of the technology, known as Scolioscan Air. The portable device, which is composed of a palm-sized wireless ultrasound probe with an optical tracking device and a laptop or tablet computer with dedicated software, weighs just 5 kg and fits into a suitcase.
The device uses a unique 3D optical tracking method to capture the movements of the probe, giving real-time ultrasound images of the spinal tissues. The software programme then uses these images to reconstruct images of the whole spine and obtain accurate measurements of spinal deformity. A typical scanning of the back of an adolescent patient using Scolioscan Air takes only 30 seconds, and can be done anytime, anywhere as needed.
Improving public awareness of spinal health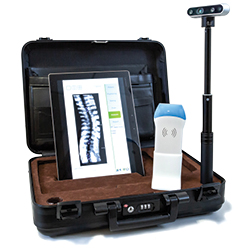 The portable nature of the Scoliocan Air enables it to be used for scoliosis assessments in schools, youth and community centres, helping to increase public awareness of spinal health. It also enables real-time assessments to be conducted, optimising the outcomes of non-surgical treatment for scoliosis patients.
Scolioscan Air is a prime example of PolyU's commitment to conducting research that has real-world benefits. The innovation received a Grand Award, Gold Medal with the Congratulations of Jury, and a Special Merit Award at the 47th International Exhibition of Inventions Geneva in 2019.
The research team is currently working on automating the process of creating 3D spinal models, in the hope that the new software will help predict the progression of spinal curvature and assist in the design of orthosis devices and exercises to treat scoliosis.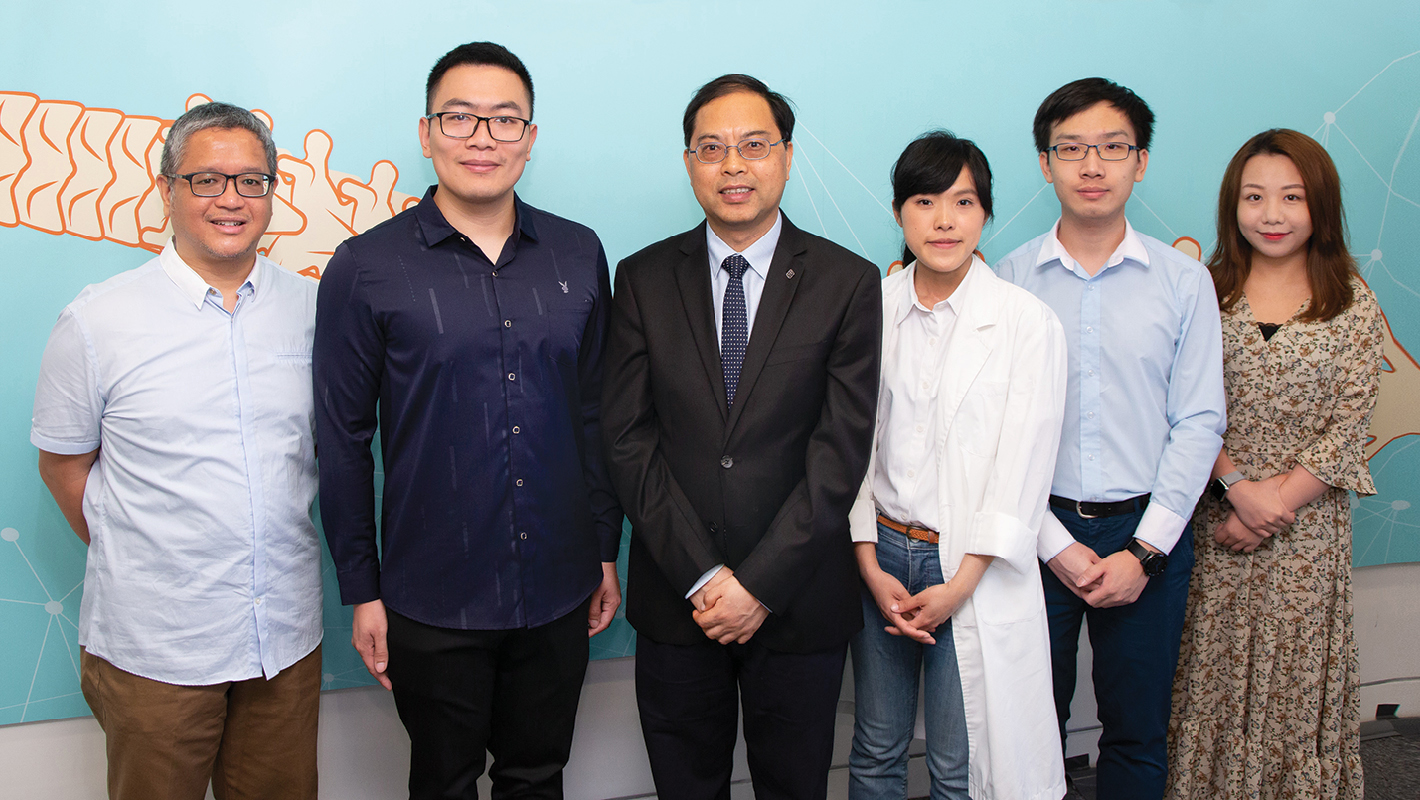 The research team that developed Scolioscan Air