An interview with Mr Alfred Sit Wing-hang - An innovative vision for Hong Kong
Mr Alfred Sit Wing-hang
---
Appointed Secretary for Innovation and Technology of HKSAR in April 2020

Former Director of Electrical and Mechanical Services

Alumnus, Department of Electrical Engineering, Hong Kong Polytechnic

Chairman, Departmental Advisory Committee, Department of Building Services Engineering, PolyU

Chairman, Departmental Advisory Committee, Department of Electrical Engineering, PolyU
---
Alfred Sit, Secretary for Innovation and Technology (I&T), reflects on how his time studying Electrical Engineering at the then Hong Kong Polytechnic (predecessor of PolyU) instilled in him the values that continue to guide him today. He still remembers one of his PolyU classmates showing him how to withdraw HK$50 from an Electronic Teller Card machine. It was the first time it had been possible to get cash without queueing at the bank. Despite occurring in the late 1970s, it is an experience that has stayed with him because it encapsulated what he considers to be the purpose of I&T: namely to improve people's daily lives and boost the economy, something that was as true back then as it is today.
Mr Sit sees I&T as the future of Hong Kong, and he encourages young people to participate actively in our rapidly changing knowledge-based society, and to pursue further studies or careers in fields related to I&T. "The development of I&T requires collaboration among Government, industry, academia and research institutes to create synergies. We need to think out of the box to improve people's lives," he says. An engineer by profession, he adds that it is part of the engineering spirit to provide solutions and fix problems.
Mr Sit also sees the current crisis caused by the COVID-19 epidemic as an opportunity for research and development (R&D), such as through providing the software and hardware required for conducting business remotely and for e-learning. Determined to turn the crisis into an opportunity, the Government has been adopting local R&D outcomes to help control the epidemic and has approved HK$65.2 million of funding for products and applications to combat COVID-19 under the Public Sector Trial Scheme.
Building the future through innovation
Mr Sit says universities play a key role in innovation. He points out that PolyU has been highly praised and is widely regarded as a forerunner in technology transfer, topping the list of eight local universities in terms of the total number of licences granted in 2018/19. He also commends PolyU's capabilities in knowledge transfer for improving the community.
To help facilitate synergies between universities and other sectors, the Government is establishing two InnoHK research clusters, which will focus on healthcare, and artificial intelligence and robotics, with the first batch of R&D laboratories due to open later this year. The initiative has already received 65 research proposals from universities and research institutes around the world, including PolyU.
The Greater Bay Area initiative, with its aim to develop an international I&T hub, also creates significant opportunities for Hong Kong. Mr Sit points out that while Hong Kong has strong R&D capabilities, it lacks the advanced manufacturing facilities that Mainland GBA cities have, while the region provides a sizeable market to commercialise R&D results. Locally, the Government is also promoting reindustrialisation and will inject HK$2 billion into subsidising manufacturers setting up smart production lines.
"Hong Kong, with its good infrastructure, legal system, and copyright and patent protection, can act as a bridge between the East and the West, facilitating technology transfer and the flow of talent," Mr Sit says.
Nurturing talent in Hong Kong
A key aspect of developing I&T in Hong Kong involves nurturing talents. To encourage this, the Government subsidises enterprises recruiting graduates and postdoctoral talent for R&D projects through the Researcher Programme and Postdoctoral Hub. By the end of April 2020, funding worth HK$1.33 billion and HK$580 million respectively had been allocated to the two programmes.
STEM (Science, Technology, Engineering and Maths) education is also being promoted in schools to nurture young people's interest in I&T. Yet Mr Sit stresses that education is not just about academic excellence and professional competencies but also developing positive values, something he learnt at PolyU. He adds that there are more opportunities for students today than in his time, such as through exchange programmes and internships, and young people must make the most of these to broaden their horizons.
Have faith and trust in people,
build good credit over time.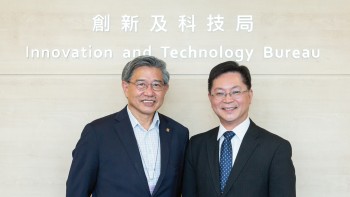 Giving back
Mr Sit looks back on his days at the Hong Kong Polytechnic with great fondness, remembering everything from queueing up outside the library before it opened to get a space to study for the day, to the food he ate in the canteen. "I do not come from a well-off family. Back then, it cost only HK$2.50 for a lunch at the canteen and, therefore, I very much enjoyed having lunch on campus."
Mr Sit describes himself as a naughty student who would sometimes run away from classes to do private tutoring and earn money for his own studies. But in fact, he was a hard-working and motivated student, who spent most of his time in the library studying. He was also the youngest in his class and regarded his classmates as big brothers. Even 40 years later, he is still in touch with many of his classmates, and they have supported each other in their careers.
His alma mater also inspired him to give back to society by doing volunteer work tutoring underprivileged students and serving NGOs, such as Heep Hong Society. In his capacity as Chairman of the Departmental Advisory Committees of PolyU's Department of Building Services Engineering, and Department of Electrical Engineering, Mr Sit has given valuable advice on various aspects of the department's development. "I received a lot of help and support, so it is time to return it," he says.