Beating the heat for construction workers
Researchers from PolyU's Department of Building and Real Estate have spent the past decade finding innovative ways to help protect construction workers from the heat. Solutions produced by the Department range from smart alert systems that detect if workers are in danger of overheating, to specially designed clothing, to the creation of optimal work schedules. The Department's contributions have won multiple awards, influenced industry guidelines and even been adopted internationally.
Heat stress danger
Hong Kong's hot and humid summers put construction workers at risk of developing heat stress, which can lead to heat exhaustion, heat stroke and even death. Heat stress occurs when the body is no longer able to get rid of excess heat, and regulate its internal temperature. A range of factors contribute to the condition, including age, temperature, humidity, habit of cigarette and alcohol intake, the type of clothing worn, and work intensity.
As part of an ongoing effort to improve the safety of construction workers, Professor Albert Chan, Head of the Department of Building and Real Estate and Able Professor in Construction Health and Safety, and his team have spent the past decade looking for ways to reduce the risk of heat stress.
Creating an early warning system
The team's most recent innovation has seen it partner with a mobile communications company to develop an early warning system that monitors heat stress levels in workers. One of the devices the system uses is a smart helmet which monitors workers' vital signs, including body temperature and heart rate, in real time to detect early signs of heat stress. The innovation won first prize in the Construction Industry Council's (CIC) Construction Innovation Award 2019 in the Construction Safety category.

Anti-heat stress clothing made from nano materials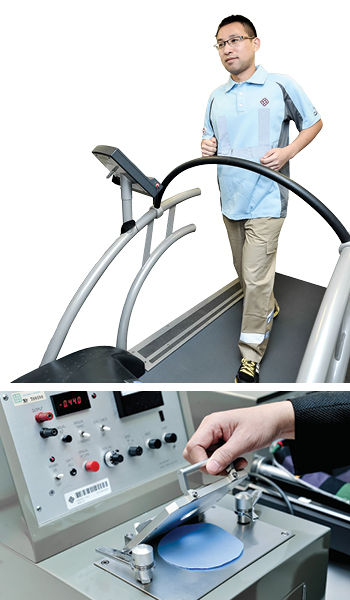 In another project, researchers from the Department collaborated with experts in occupational safety, textile science and sports science to develop an Anti-heat Stress Uniform (AHSU) for construction workers. "The uniform is made up of a polo shirt top and cargo pants bottom, both made with advanced fabrics that leverage nanotechnology to wick sweat away from the skin so that they feel drier and more comfortable. At the same time, sweat is evaporated more effectively because of a larger surface area while heat is absorbed from the skin. That is why the uniform also feels cooler," Professor Chan explains.
In order to give back to the community, PolyU licensed the technology for the multi-award winning uniform to the CIC for a nominal fee. The Council ordered 20,000 sets of AHSU for its trainees and recommended the uniform as the standard attire in all training centres. In 2017, the Civil Engineering and Development Department of the HKSAR Government included a term in all public works contracts specifying AHSU as a standard uniform for all workers. Within the first year of its launch, contractors and other organisations in Hong Kong had ordered around 100,000 sets of the uniform, while it has also been licensed to government agencies and manufacturers in Macao, the Middle East, and Cambodia.
The project won the 44th International Exhibition of Inventions of Geneva: Grand Prize and Gold Medal, the Innovation Achiever's Award at the UK's Chartered Institute of Building's International Innovation and Research Awards 2015, and the Local Grand Prize of the CIC's Innovation Award 2015.
In 2013, the team also carried out a pilot study with the Occupational Safety and Health Council (OSHC) to test different models of cooling vests for workers. The study found that wearing a cooling vest helped to protect people working in high temperatures, leading to the Labour Department and OSHC launching a pilot scheme promoting their use in four industries.
When taking a break increases productivity
The team has also researched the impact that rest periods can have on construction workers' wellbeing. "To reduce the risk of heat stress, our team developed a model to scientifically determine an optimal work-rest schedule that strikes a balance between productivity and workers' health," Professor Chan says.
Researchers found that productivity could be maximised and the incidence of heat stress minimised if workers took a 15-minute break after working continuously for 120 minutes in the morning, and a 20-minute break after working continuously for 115 minutes in the afternoon. Their recommendations have been adopted by the CIC in its Guidelines on Site Safety Measures for Working in Hot Weather.
The research of Professor Chan and his team is just one example of how PolyU commercialises its innovation to help change the world for the better.