Coming Together to Combat COVID-19
How PolyU harnessed innovation and the technical expertise of its researchers to fight a deadly new virus
Since the start of COVID-19 at the end of 2019, tens of millions of people across the world have been infected and hundreds of thousands of fatalities reported. During this difficult period, the entire PolyU family of staff, students and alumni has banded together in the fight against this virus, in keeping with the University's motto: "To learn and to apply, for the benefit of mankind."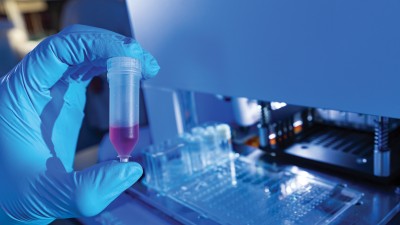 We have been serving the community in combating the epidemic by making use of our professional expertise and creativity to design protective face shields for medical staff and the public. We also developed the world's most comprehensive automated multiplex diagnostic system for scanning respiratory infectious diseases, including COVID-19. Beyond this, our staff, students, alumni have been combining their resources to support those in need in the community. Some alumni even took part in frontline anti-epidemic work in Wuhan during the first few months of the outbreak. Together, we have been upholding the spirit of human kindness in a world tormented by this deadly disease.
Breakthrough technology for early detection
Rapid early detection is critical for containing the spread of COVID-19. In early February of this year, our researchers developed an efficient, cost effective diagnostic method — the rapid automated multiplex diagnostic system — that can identify COVID-19 with only one test, in just one hour. With its patent-pending microfluidic and biochemical technologies, this system can provide ultra-sensitive detection while simultaneously differentiating various pathogens with extremely high specificity.
"Early and accurate detection of pathogens contributes to effective and efficient disease control and management, and prevent spreading of any contagious pathogens," said Dr Terence Lau, Interim Associate Vice President (Innovation and Technology Development) and Adjunct Professor at the Department of Applied Biology and Chemical Technology of PolyU. "It also benefits patients because timely therapy can then be applied to prevent complications."
Capable of detecting up to 40 infectious respiratory pathogens as well as the novel coronavirus, the diagnostic system comprises a fully automated machine and multiplex full-screening panel for point-of-care genetic testing (POCT). No manual handling is required at any time during the testing process.
PolyU has many years of experience conducting innovative research on virus detection. Together with the University of Hong Kong, it established the Respiratory Virus Research Foundation in 2015 and has been working on a variety of innovative technologies to tackle existing and emerging respiratory infectious diseases. This research, conducted over many years, is the reason why PolyU was able to develop the diagnostic system for COVID-19 so quickly.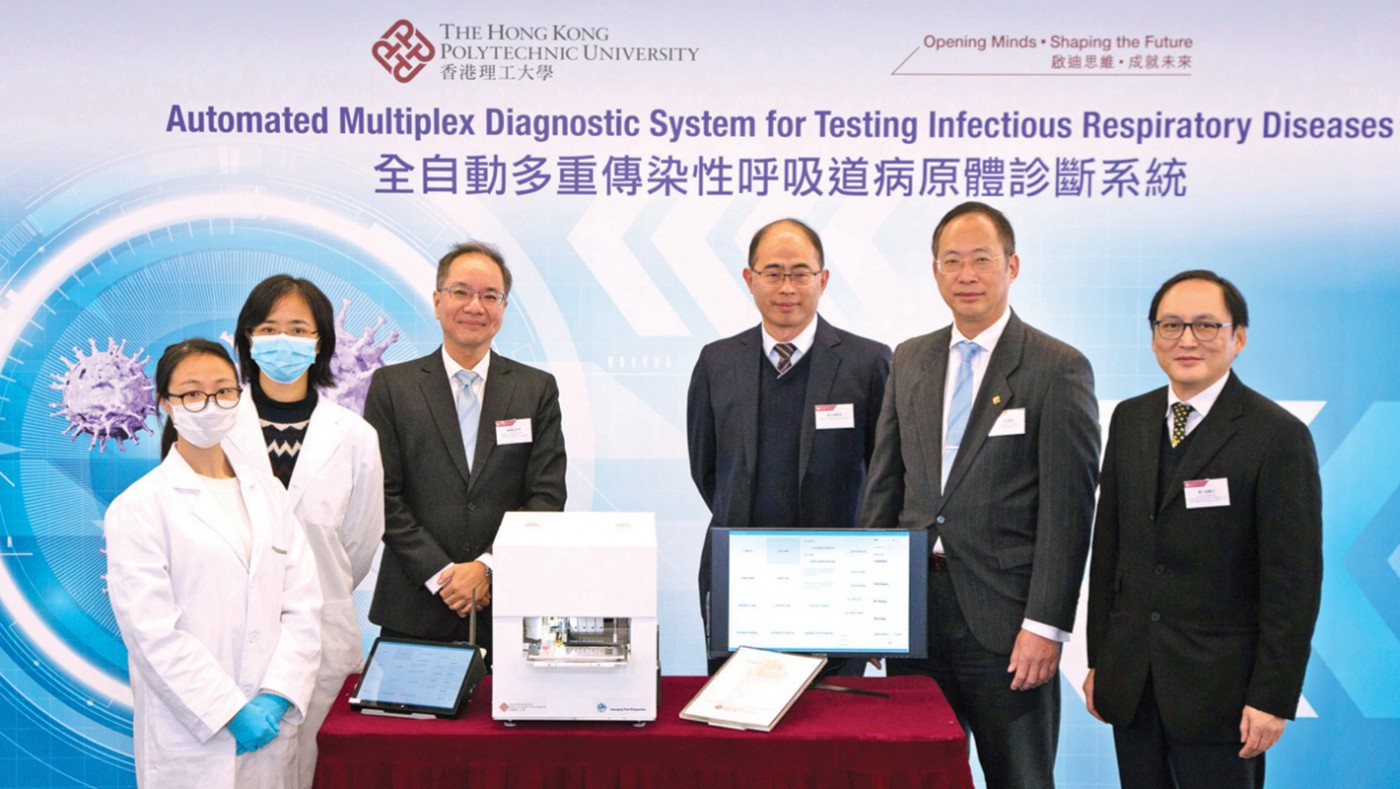 Dr Terence Lau (third left), together with (from fourth left) Professor Wong Wing-tak, Dean of the Faculty of Applied Science and Textiles, Professor Alexander Wai, Deputy President and Provost, and Dr Manson Fok, Chairman of the Board of Avalon Biomedical Management Ltd.
The research team responsible for this system was led by Dr Lau and supported by Professor Yuen Kwok-yung, Chair Professor of Infectious Diseases from the Department of Microbiology, Li Ka Shing Faculty of Medicine of the University of Hong Kong. The team has also received valuable support from a local biotechnology company, Avalon Biomedical Management Ltd.
As the system can detect a variety of other diseases besides the novel coronavirus, including influenza A subtypes and severe acute respiratory syndrome coronavirus (SARS-CoV), it promises to be a powerful tool for infectious disease control, medical diagnosis and treatment in the future.
In collaboration with the Macau University of Science and Technology and other Chinese institutions, PolyU also developed an AI-assisted diagnostic system for the rapid diagnosis of COVID-19. The joint research team used a database of the computed tomography of the chest from over 3,700 patients to develop this novel diagnostic system. With the new system, COVID-19 pneumonia can be distinguished from other types of viral pneumonia and its severity level predicted in only 20 seconds, with an accuracy of up to 90% or above. This research was published in the prestigious international journal, Cell.
Meeting the urgent demand for face shields
When the COVID-19 outbreak hit Hong Kong at the end of January, face shields were in critical short supply. As PolyU has a strong reputation for research, the Hospital Authority and Queen Elizabeth Hospital asked us in early February to produce face and eye shields for medical professionals in Hong Kong.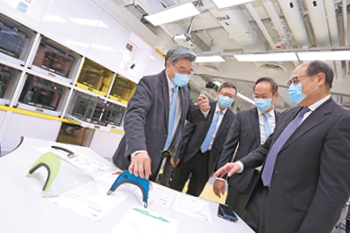 Professor H. C. Man, Dean of the Faculty of Engineering and Director of the University Research Facility in 3D Printing (U3DP), led a research team to design the new face and eye shields. In addition to employing 3D printing technology, the team made reference to studies by the PolyU School of Design comparing the head sizes of Asians and Westerners in order to design a face shield that would better fit Chinese wearers.
Once a design had been settled, the U3DP team mobilised all of PolyU's 3D printers and worked around the clock to produce the first batch of face shields. In just 10 days, final production was completed thanks to the dedication and cooperation of all team members.
With support from local manufacturers, production lines began manufacturing up to 30,000 face shields per day in March so that the high demand for personal protective equipment among Hong Kong's frontline medical personnel could be met.
Better protection for the public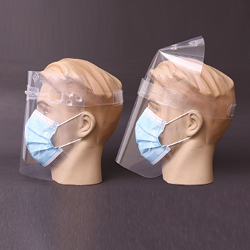 Members of the public, especially caregivers for the elderly, social workers, cleaning staff and customer services staff, also needed protection to reduce the risk of virus transmission. To meet their needs, Professor Man and his team designed two reusable face shields — the General Use Face Shield and Extra Protection Face Shield.
The General Use Face Shield fully covers the face while the Extra Protection Face Shield also covers the forehead and hair. Made of lightweight, low-cost, environmentally-friendly PET (Polyethylene Terephthalate) plastic, the face shields were produced utilising the vacuum forming technique. The new design resists fogging, provides a comfortable wearing experience and allows the face shields to be reused after cleaning.
To test the new face shields, the Department of Applied Social Sciences invited staff from the Hong Kong Christian Service to try them out. All users said the face shields provided a comfortable wearing experience and were especially suitable for staff working long hours. The feedback collected also helped to improve the design of the face shields.
Taking the measure of COVID-19
In order to gain a better understanding of COVID-19, scientists from around the world have been working non-stop to identify transmission patterns.
At PolyU three associate professors, Dr He Daihai and Dr Lou Yijun from the Department of Applied Mathematics (AMA) and Dr Yang Lin from the School of Nursing (SN), together with their students and collaborators from Mainland China, began conducting a series of studies in the early stages of the pandemic. The AMA and SN research team was among the first in the world to estimate the transmission rate, case fatality rate, and gender disparity of COVID-19 cases.
In addition, Wang Yimin, an alumnus of PolyU's Master of Business Administration programme, sent his engineering team to Wuhan to set up new equipment — the Portable Digital Radiography (DR) system and Dynamic DR Tablet — developed by his company. With this equipment, medical staff are able to make an early diagnosis of COVID-19 in patients and perform lung radiography imaging.
---
We care, we share
PolyU on the frontline
---
Care for the local community
The Department of Applied Biology and Chemical Technology produced 400,000 ml of hand sanitiser and distributed them to those in need through the Social Welfare Department.



Dr Wang Peng, Associate Professor of the Department of Civil and Environmental Engineering donated 10,000 face masks to PolyU in February, easing the shortage of face masks among staff and students.

Our students donated anti-epidemic packs and face masks to people in need through the NGO Christian Concern for the Homeless Association.
Joining the frontline
PolyU alumnus Li Haijian headed to Leishenshan Hospital in Wuhan as a volunteer in January. He supported the hospital by designing a negative pressure isolation ward and supplying disinfectant equipment. What's more, he helped establish a medical waste incineration facility and personally helped burn infectious waste.



Current students and graduates of the MSc in Disaster Nursing programme at the Sichuan University–The Hong Kong Polytechnic University Institute for Disaster Management and Reconstruction (IDMR) joined frontline medical staff at various hospitals in Wuhan and other cities in Hubei and Sichuan in the battle against the epidemic. IDMR was established in 2013 after the 5.12 Wenchuan earthquake in 2008.
Donations for relief operations
Under the leadership of PolyU alumnus Michael Ross, Vice Chairman of Charoen Pokphand Group (CP Group), CP Group donated 33 tons of disinfectants worth RMB1.2 million to Hubei province, which were distributed to hospitals and government units in the province. About RMB50 million in donations, including cash and supplies, were made towards virus prevention work in Hubei province.



Donations came from many alumni bodies, including the 2003 Master of Science in International Real Estate, Zhejiang University – PolyU Joint Center Alumni Network. The PolyU Pearl River Delta Alumni Network also donated medical supplies to hospitals in various mainland cities.
PolyU COVID-19 Student Support Fund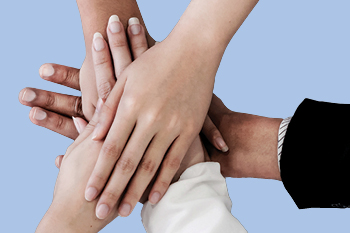 To provide timely help for students experiencing financial hardship due to the pandemic, the University set up the PolyU COVID-19 Student Support Fund. As an initial step, the Senior Management team committed to donating 10% of their salaries over a period of 12 months from April 2020. It is encouraging to know that the PolyU community — including staff members, alumni and other supporters of PolyU — has responded positively during this challenging period. The Fund has received over 800 applications from students.
With the spread of the novel coronavirus across the globe, the PolyU community has been responding to this unprecedented crisis in a spirit of generosity and unity. By continuing to work together, we can all play our part in the fight against this pandemic.