Learning and teaching during a time of social distancing
After the first confirmed case of COVID-19 on 23 January 2020, social distancing quickly became the new norm across the city. And while many businesses and schools shut down, PolyU remained open by offering classes in what has become one of the largest online teaching communities in Hong Kong.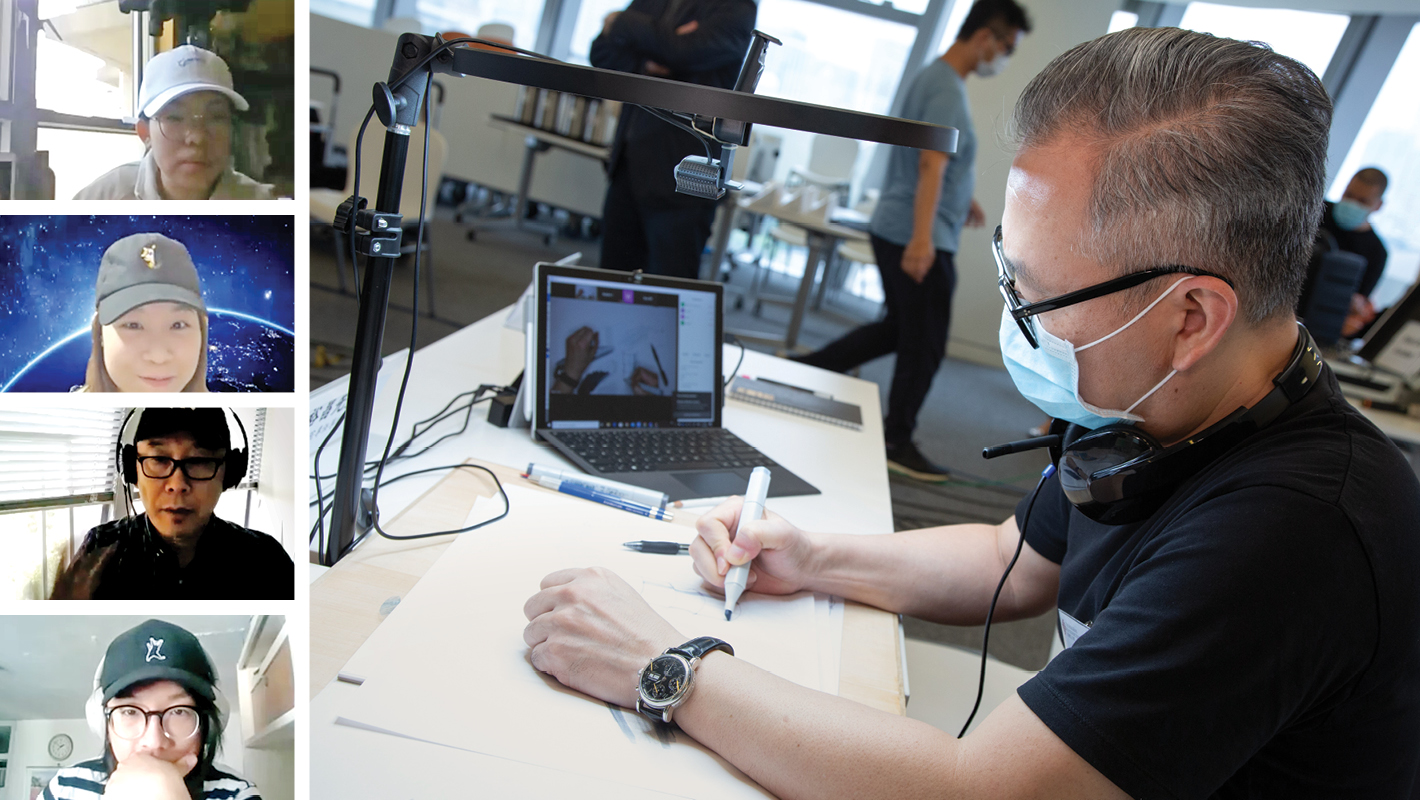 Mr Scott Chin from the School of Design uses a webcam to show his online students how to draw a complex object.
The transformation of PolyU from a physical university into an online campus started in late January, when two high-level task forces reporting directly to the President — the Task Force on the Delivery of Online Teaching and the Task Force on Response Actions for the Novel Coronavirus — were set up to ensure three conditions were met.
These conditions stipulated that online teaching must continue to deliver the same learning outcomes, minimise any impact on the academic progress and graduation timeline of students, and maintain the health and safety of students and staff at all times.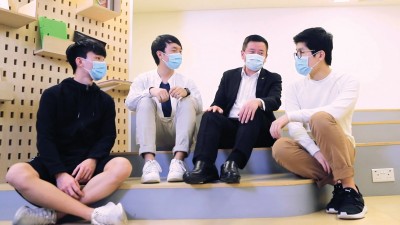 The first step was to understand the expectations of staff and students. "Our strategy was to collect feedback from frontline teaching staff, and many discussions were held among Deans of Faculty and School, Heads of Department and teachers," said Professor Alexander Wai, Deputy President and Provost, and Chairman of the Task Force on the Delivery of Online Teaching. "We also communicated with the Students' Union and Staff Association."
Professor Ben Young, Vice President (Student and International Affairs), said, "We appreciated that students face challenges when abruptly switching to a new mode of learning. Therefore, we communicated closely with them to understand their needs and did everything possible to minimise the impact of the pandemic on learning."
How challenges were met
The process of going online was an enormous challenge, given that PolyU has the largest student population (more than 25,000 full- and part-time students) of all the publicly funded universities in Hong Kong.
Mr Andy Tong, Vice President (Campus Development and Facilities) and Chairman of the Task Force on Response Actions for the Novel Coronavirus, said that even though students were not physically in class during this period, a number of teachers and support staff still had to be on campus for online teaching or preparation work. Therefore, maintaining stringent virus-preventive measures on campus was essential for keeping everyone safe.
A key player in the University's transformation to online teaching was the Information Technology Services Office. It was tasked with providing equipment to support online teaching and finding solutions for local and overseas students, as well as maintaining network stability and cloud capacity.
Some teachers, such as Dr Rodney Chu, Assistant Professor, Department of Applied Social Sciences, were able to apply their experience in online learning immediately as PolyU had actually begun promoting online teaching two years ago.
"I had converted one-third of the subjects I taught from a conventional classroom setting to an online mode. I also took discussions online so that students could learn from their peers," said Dr Chu. "This was prior to the COVID-19 outbreak. So when the pandemic struck, these experiences came in handy."
In addition to traditional online platforms, many online tools were also used, including Blackboard, uRewind, Microsoft Teams, Zoom and mobile apps such as WhatsApp. All these tools allowed students and teachers to interact, exchange ideas, and express their opinions freely.
For teachers and researchers who were unfamiliar with the tools or the techniques for online teaching, PolyU's Educational Development Centre offered support and training, which included WhatsApp service support, e-Learning Clinics and a one-stop teaching website with information and resources for online learning and teaching, IT support, lesson planning, and more. Online workshops with live Q&A sessions were also organised.
A different approach for every discipline
Academics from different teaching units adopted a customised approach to engage students in their online teaching sessions. For example, Mr Scott Chin, Teaching Fellow of the School of Design, used a webcam with good lighting to show his online students how to draw a complex object. Students would then follow suit and upload their drawings for his comments and advice.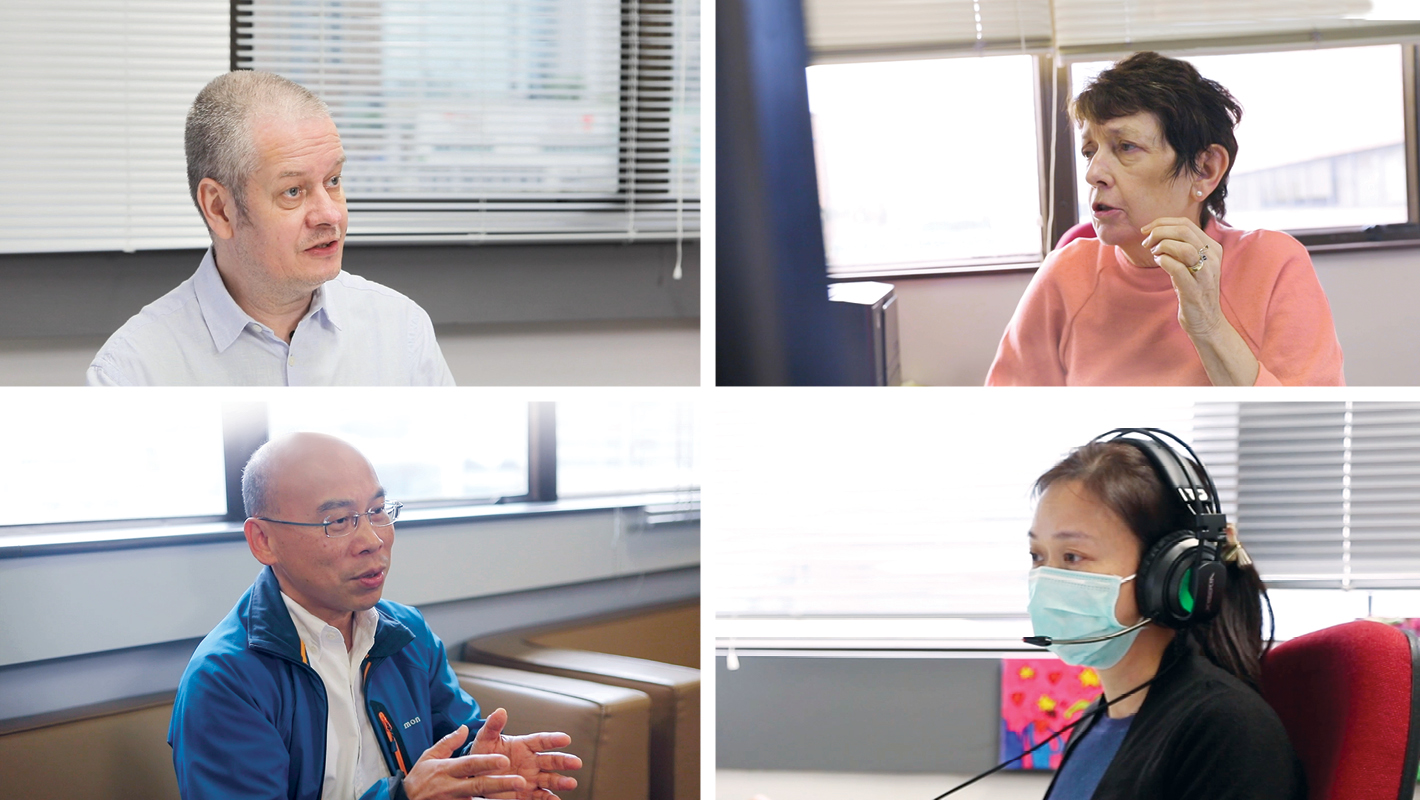 Academic staff (clockwise from top left: Mr Darren Harbutt, Educational Development Centre; Professor Bernadette Watson, Department of English; Dr Barbara Tam, Educational Development Centre; Dr Rodney Chu, Department of Applied Social Sciences) have taken a customised approach to engage students in online learning.
The School of Optometry, on the other hand, developed over 70 videos within a few weeks to demonstrate the use of sight screening equipment and patient cases to prepare students for practicum sessions when face-to-face teaching resumes.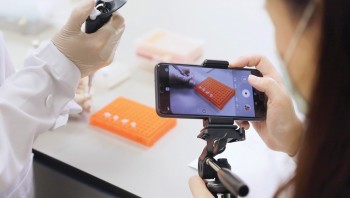 Even laboratory experiments could be accommodated online. As Professor Kwok-yin Wong, Interim Vice President (Research and Innovation), described it, "Teachers and researchers could record the steps in experiments in the laboratory. Although students could not conduct experiments themselves, they were able to access the online platform anytime and take a closer look at the demonstrations."
Service-Learning and internship in a virtual world
Serving people in need has also continued during the pandemic. As PolyU's Service-Learning programme involves work in the community, including face-to-face contact, adjustments had to be made to avoid the risk of infection. One example was a Service-Learning project in which students design and develop assistive devices for the elderly and disabled, then visit them in elderly centres to demonstrate how to operate the devices. In this case, the subject leader Dr James Cheung redesigned the programme to produce small devices or mobile apps that help to maintain physical or mental fitness. The products were subsequently delivered by social workers to the elderly and disabled. After students obtained feedback from the service recipients by phone or video, they will refine the design for a better customised fit.
Online learning has also been applied to internships. One example is Jessie Wang, a student in the Tourism and Events Management programme of the School of Hotel and Tourism Management, who was able to switch to an online internship at the Pacific Asia Travel Association during the pandemic. She became the School's first student to serve in an online internship.
Top marks for a new learning experience
Over the past few months, PolyU has overcome the challenges of teaching online while helping its students to continue their education safely.
In providing this unprecedented learning experience, PolyU has shown itself to be resilient, resourceful and innovative in meeting the needs of students. This is affirmed by Professor Bernadette Watson from the Department of English, who said, "I find it is sometimes easier to get the sharing in the class online. The interactive activity is higher than it might have been." Mr Scott Chin from the School of Design added that students really enjoy online teaching. "They said it is actually better than expected."
Michael Ng, a student from the Department of Civil and Environmental Engineering, agreed, saying that "the online platform allows me to learn at my own pace." Korean student Jason Kim from the Department of Electronic and Information Engineering believes that online learning is better than offline learning as it is easier for students to take part in anonymous polls and give anonymous answers to the professors. What's more, Jessie Wang from the School of Hotel and Tourism Management said she would definitely recommend an online internship to fellow students as "it introduces a new way in which a future workspace might operate."
"This has been an unprecedented effort to move all face-to-face teaching to an online platform," said Dr Miranda Lou, Executive Vice President. "Frontline teachers did their best to prepare for the task of teaching online while other departments provided dedicated support behind the scenes." And although there have been challenges, the University has nevertheless succeeded in continuing students' education during the pandemic, without compromising quality of learning and teaching.