An interview with Mr David Lau - A model of ingenuity and entrepreneurship
Mr David Lau
---
MSc in International Hospitality Management, PolyU, 2013

General Manager, Popway Hotel

Managing Director, Popsible Hospitality Management Limited

Managing Director, Ocean Sky Hotel Management Limited
---
David Lau Ka-wai, a graduate of PolyU's School of Hotel and Tourism Management (SHTM), started running his first guest house in 2008 while he was still an undergraduate student. Hong Kong's hotel industry was booming at the time as a result of the launch of Mainland China's Individual Visit Scheme in early 2000, and David was keen to capture the opportunity. He opened a second guesthouse in 2011. But after running his hostels for several years, during which time he relied on his intuition, he wanted to increase his knowledge of hotel operations to enable him to expand his business further.
Putting learning into practice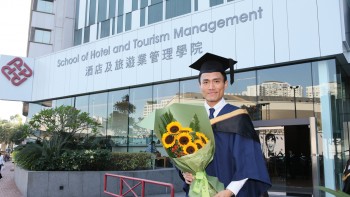 David already had a plan to open a new 20-storey boutique hotel - Popway Hotel - in Tsim Sha Tsui, but in order to make it a success, he felt he needed to sharpen his entrepreneurial skills. This ambition led him to enrol on the SHTM's MSc in International Hospitality Management because of the world-class teaching hotel facility - Hotel ICON - that SHTM provided. "While I worked on my hotel project during the daytime, I rushed to the nearby PolyU campus at night to attend classes in hotel management," David said. He studied hard and completed the programme in one year, half the time usually required. His diligence paid off and he graduated with distinction in 2013.
SHTM's programmes put a strong emphasis on students being able to utilise what they learn in class in a workplace setting. David credits the MSc programme for strengthening his knowledge in design concepts, revenue management, inventory management and marketing, all of which have proved to be highly useful in his new business venture. "I was able to apply what I learnt from PolyU in my hotel project," David said.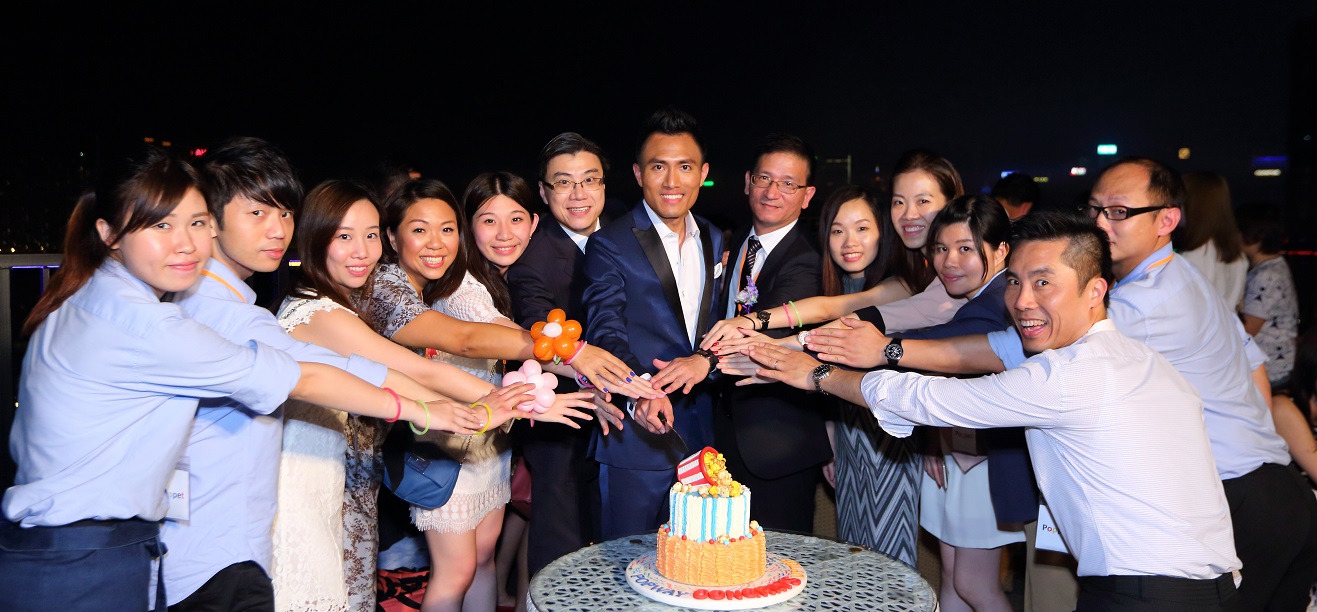 David believes mutual trust is essential for maintaining team spirit.
Alongside teaching practical skills, PolyU also strives to instill an innovative and entrepreneurial mindset in its students. David reflected this approach in his novel idea of sharing a fixed portion of the hotel's income with its staff. This application of entrepreneurship in management - known as intrapreneurship - increases the sense of ownership among David's staff, motivating them to excel.
Unfortunately for David, when his hotel opened in 2015, Hong Kong was seeing a slowdown in the growth of Mainland visitors. Undeterred, David decided to expand his customer base for the hotel to new markets in South Korea, Japan and Taiwan.
SHTM's MSc programme has strengthened my knowledge in design concepts, revenue management, inventory management and marketing, all of which have proved to be highly useful in my new business venture.
Winning and losing
David has used his expertise to provide management services. He set up a business venture to provide comprehensive hotel management and marketing services for local hotels in Hong Kong to help them weather the current business downturn caused by COVID-19. He also founded a company which started managing a hotel in Osaka earlier this year, and has plans to operate another hotel in Japan next year.
Doing business has not all been plain sailing for David, and he also experienced a setback when expanding into the nap lounge business a few years ago. "Even though there are gains and losses in life, the important thing is to learn from your mistakes," David said. "When there is a crisis, there is an opportunity. Always sharpen your skills and be prepared for when your opportunity comes."
David believes education can change a person's life and, for that reason, he has been sponsoring the tuition fees of grass-root university students through a scholarship programme. "Education is all about finding your direction and passion, about knowing what you want to do", he said. He stays connected with his alma mater by sharing his experience as a successful entrepreneur at talks organised by faculties and schools, and at conferences and activities targeted at young entrepreneurs.
From running small hostels to managing a boutique hotel, David's adventures in the hospitality industry really embody the entrepreneurial spirit that PolyU advocates. Popway is located only a short distance from the PolyU campus. When at the hotel, David often remembers when he divided his time between overseeing his dream hotel project and studying at his alma mater. Both were memorable moments that marked a turning point in his life.