Educating entrepreneurs and supporting start-ups
PolyU has long incorporated entrepreneurship training into its holistic education model to help students excel in today's dynamic environment and make a difference to society.
Edwin Wong was in his third year of studying marketing at PolyU when he set up an online sales platform for restaurants and small-to-medium sized brands with HK$120,000 of seed funding he received from the PolyU Micro Fund. The experience led to him co-founding social media analysis platform Cloudbreakr, which uses big data to help companies understand market trends. Today Cloudbreakr operates in Hong Kong, Singapore, Taiwan, Thailand and Malaysia.
Cloudbreakr is just one of many enterprises founded by students who have benefitted from PolyU's support for entrepreneurship. To date, more than 145 start-up ventures have received pre-incubation assistance and funding from the PolyU Micro Fund since its launch in 2011. Not only are 75% of these organisations still in operation, but they have collectively secured more than HK$118 million of further funding and investment support.
Pioneering entrepreneurial education
PolyU is a pioneer in recognising the importance of promoting entrepreneurial culture among students. It was the first university in Hong Kong to provide financial support for student-led start-ups, while its Institute for Entrepreneurship, which forges closer links between academics and business, was set up back in 1999.
Dr Miranda Lou, Executive Vice President, says: "Entrepreneurial mindsets and skills are very much needed in today's dynamic and ever-changing environment. PolyU therefore offers holistic education, seed grants, incubation and acceleration support to foster innovation and 'Do Well Do Good' entrepreneurship development among students, alumni and research staff to generate social and community impact."
From skills to seed funding
The University has put in place a comprehensive framework to incorporate entrepreneurial training into its education model.
It has a range of funds that disburse more than HK$10 million every year to support 40 to 50 start-ups and student innovation projects. Alongside the PolyU Micro Fund, the Student Entrepreneurial Proof-of-Concept Fund supports students' in-classroom entrepreneurship learning through awards of up to HK$20,000 per project for prototyping and market testing. Meanwhile, the Tech Launchpad Fund provides gap funding of up to HK$1.5 million per project to accelerate the growth of technology start-ups founded by PolyU members.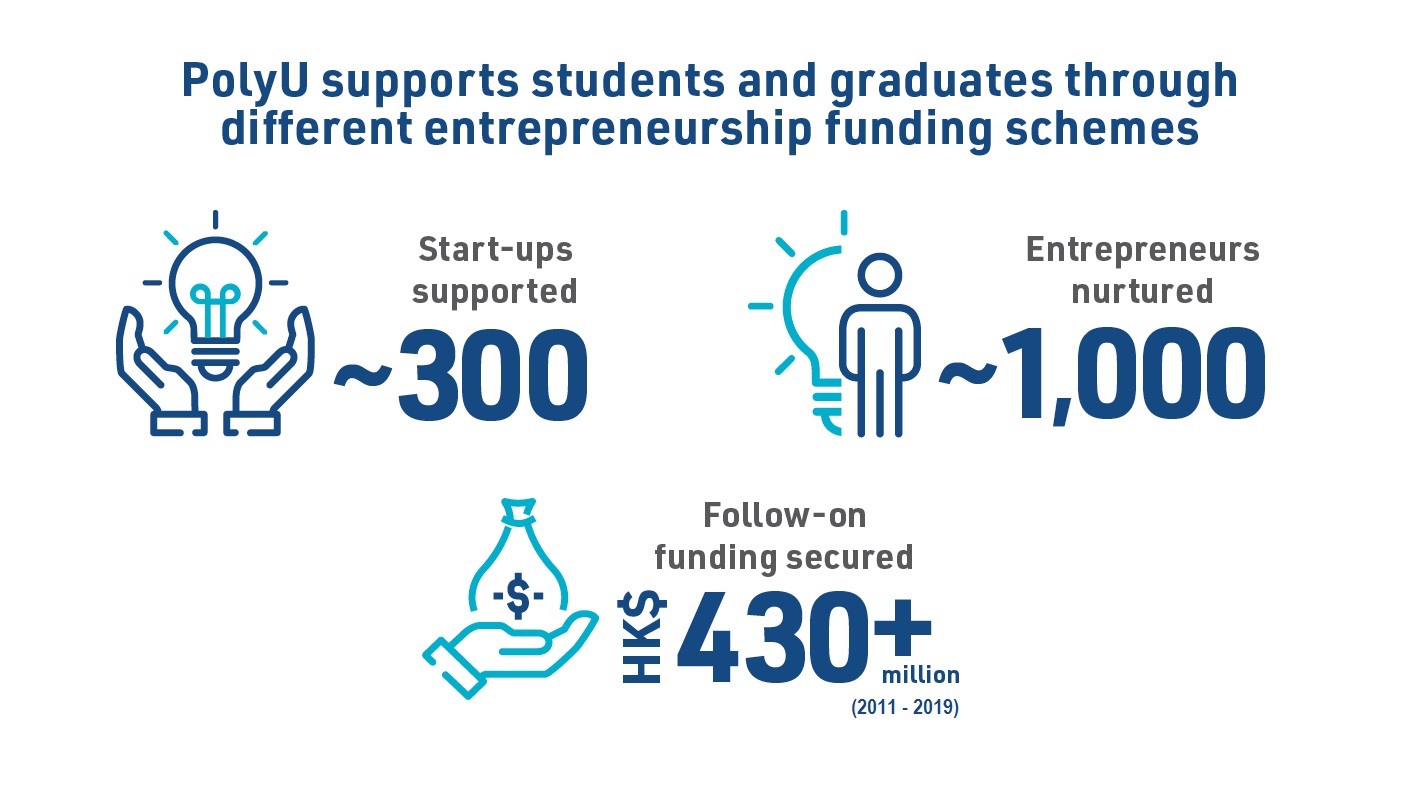 Support is not limited to funding, with aspiring entrepreneurs also offered credit-bearing courses, extra-curricular activities and entrepreneurship training programmes to hone their skills. The PolyU InnoHub acts as a nurturing ground for young entrepreneurs, with major partners engaged in regular local collaborations including MIT Hong Kong Innovation Node and Hong Kong Science and Technology Parks Corporation. Students can also seek advice and guidance from PolyU alumni. The University has coined the term "Poly-preneur®" for a network of venturous graduates who created their own companies. There are now 800 Poly-preneurs® who regularly take part in seminars and workshops organised by the University to share their insights and experience with the aspiring entrepreneurs.
Supporting start-ups beyond Hong Kong
The University also fosters entrepreneurship in the Greater Bay Area (GBA) through PolyU InnoHub (Shenzhen) and the GBA International Institute for Innovations, which it established with the Shenzhen University. The latter offered a seven-week, first-of-its kind Start-up Internship and Immersion Programme in May last year, giving students from Hong Kong, Mainland China and overseas insights into entrepreneurship and innovation in the GBA.
PolyU also partnered with Shanghai Technology Entrepreneurship Foundation for Graduates between 2013 and 2019 to offer the first ever China-Hong Kong cross-border matching fund for PolyU graduates to start new businesses in Shenzhen and Shanghai, with RMB200,000 of funding available per project. The scheme benefitted 59 projects which went on to raise more than HK$226 million in further funding support.
International recognition
Products and technologies developed by PolyU-supported start-ups have gained impressive industry recognition, receiving more than 200 awards over the years, while some of the enterprises have expanded beyond Hong Kong into Greater China and ASEAN countries.
Going forward, the University plans to further reinforce its programmes to continue to provide a multidisciplinary, comprehensive and experiential entrepreneurship education. It will also offer academic support to deep tech start-ups to bring researchers closer to markets, and market opportunities closer to the University, thereby promoting 'Do Well Do Good' entrepreneurship within PolyU and the start-up community at large to advance social and economic developments.