A Conversation with President Jin-Guang Teng - Excellence and Impact
Professor Jin-Guang Teng is an internationally renowned scholar in the field of structural engineering. Starting his university studies at the age of 15, he has gone on to forge an impressive career nurturing young talent and pursuing ground-breaking research over a long period of nearly 40 years. Professor Teng assumed the office of President of The Hong Kong Polytechnic University in July 2019.
---
As you pick up the mantle from your predecessors as the new PolyU President, how would you describe PolyU today?
I joined PolyU in 1994 as a lecturer after spending nearly 10 years in Australia and the UK for my doctoral studies and early career. Over the past 26 years, I have witnessed and taken part in the momentous progression of PolyU from a polytechnic into a full-fledged university and, now, a world-class university. During this period, PolyU has been developing talent, advancing research and addressing changing societal needs. These efforts have borne fruit. A number of our disciplines are today ranked among the top 50 in the world by QS, while PolyU is among the top 100 in the QS World University Rankings 2021.
What is your ideal PolyU?
My ideal PolyU is a world-class university with a strong emphasis on societal impact. It is a university with a strong culture of excellence and social responsibility, offering a holistic education to students and undertaking world-class research. It is a place where interdisciplinary collaboration, innovation and entrepreneurship are highly valued. It enjoys a world-leading reputation in many of its disciplines, and fosters a caring and fulfilling environment where students and staff can realise their full potential.
What is your vision for the future development of PolyU?
We are in the era of the Fourth Industrial Revolution. As a university with a strong focus on science, engineering and technology, we need to ask ourselves how PolyU should respond to the challenges and opportunities brought about by the Fourth Industrial Revolution which is characterised by emerging technologies such as AI, data science, robotics, new materials, additive manufacturing and biotechnology. We will develop our education and research to help advance these emerging technologies.
As a university with a strong emphasis on societal impact, we also need to develop innovations and technologies related to housing, health care, smart cities, the environment and energy in order to address major societal challenges.
How are you going to realise this vision?
We need to upgrade our course offerings, recruit top scholars, build up our research capabilities, broaden our students' outlook and innovate teaching. To ensure that PolyU stays competitive over the long run, we must seize the opportunities offered by the Greater Bay Area development, which is opening up enormous possibilities for PolyU's education and research, while sustaining our leading position in the region and the world. For all of this, we need the concerted effort of the PolyU community.
How would you engage the PolyU community to share your vision and follow your lead?
Communication is obviously very important for us to strengthen our shared vision and common understanding of the PolyU community and to work together as a team. I will continue to step up my efforts to communicate with staff, students and alumni through regular updates and sharing sessions.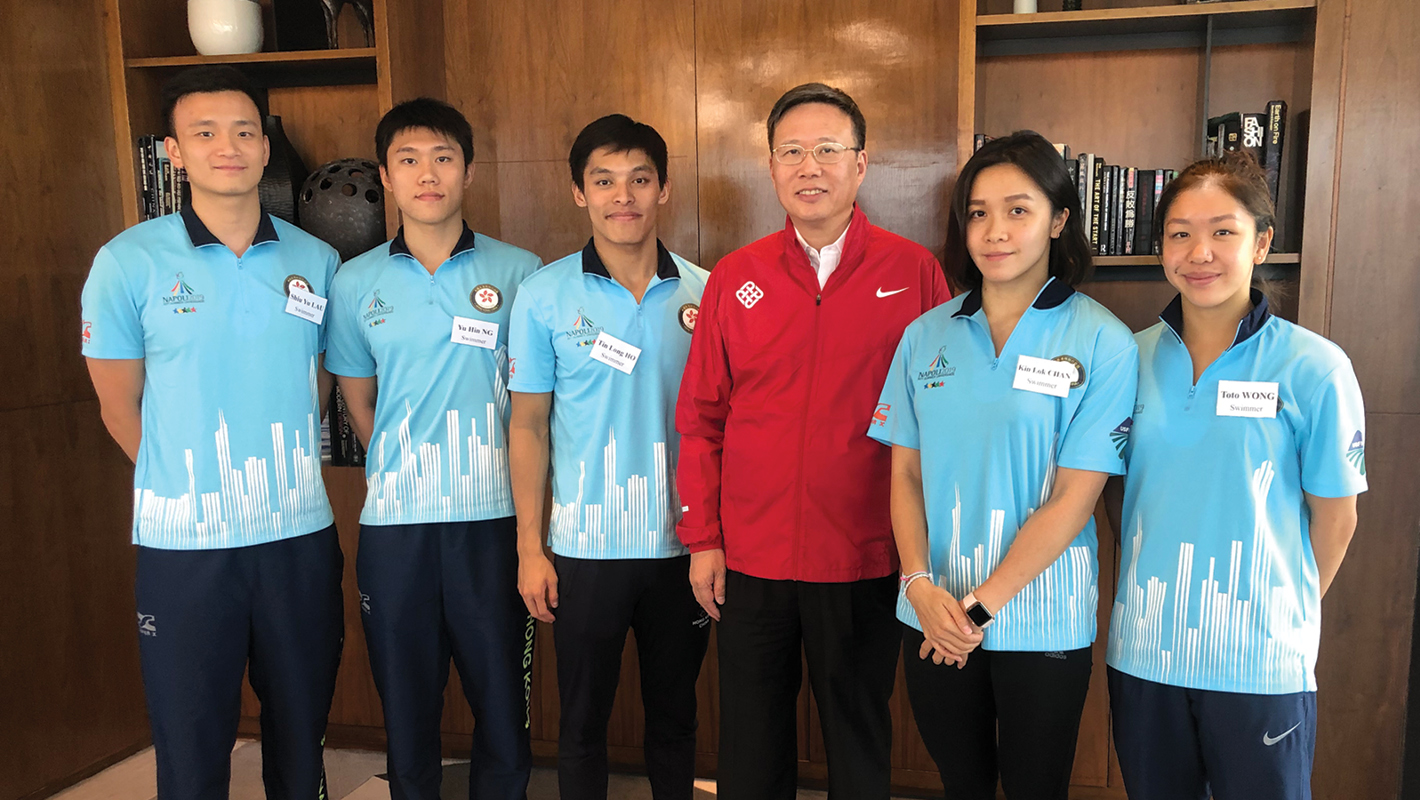 Professor Teng meets students at a lunch gathering.
What is your advice to young scholars?
I would like to share three observations.
First, most research nowadays is funded to address societal challenges. As researchers, we should stay alert to the major challenges that society faces and contribute effective solutions.
Second, for researchers to be recognised as leaders in any field, they need to have impacted the field with creative ideas that lead to ground-breaking research or tackled challenging problems that have defied previous efforts.
Thirdly, they need to demonstrate a very high-quality standard in all scholarly activities. The respect that scholars command in their field depends on not only what problems they have solved, but also how thoroughly, rigorously and elegantly they have solved them. I would be pleased to exchange views on these issues with PolyU scholars.
Do you have a motto that you live by ?
I have a number of them. I adopted 非志無以成學 (Without aspirations, learning will come to naught) from《誡子書》by 諸葛亮 (Zhuge Liang's Exhortations to my son) as the name for the WeChat group for my research team.
As a university president, I have been pondering the line 大道至簡 (Great truths are always simple) from《道德經》 (Daodejing), which is similar to a famous quote from Bruce Lee: "Simplicity is the key to brilliance". Here, "simplicity" is not to be misconstrued as being simplistic; rather, it stresses the importance of focussing on the essence of an issue. It is useful to be reminded of this wise perspective in finding effective solutions to complex problems.