New AI and Robotics Lab to foster co-creation and innovation
Artificial intelligence (AI) and robotics are game-changing technologies that are rapidly shaping many different aspects of life. Recently, PolyU established the Artificial Intelligence and Robotics Laboratory (AIR Lab) at the University's Industrial Centre to help empower students and researchers with the two transformative technologies. With the AIR Lab, PolyU will better fulfill its goals of nurturing future-ready leaders and transforming its research excellence into impactful applications to enable Hong Kong to develop into an international innovation and technology centre.
Occupying a total floor area of 1,800m2, the AIR Lab serves as an innovative teaching and research platform for teaching staff, students, young entrepreneurs and researchers to explore various aspects of collaborative robotics, including application development, component fabrication, control system design, and autonomous system development.
Some examples of AIR Lab projects
Collaborative robot for assistive rehabilitation

A robot driving module to navigate in underground water mains and networks for inspection and repair

Robotic guide dog
Featuring Hai Robotics' state-of-the-art system
With the strong support of Hai Robotics, the AIR Lab boasts its cutting-edge warehouse automation solution, the Smart Delivery System, which comprises three components:
Hai Robotics' pioneering autonomous casehandling robotic system

Autonomous Mobile Robots

an enterprise resource planning software system.
The System supports researchers in developing various collaborative robot application technologies,encourages co-creation and innovation, and offers a communal logistics service for the Lab's users.
Besides, the Lab is also equipped with advanced robotic arms, legged robots, automatic guided vehicles, drones, as well as machine learning kits related to AI robotics and Industry 4.0. Currently, it houses 15 PolyU project teams focusing on the use of AI and robotic technologies in areas such as healthcare, rehabilitation, sports technology, engineering, energy, computing, and sustainability.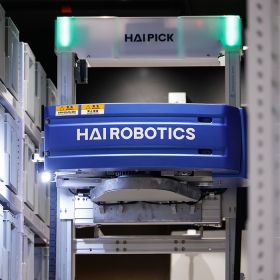 Hai Robotics is a world-leading provider of autonomous case-handling robotic systems founded by two graduates of PolyU's Department of Electronic and Information Engineering – Mr Richie Chen (2012) and Mr Fang Bing (2014) in 2016. Nurtured under PolyU's entrepreneurship ecosystem, the technology startup grew rapidly by capitalising on the manufacturing advantages of the Greater Bay Area (GBA) and the opportunities of the Mainland China market. It thereafter expanded its global presence, with a valuation that has now reached around US$2 billion.
The Smart Delivery System in the AIR Lab was launched with Hai Robotics' worldleading autonomous case-handling robotic system HAIPICK, which is able to respond swiftly to changes in storage requirements.
Unicorn founder grateful for alma mater's support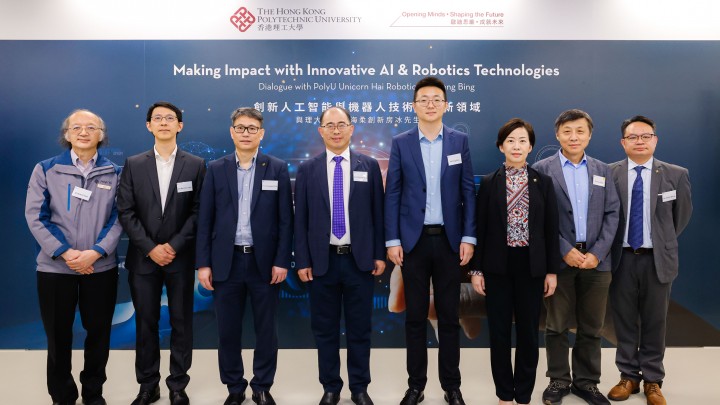 PolyU alumnus Mr Fang Bing, Co-founder of Hai Robotics (fourth from right), was invited to share the company's success story with guests visiting the AIR Lab. Welcoming him on behalf of PolyU were Prof. Wing-tak Wong, Deputy President and Provost (fourth from left); Dr Miranda Lou, Executive Vice President (third from right); and Prof. Christopher Chao, Vice President (Research and Innovation) (third from left). They were joined by the Industrial Centre's Director Dr Wai Hon-wah (second from left) and Associate Director Ir Dr Robert Tam (first from left); as well as Mr Kelvin Wong, Director of the Knowledge Transfer and Entrepreneurship Office (first from right); and Prof. Lu Chao, Chair Professor of Fibre Optics, Department of Electronic and Information Engineering (second from right).
Hai Robotics grew to become a unicorn in 2021, valued over US$1 billion in just five years after its establishment. In April, the company's Co-founder Mr Fang Bing was invited to the Lab to share its success story. Mr Fang thanked his alma mater for the entrepreneurship education and funding support he received. He encouraged young people to stick to their dreams and grasp the opportunities for innovation and entrepreneurship offered by the Greater Bay Area.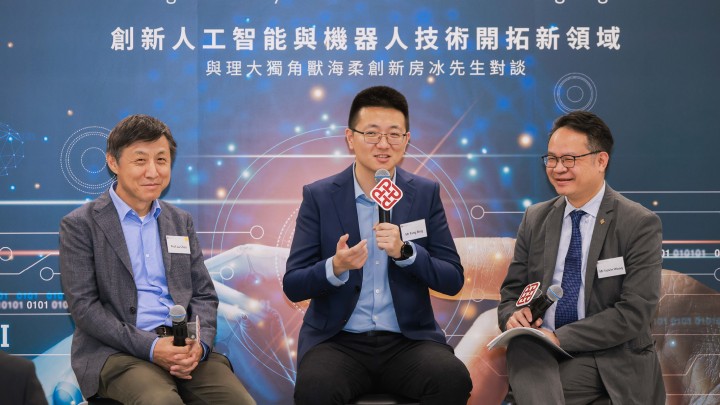 Mr Fang Bing's (centre) entrepreneurial journey started during his undergraduate study with Prof. Lu Chao (left). Mr Kelvin Wong (right) moderated the discussion.
Dr Miranda Lou, PolyU's Executive Vice President, was gratified to see the PolyU alumnus' achievement. She said, "Over the years, PolyU has been strengthening its PolyVentures startup ecosystem to support academics, researchers, alumni and students in their entrepreneurial endeavours. The University has also provided all-round support to startups at different stages of their development, helping them translate and commercialise their research outputs for the benefit of society."
PolyVentures is the University's signature technology startup ecosystem aimed at fostering an entrepreneurial mindset and accelerating the translation of innovations and technologies from the University to the marketplace for positive societal impact.
PolyU Industrial Centre
Founded in 1976, the Industrial Centre (IC) serves to provide engineering education as well as technical and research support to PolyU researchers and students. The only establishment of its kind among the local UGC-funded universities, the 'technical library' is equipped with a complete collection of engineering facilities and equipment together with a pool of expertise in different engineering disciplines. As PolyU's innovation and technology hub, IC is migrating from an engineering support centre to a cluster of central facilities connecting science, engineering, health and arts.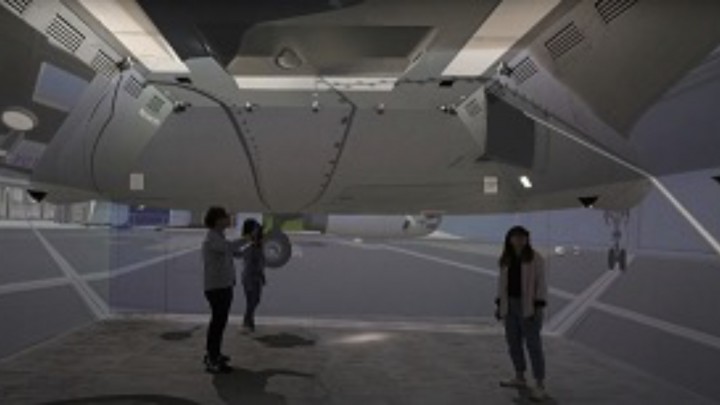 The Hybrid Immersive Virtual Environment is another major facility installed in IC. As Hong Kong's first large-scale X-Reality hybrid classroom, it adopts fully immersive six-sided Cave Automatic Virtual Environment technology to significantly enhance teaching flexibility and the learning experience.