PolyU startup develops advanced spectacle lens for myopia control with ultra-precision machining technology
PolyU is committed to addressing pressing societal challenges through research innovation and knowledge transfer. To slow down myopia progression in children and adolescents, a PolyU supported startup, Vision Science and Technology Co. Ltd (VST), has developed a novel, effective spectacle lens called the Nano Multi-rings Defocus Incorporated Lens using two PolyU patented technologies.
The VST team created the spectacle lens by integrating PolyU's Defocus Incorporated Soft Contact (DISC) technology with Ultra-precision Nano Multi-rings Machining Technology, in collaboration with researchers from the State Key Laboratory of Ultra-precision Machining Technology (The Hong Kong Polytechnic University) (SKL-UPMT) and PolyU's School of Optometry (SO).
How prevalent is myopia?
Myopia, or short-sightedness, affects around 30% of people worldwide. Close to half of the global population is expected to become short-sighted by 2050. People with severe myopia have a high risk of developing cataracts, retinal detachment, and glaucoma, and the condition may even lead to blindness.
Two PolyU technologies combined for huge benefits
The DISC technology was invented by SO and commercialised by VST in 2018. The DISC lens is a multi-zone soft contact lens that provides clear vision and at the same time projects blurred, outof- focus (defocused) images onto the retina to slow down axial elongation of the eye of myopic patients. In clinical trials, DISC lenses were proven to retard myopia progression among children aged between 8 and 13 by 60% on average.
PolyU's patented DISC technology was commercialised by VST in 2018.
On the other hand, the Ultra-precision Nano Multirings Machining Technology developed by SKL-UPMT is a patented technology based on advanced optics design, ultra-precision machining, ultra-precision measurement, and ultra-precision mould-making.
The multi-zone property of the DISC lens poses a major challenge to applying the technology to spectacle lenses. Concentric rings are apparent, causing the wearer to look odd and the final product unmarketable. To overcome this issue, the SKLUPMT team tried several rounds of refining the ultra-precision process to come up with the naturallooking spectacle lens, which not only provides added comfort for wearers, but also offers stable vision. The convenient and non-invasive design also makes it more suitable for children of different ages.

The launch of the new lens is a testament to PolyU's continuous efforts in facilitating knowledge transfer and innovative solutions by supporting cutting-edge technology startups.
Spearheading ultra-precision machining technology
SKL-UPMT focuses on the development and application of advanced technologies, including ultra-precision machining technology, which is the backbone of industries such as optometry, semiconductors, advanced optics, aerospace, energy, biomedical and new materials development.
Professor Benny Cheung, Chair Professor of Ultraprecision Machining and Metrology of the Department of Industrial and Systems Engineering and Director of SKL-UPMT, said, "We will continue to create new technologies and solutions for diverse industries to benefit society, and further Hong Kong and Mainland China's competence and strategic advantages in design and advanced manufacturing."
"VST is pleased to partner with SKL-UPMT and the School of Optometry in launching the new Nano Multirings Defocus Incorporated Lens, resulting in a major breakthrough in DISC technology," said Professor To Chi-ho, Visiting Chair Professor of SO and Co-founder of VST.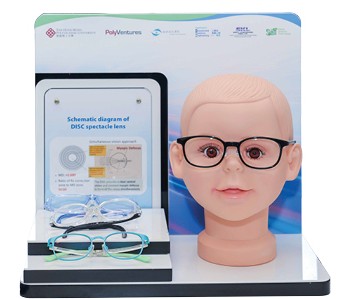 Founded by Professor To and a PolyU graduate in 2016, VST has received financial support from the PolyU Micro Fund and the PolyU Tech Launchpad Fund.
Through PolyVentures, the University's signature technology startup ecosystem, PolyU fosters academicand student-led entrepreneurship by providing support at each stage of the entrepreneurship journey, from education and ideation to incubation and acceleration, with the goal of commercialising impactful technologies for the benefit of society.