Weaving AI into fashion design with the world's first designer-led AI system
Committed to impactful research and knowledge transfer, PolyU is ready to work with enterprises and practitioners to harness the power of AI to boost efficiency, innovations and economic outcomes.
The Laboratory for Artificial Intelligence in Design (AiDLab), a research platform specialising in interdisciplinary AI and design innovations jointly established by PolyU and the Royal College of Art in the UK under the InnoHK Research Clusters, launched the AI-based Interactive Design Assistant for Fashion (AiDA) in December 2022.
Finding inspiration from AI
AiDA was developed by a team including AI specialists and designers led by Professor Calvin Wong Wai-keung, Centre Director of AiDLab and Cheng Yik Hung Professor in Fashion of PolyU's School of Fashion and Textiles. It is the world's first designer-led AI design system that empowers designers to maximise their creativity and streamline their design processes.
AiDA has been hailed by local and international fashion designers for streamlining the design process and providing inspiration. Professor Calvin Wong said, "At AiDLab, we believe that AI should be used as a supporting tool for fashion designers. Our approach is human-centred and interdisciplinary, and we have worked with designers for over two years to develop and refine AiDA."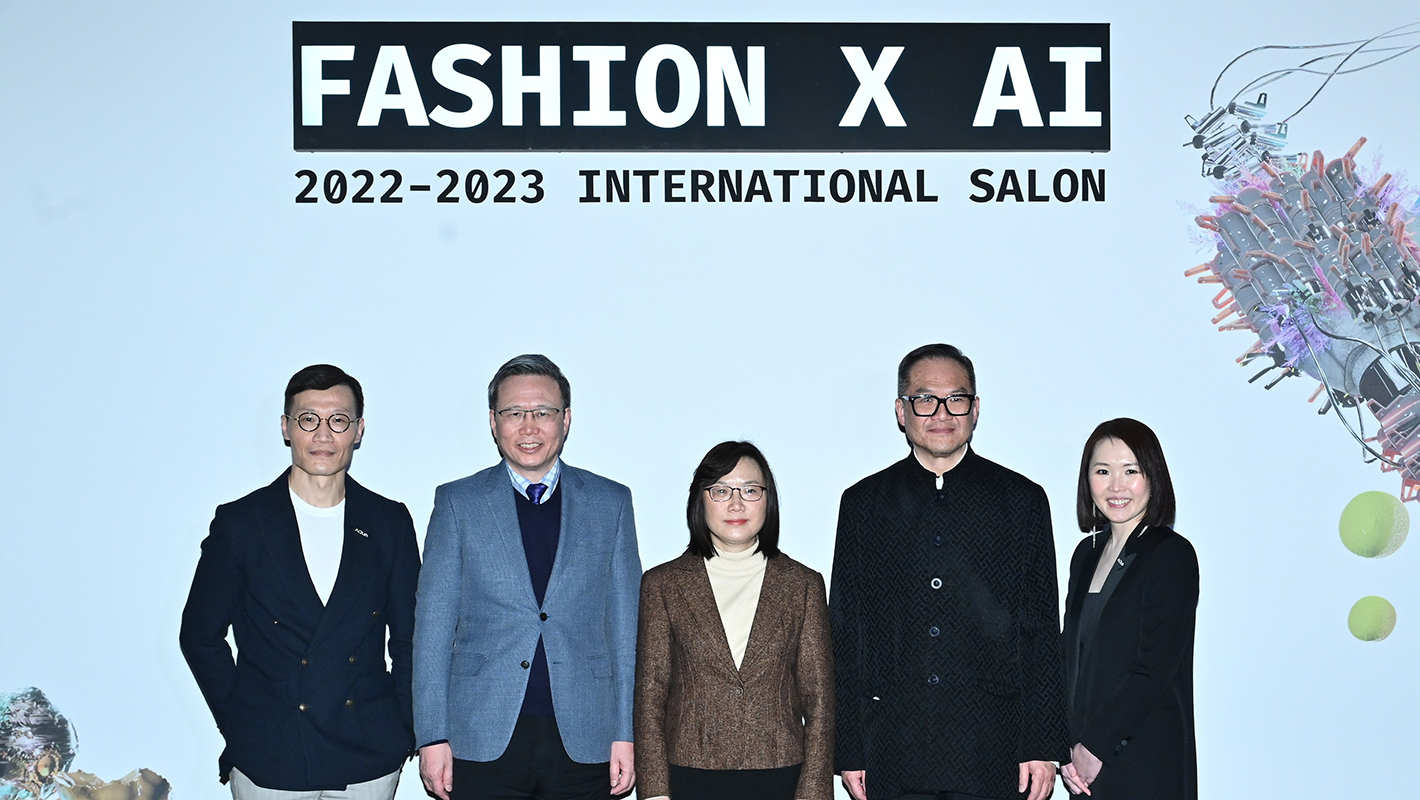 Ms Rebecca Pun, Commissioner for Innovation and Technology of the HKSAR Government (centre), Mr Victor Tsang Chiu-hok, Head of CreateHK (second from right), Prof. Jin-Guang Teng, President of PolyU (second from left), Prof. Calvin Wong Waikeung (first from left), and Dr Jeanne Tan, COO & Centre Assistant Director of AiDLab (first from right) at the "Fashion X AI" fashion show.
Year-round activities to forge Hong Kong's leadership
AiDA was officially unveiled in the "Fashion X AI" fashion show, the premier event of the "Fashion X AI: 2022-2023 International Salon" programme, which aims to nurture creative capital, future-proof the industry and promote Hong Kong as a leader in Fashion and AI. The 18-month programme comprises six key events, including Local Young Fashion Talent Mentorship, the "Fashion X AI" Fashion Show & Forum, an international symposium, a touring exhibition, workshops and a Massive Open Online Course.
The "Fashion X AI" Fashion Show & Forum was held at M+ Museum, with Create Hong Kong of the HKSAR Government as the lead sponsor. It showcased collections developed by six international and local fashion brands and eight local young design units, all using AiDA for the first time. An exclusive AiDA collaboration with renowned fashion brand ANTEPRIMA, a one-off capsule collection developed by ANTEPRIMA's designers using AiDA, was also revealed. Held at the same time, the Forum highlighted PolyU's vision for AI in the fashion industry and featured discussion among designers on their experience with AI and the AiDA system.
Korean fashion designer brand BESFXXXK showcased its latest collection on stage

The latest collection of local young fashion designer Irene Siu was showcased.

Various fashion designers presented their latest collections inspired by AiDA.
Various "Fashion X AI: 2022-2023 International Salon" activities will be held throughout the year. More details can be found here.