PolyU students win two prizes in HKGCC Business Case Competition
Two teams of PolyU students won the championship and the second runner-up prize in different challenges at the HKGCC Business Case Competition 2022, organised by the Hong Kong General Chamber of Commerce (HKGCC).
The competition connects tertiary students with businesses to exchange ideas and encourage students to use their skills and knowledge to develop creative solutions to real-life business problems. Contestants could choose from five different business challenges, each of which represented an influential corporation in Hong Kong. A total of 140 solutions were submitted to the competition from teams from different universities.
Championing a design approach
A team of students from PolyU's Department of Management and Marketing and the School of Design won the championship in the Sino Group challenge. They received internship opportunities and a one-year student membership at HKGCC, as well as a cash prize of HK$30,000.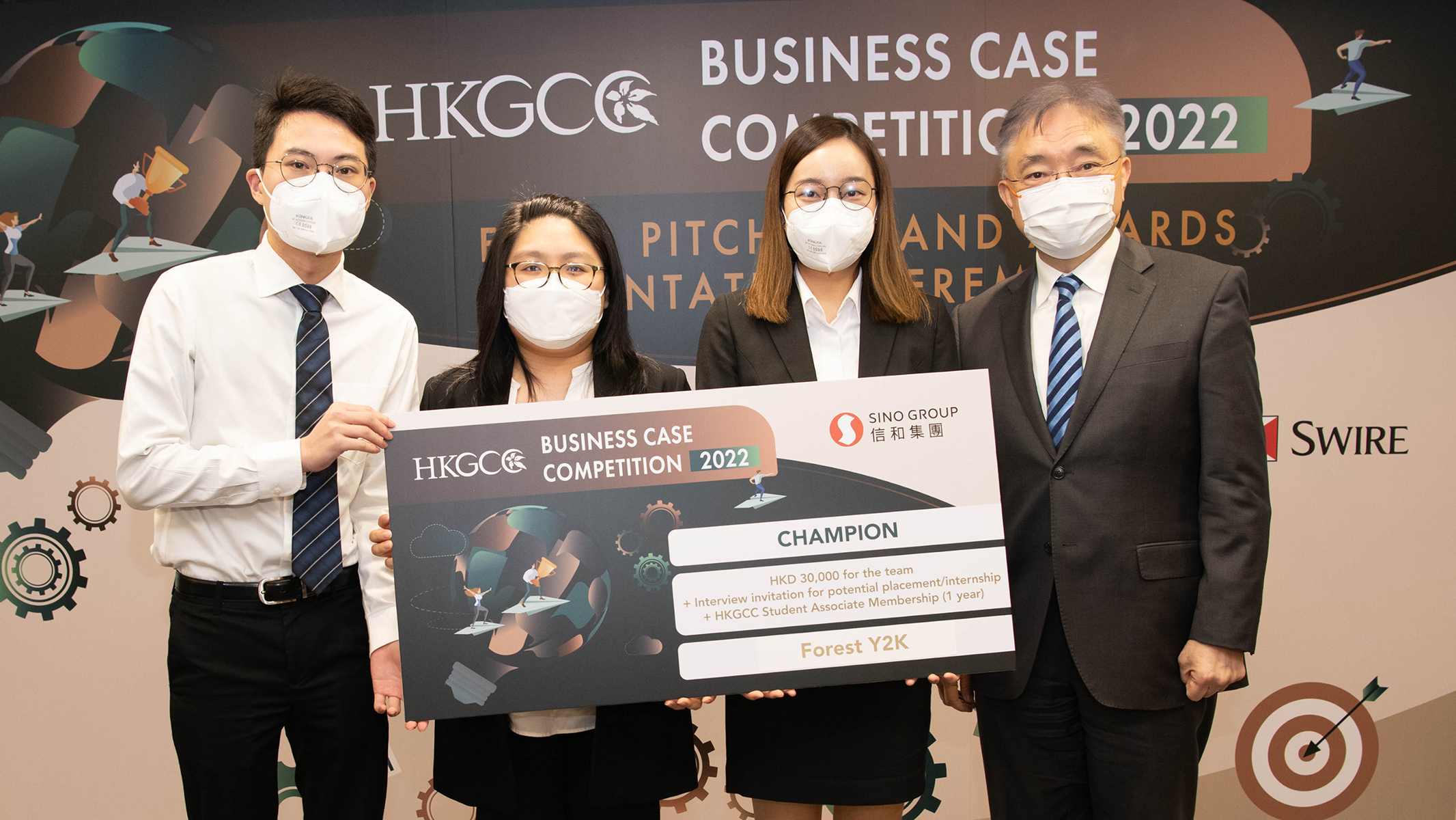 Team name: Forest Y2K
Team members: Ng Hoi-kam, Department of Management and Marketing; Justina Lam Nga-wing, School of Design; Karen Ashley Yue, School of Design
Challenge: Sino Group – Achieving a Wellness Environment Where We Live and Play
The winning team's design-approach to creating a solution to raise the level of wellness in people's daily lives differentiated them from other entries. The team said: "We have seen an increased trend of adopting all-round wellness living practices for mental, physical, and spiritual wellness improvements. We aim to encourage people to use Sino Group's mobile application to take small steps to integrate wellness into their everyday life."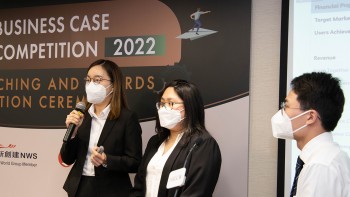 During the course of the competition, the students gained insights into presentation techniques through watching other teams, helping them to engage in an interactive way with the audience. They also learnt about industry through taking part in the competition.
Applying NFT technology
Two third-year students from the Department of Computing won third place in the Chinachem Group challenge. They received an interview invitation for an internship and a one-year student membership at HKGCC, as well as a cash prize of HK$10,000.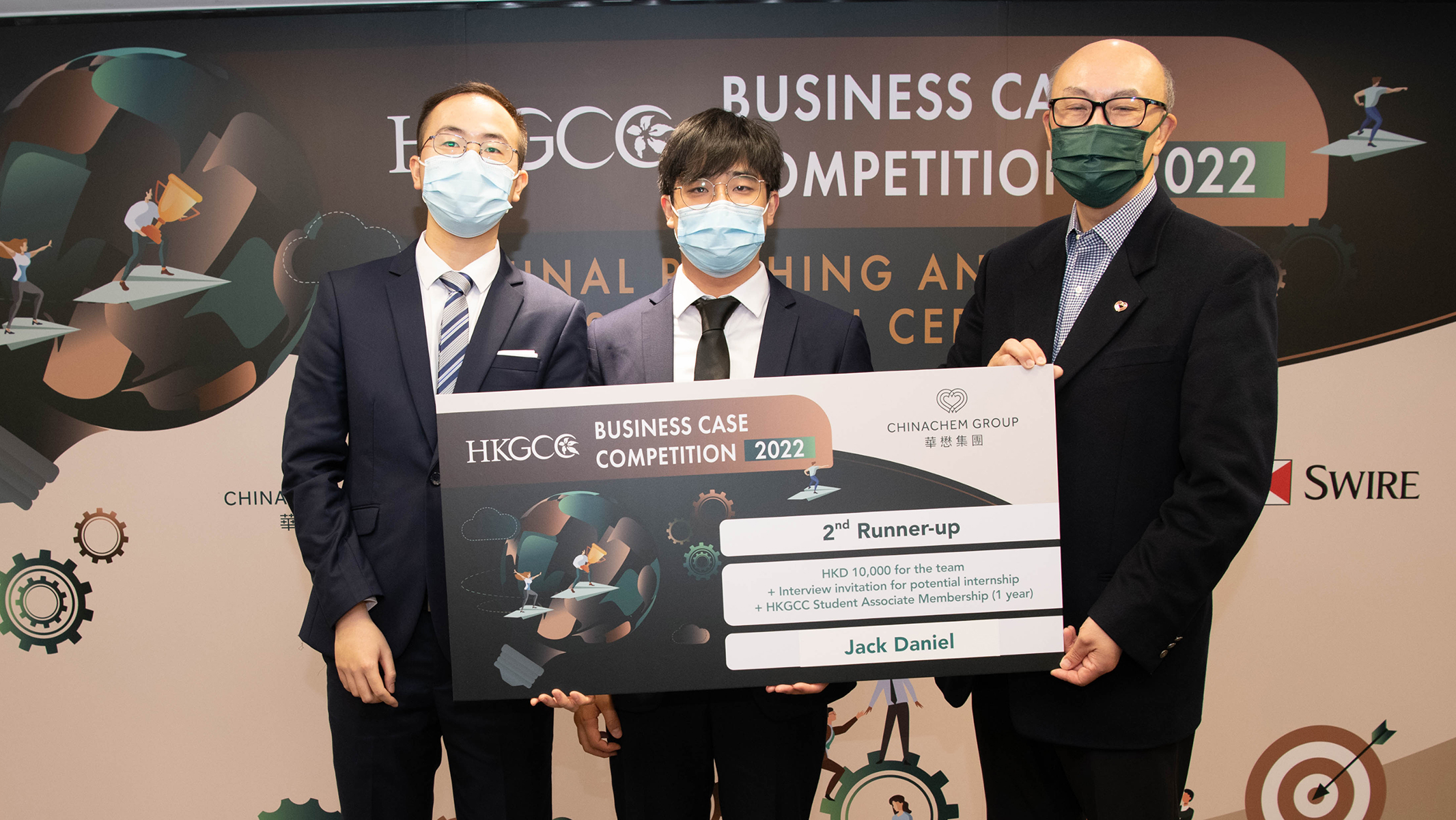 Team name: Jack Daniel
Team members: Jack Au Lok-to, Department of Computing; Daniel Yu Man-fai, Department of Computing
Challenge: Chinachem Group – Embrace Cutting- Edge Technologies to Create Places with Heart
Jack and Daniel, undergraduate Financial Technology and Artificial Intelligence students, said they gained precious real-life experience from taking part in the competition, learning a lot from their industrial mentors. They considered their improved technical mindset and the international friendships they made as being the highlights of the experience.
Their solution, Ninaland, used non-fungible token (NFT) technology to digitalise exhibits and activities at Nina Park, a museum-grade fossil garden due to open in autumn 2023, with the aim of helping visitors connect with the attraction, promoting sustainability and enriching communities.