From startup entrepreneur to angel investor - Tackling challenges with an innovative mindset
Ir Dr Samson Tam Wai-ho, JP
---
Partner, Hong Kong Inno Angel Fund

Chairman, Group Sense (International) Limited

Doctor of Philosophy, PolyU (2005)

Outstanding PolyU Alumni Award (2007)

President, Outstanding PolyU Alumni Association (2022-2024)
---
Dr Samson Tam developed the world's first electronic Chinese-English dictionary at the age of 24. His first business, which specialised in hand-held electronic devices, grew to become a listed company in just five years. That was in the early 1990s, when Hong Kong's economy was booming. Dr Tam used his technological knowledge and business acumen to seize the opportunities on offer. He attributes his success as an entrepreneur to his ability to move quickly and collaborate with others to leverage their combined strengths.
His company, Group Sense Limited, started out as a small enterprise. Dr Tam knew that in order to compete with larger corporations, he would have to expand his business quickly. He did this through technology licensing, forging partnerships with research institutes and universities to commercialise their research output, such as the Chinese Academy of Science's machine translation technology, and develop new products.
"At that time, we had little competition from Mainland China," Dr Tam recalls. "Nowadays, Hong Kong is losing its competitive advantages. Young entrepreneurs face more challenges and competition from the Mainland. Apart from acting speedily, it is critical for them to connect with information, data, and technology sources in order to succeed."
Takeaways from his alma mater
In 1995, Dr Tam enrolled on to a PolyU Master of Science programme, offered jointly with The University of Warwick. He was encouraged by one of his professors to do a PhD, and began his studies in Knowledge Management in 1997. Dr Tam found presenting his dissertation to academics at overseas universities a memorable and fruitful experience. It not only helped him develop a global perspective but also extended his international network. He was also inspired to build a knowledge management system in his company, which he refers to as a "sharing and teaching organisation", in which the sharing of knowledge is key.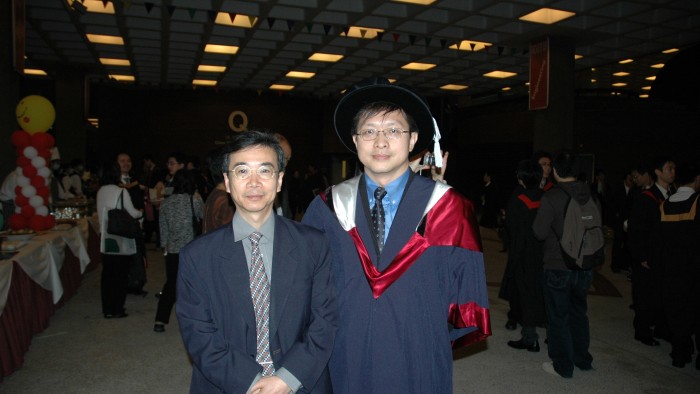 During his studies at PolyU, Dr Tam received much guidance from Ir Prof. Lee Wing-bun (left), Founding Director of PolyU's Knowledge Management and Innovation Research Centre and currently Emeritus Professor (Manufacturing Engineering).
Identifying the dream team
Dr Tam is currently a partner of the Hong Kong Inno Angel Fund, and has been acting as an angel investor for more than 20 years, connecting startups with funding and networks. When deciding which startups to invest in, a key feature he focuses on is the management team.
"I always look for a dream team - a combination in which the individual members' outstanding skills and qualities complement each another," Dr Tam says. "To be competitive, you need someone who is good at finance, another who is good at execution; while some members need to be adept in technology, and others need to be innovative. Of course, the startup must secure a niche in technology in the first place."
Dr Tam considers the CEO to be of central importance to a startup's success, pointing out that they must have the vision, charisma, broadmindedness, and competence to lead their team, while the team as a whole should be innovative enough to find solutions that target customers' pain points.
When it comes to innovation, Dr Tam thinks nurture plays as strong a role as nature. He believes young people are most likely to be innovative in an environment that is free from pressure and welcomes contrary ideas. Being exposed to diverse perspectives and ways of thinking is also critical to developing an innovative mindset. "An innovative mind always craves stimulation to challenge its frozen assumptions," he says.
Acting as a connector
Dr Tam thinks an international environment offers the best exposure to different ideas, and he encourages aspiring entrepreneurs to gain global exposure. As President of the Outstanding PolyU Alumni Association (OPAA), Dr Tam believes the 84 members of the Association can help foster PolyU's entrepreneurial ecosystem by connecting the University's startups to their own networks, many of which are global.
"Our outstanding alumni are eager to support their alma mater, and are pleased to share not only their insights and experiences, but also their resources and connections with students and academics to empower their entrepreneurial pursuits. Many members told me that through sharing and collaboration, they themselves have also learnt something new," Dr Tam says.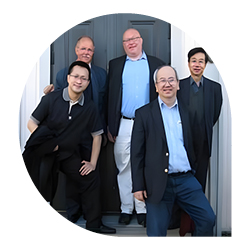 "OPAA and the PolyU Foundation should consider working together to provide funding to PolyU startups," Dr Tam suggests. "We hope to see stronger cohesion among PolyU graduates, students and professors so that we will all be proud of being a member of PolyU."
Dr Tam encourages PolyU entrepreneurs to take bold steps and go global, or at least benchmark themselves against Asia's top performers. He says: "As Asia is surging in technological strength, many opportunities will emerge in the region. Hong Kong teams have a niche over their regional competitors in terms of language and professionalism. So, aim high, make your mark and live a bigger life."
Creating a herd of 'zebras'
Meanwhile, Dr Tam is taking on a new challenge as an investor, using his innovative mindset to champion the 'zebra spirit'. He brings together 'zebras' - small startups with a unique technological competence - and encourages them to share and collaborate, helping each other serve the different needs of the same customers. He explains that not only does each zebra have a unique pattern of stripes, but the black and white also symbolises the double contribution startups can make, namely profit and social benefits.