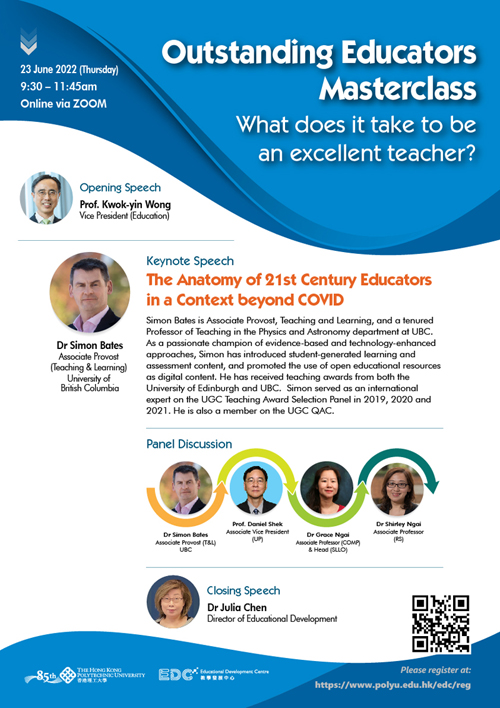 Facilitator: Prof. Wong Kwok-Yin (VPE)
Facilitator: Dr Simon Bates (UBC)
Facilitator: Prof. Daniel Shek (AVPUP)
Facilitator: Dr Grace Ngai (SLLO)
Facilitator: Dr Shirley Ngai (RS)
Facilitator: Dr Julia Chen (EDC)

Date: 23 Jun 2022
Time: 9:30 AM - 11:45 AM
Venue: Online-Zoom
Simon Bates is Associate Provost, Teaching and Learning, and a tenured Professor of Teaching in the Physics and Astronomy department at UBC. As a passionate champion of evidence-based and technology-enhanced approaches, Simon has introduced student-generated learning and assessment content, and promoted the use of open educational resources as digital content. He has received teaching awards from both the University of Edinburgh and UBC. Simon served as an international expert on the UGC Teaching Award Selection Panel in 2019, 2020 and 2021. He is also a member on the UGC QAC.



EDC Coordinator: Kevinia Cheung