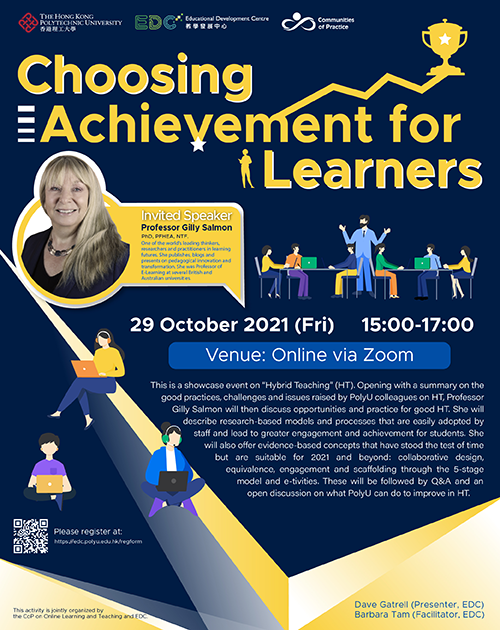 Presenter: Dave Gatrell, EDC
Facilitator: Barbara Tam, EDC
Date: 29 Oct 2021
Time: 3:00 PM - 5:00 PM
Venue: Online-Zoom
Invited Speaker:

Professor Gilly Salmon, PhD, PFHEA, NTF. is CEO & Principal Consultant at Education Alchemists Ltd based in London. Professor Salmon is one of the world's leading thinkers, researchers and practitioners in learning futures. She publishes, blogs & presents on pedagogical innovation & transformation. Her books 'E-moderating' and 'E-tivities' are considered seminal texts. Her 'Carpe Diem' learning design methodology is extensively deployed internationally. She is an Adjunct Professor at Swinburne University of Technology in Melbourne, Australia, and visiting professor at Edge Hill, Derby and the Law Universities in the UK.
www.gillysalmon.com

www.educationalchemists.com

www.youtube.com/c/EdcuationAlchemists

This is a showcase event on "Hybrid Teaching" (HT). Opening with a summary on the good practices, challenges and issues raised by PolyU colleagues on HT, Professor Gilly Salmon will then discuss opportunities and practice for good HT. She will describe research-based models and processes that are easily adopted by staff and lead to greater engagement and achievement for students. She will also offer evidence-based concepts that have stood the test of time but are suitable for 2021 and beyond: collaborative design, equivalence, engagement and scaffolding through the 5-stage model and e-tivities. These will be followed by Q&A and an open discussion on what PolyU can do to improve in HT.

This activity is jointly organized by the CoP on Online Learning and Teaching and EDC.

EDC Coordinator: Barbara Tam