Presenter: Dr Henry Chan, COMP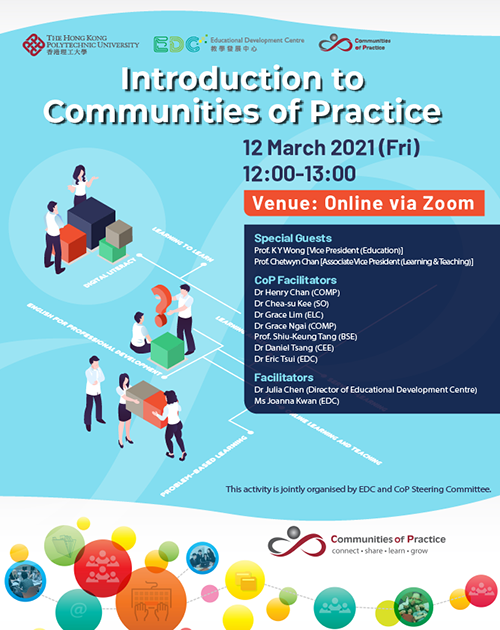 Presenter: Dr Chea-su Kee, SO
Presenter: Dr Grace Lim, ELC
Presenter: Dr Grace Ngai, COMP
Presenter: Prof. Shiu-Keung Tang, BSE
Presenter: Dr Daniel Tsang, CEE
Presenter: Dr Eric Tsui, EDC
Facilitator: Dr Julia Chen, EDC
Facilitator: Ms Joanna Kwan, EDC
Date: 12 Mar 2021
Time: 12:00 PM - 1:00 PM
Venue: Online-Zoom
Are you interested in any of the following topics?
Digital Literacy
English for Professional Development
Learning Analytics
Learning to Learn
Online Learning and Teaching
Problem-Based Learning
Service-Learning
The Communities of Practice (CoPs) in PolyU can offer you the opportunities and free platforms to learn more about these topics.

Join us at this webinar to
learn about the 7 Communities of Practice in PolyU;
meet colleagues with common interests in teaching and learning;
find out what you can gain from being a CoP member;
learn from colleagues' insightful experience in teaching and learning across various departments;
know more about innovative pedagogies that will benefit your teaching and learning strategies.
This activity is jointly organised by EDC and CoP Steering Committee.