---
I am pleased to see the motivated staff and students from PolyU's School of Nursing, who are serving the community with their professional expertise and contributing to our efforts to fight against the pandemic. Their involvement in the anti-pandemic effort will also help nurture these young talents into future healthcare professionals
Professor Sophia CHAN
Secretary for Food and Health
The ongoing fifth wave of the COVID-19 pandemic has placed tremendous pressure on Hong Kong's public healthcare system. The surge of people contracting COVID-19 has also posed a huge demand for advice and assistance from the support hotline of the Hospital Authority.

As part of The Hong Kong Polytechnic University's (PolyU) efforts to collaborate with the community in battling the pandemic, PolyU's School of Nursing has set up a new call centre on campus to support the Hospital Authority hotline.

The call centre is operated by professionally trained senior year nursing students and their teachers, supporting initially 10 hotlines for 14 hours each day. They will provide timely support to patients who have tested positive for COVID-19, handling enquiries on issues such as essential healthcare information and infection control at home, as well as referrals for appropriate follow-up support. The hotline outpost currently handles nearly 600 calls daily.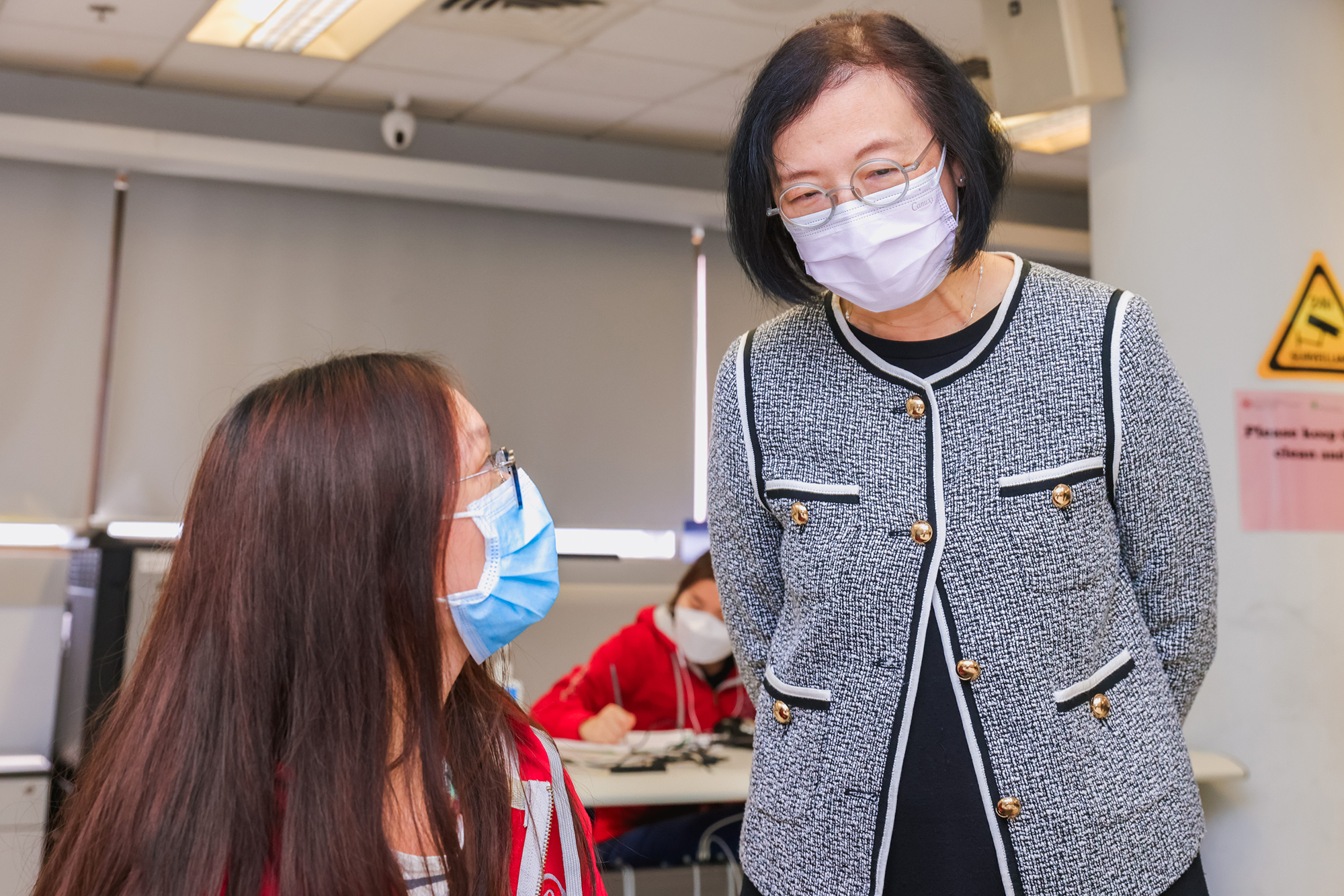 Professor Sophia CHAN, Secretary for Food and Health, visited the PolyU hotline outpost today. She said, "I am pleased to see the motivated staff and students from PolyU's School of Nursing, who are serving the community with their professional expertise and contributing to our efforts to fight against the pandemic. Their involvement in the anti-pandemic effort will also help nurture these young talents into future healthcare professionals."

Professor Alex MOLASIOTIS, Chair Professor of Nursing and Head of the School of Nursing, said, "PolyU staff and students are dedicated to leveraging their expertise to serve the community. Through the School's participation in the Hospital Authority's hotline, we provide timely and direct assistance to the public and share the burden of frontline healthcare professionals in the fight against the pandemic."

In addition to supporting the Hospital Authority hotline, PolyU has been working closely with the authorities on various fronts to support the Government's anti-pandemic efforts. PolyU's School of Nursing has also teamed up with enthusiastic donors to distribute COVID-19 supplies like rapid testing kits and personal protective equipment to nursing homes.

Hospital Authority COVID-19 hotline to support confirmed cases pending admission to isolation facilities
Tel: 1836 115 (Operation Hours: 8 am–10 pm, Monday–Sunday)
Press Contacts
Miss Helen Hsu
Communications Manager, School of Nursing
---