Specialty Laboratories

The Yuen Yuen Institute Chinese Medicinal Nursing Laboratory
This is a specialized laboratory designed for traditional Chinese medicinal nursing. It is equipped with a pulse model, pulse collector and multi-media acupuncture model (MAM).
The facilities provide a clear concept of pulse pattern, preliminary diagnosis, and basic knowledge of acupuncture points in Chinese medicine.
Dorothy Wong Intensive Care Laboratory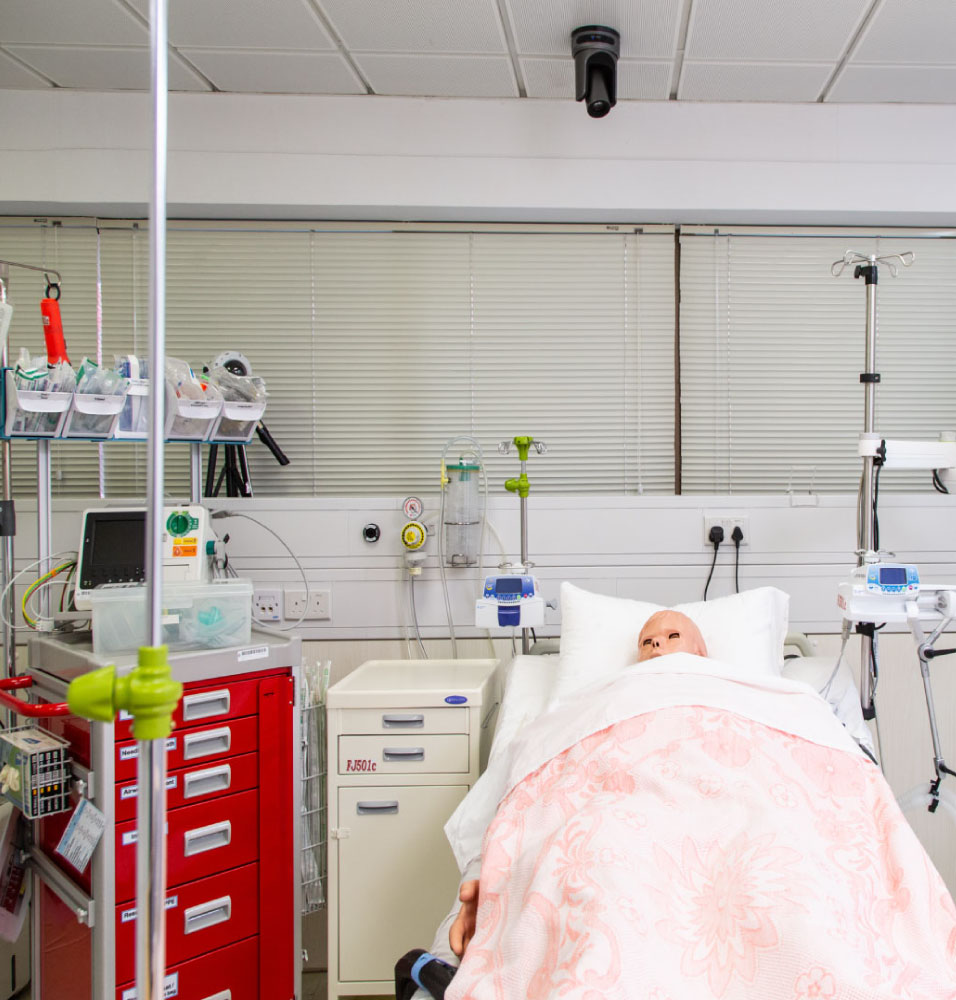 Intensive Care Laboratory (ICU Lab)
The Intensive Care Laboratory (ICU Lab) serves the purpose of training students on caring critical patients and preparing student competency of exercising good communication with other teams and patients' relatives. The training is well supported by the Human Patient Simulator (HPS) and other latest technology.

The HPS is by far the most advanced simulation technology for training health professionals. The programmable scenarios provide flexibility in training and allow the simulator to respond instantly to users' input data of actions and interventions in real-time. Together with the customised recording system, the HPS expedites lecturer-and-student instant feedback at debriefing sessions.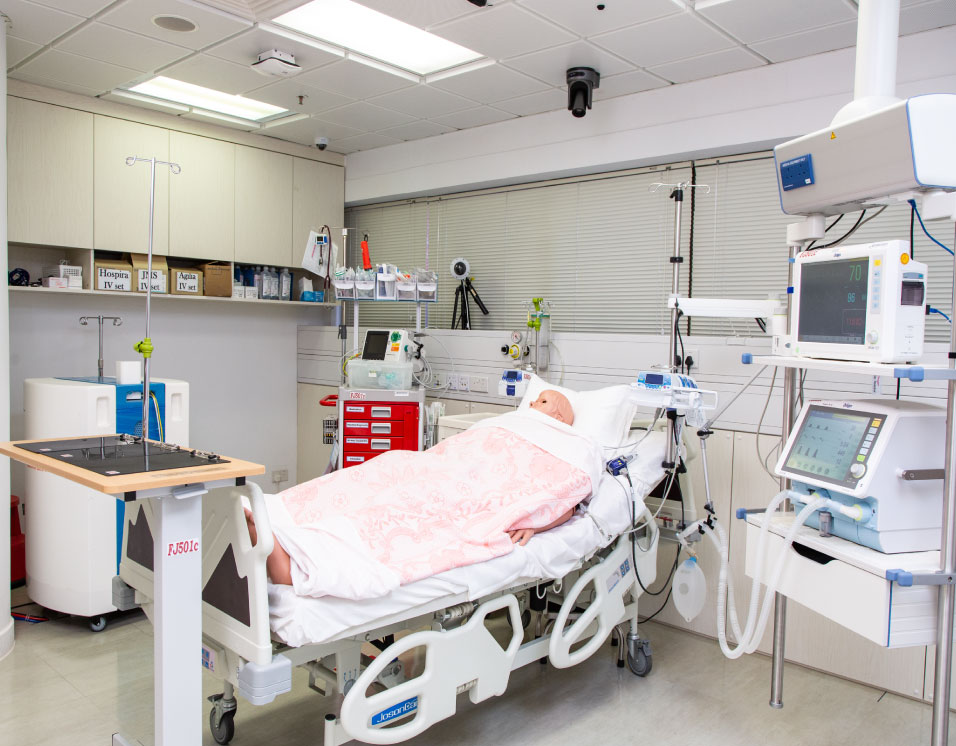 The ICU Lab has a ceiling-mounted pedant, which houses a ventilator, a cardiac monitor and several infusion pumps. The well designed and furnished facilities allow students to acquire critical care skills and learn how to manage patients with life-threatening illness.
Mental Health Nursing Laboratories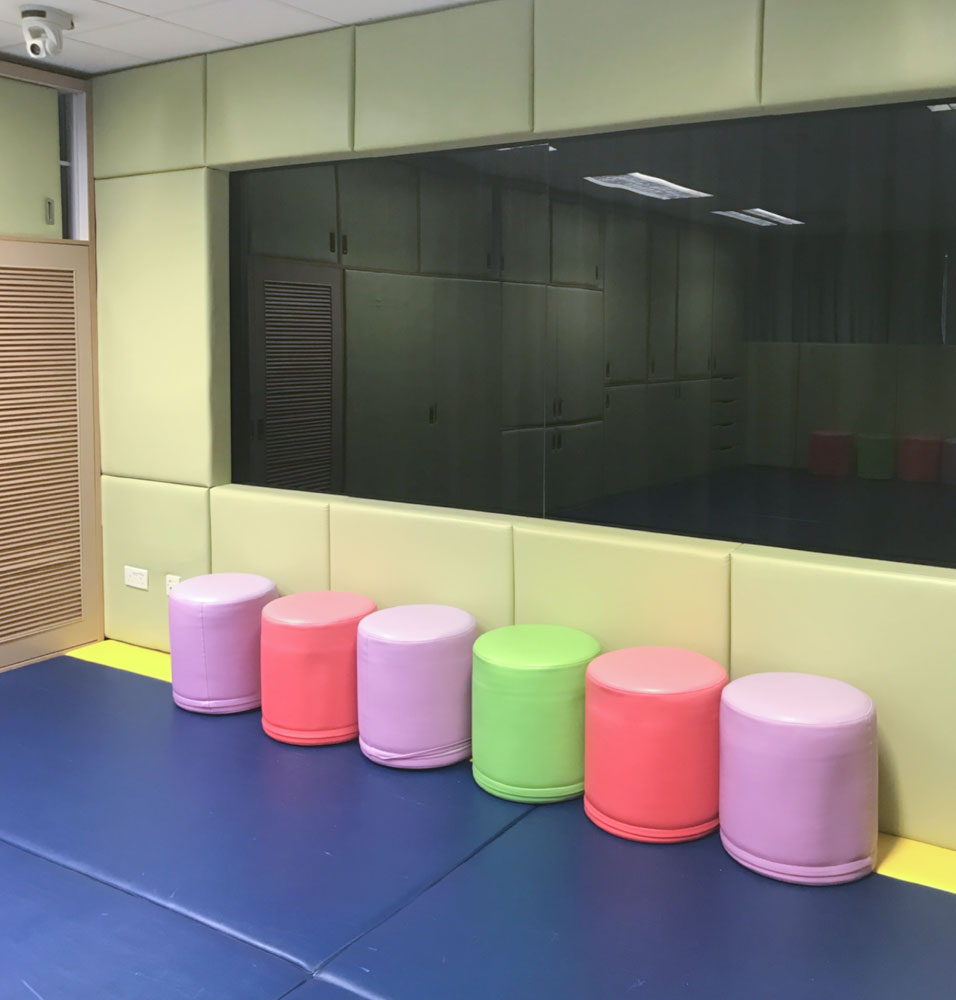 In response to the launching of the Bachelor of Science (Honours) in Mental Health Nursing programme in 2009, mental health nursing laboratories were established by the School to provide state-of-the-art facilities to support teaching and learning in mental health nursing. The first and second multi-purposed mental health nursing laboratories are located at FG408 and FG409.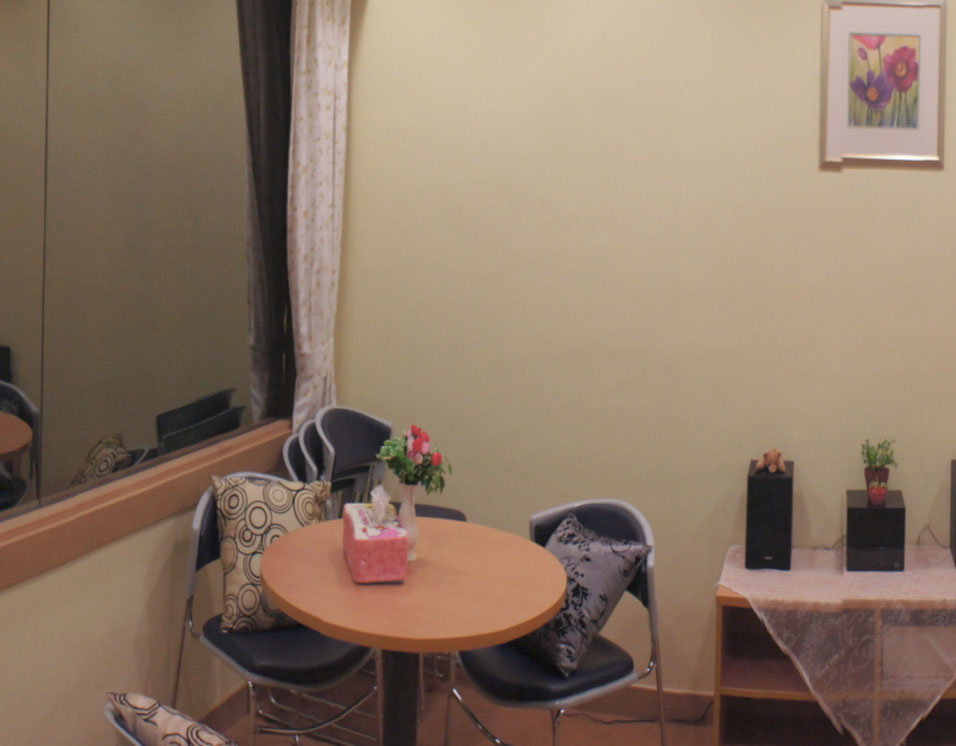 The laboratories, equipped with audio visual equipment, are used for teaching students how to manage violence, interview and counsel clients, and conducted mental health assessment. It is here that our students learn the skills for performing behavior analysis, promoting mental health education, and providing child and adult mental health nursing, and psychiatric nursing interventions.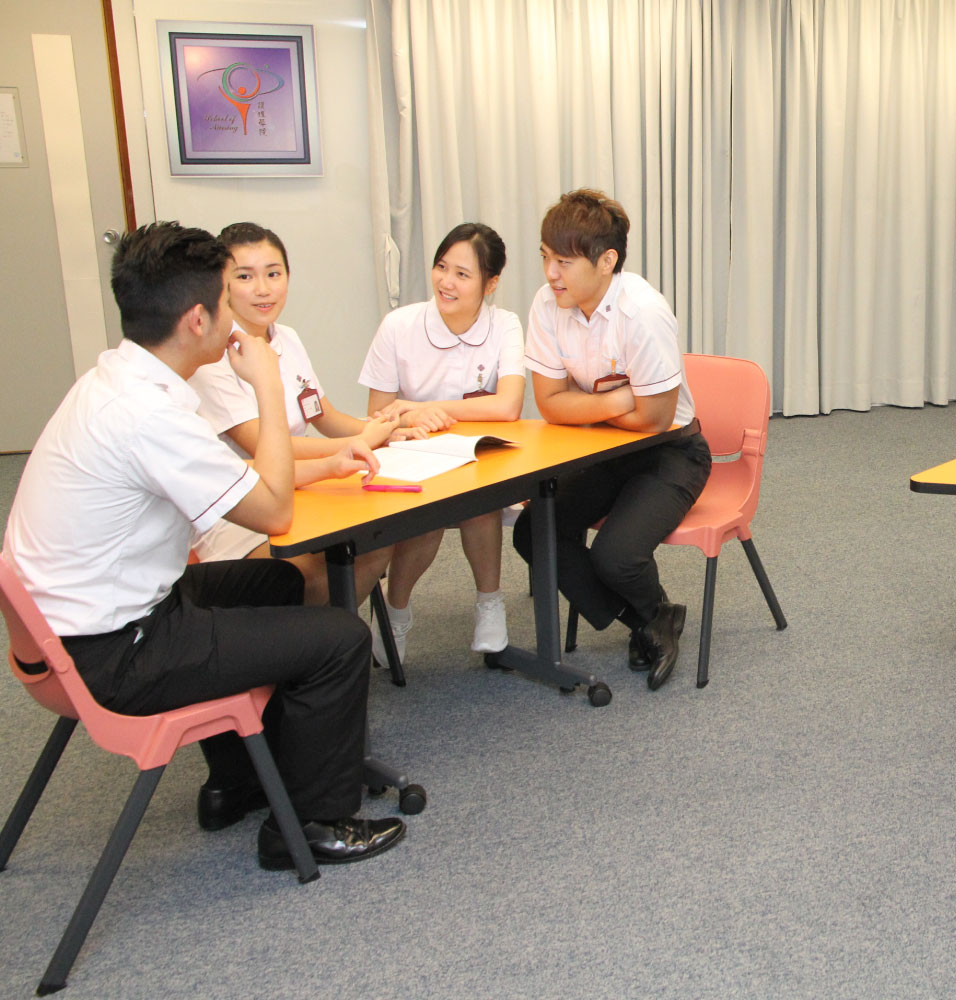 A new mental health nursing laboratory located at AG057r opened in February 2013. This new audio-visual teaching and learning laboratory is designed for practice and assessment. The laboratory provides a venue for students to learn and apply evidence-based interventions, and for teachers to critique students' performance in psychiatric and mental health nursing, and to assess the clinical competence of students.

Equipped with state-of-the-art equipment, such as the audio visual equipment for video recording and playback, a mirror for self-awareness training, and a SMART Board interactive whiteboard, the laboratory provides opportunities for students to practise their assertive skills, communication skills and various psychotherapeutic skills that promote mental health and provide care for the mentally ill.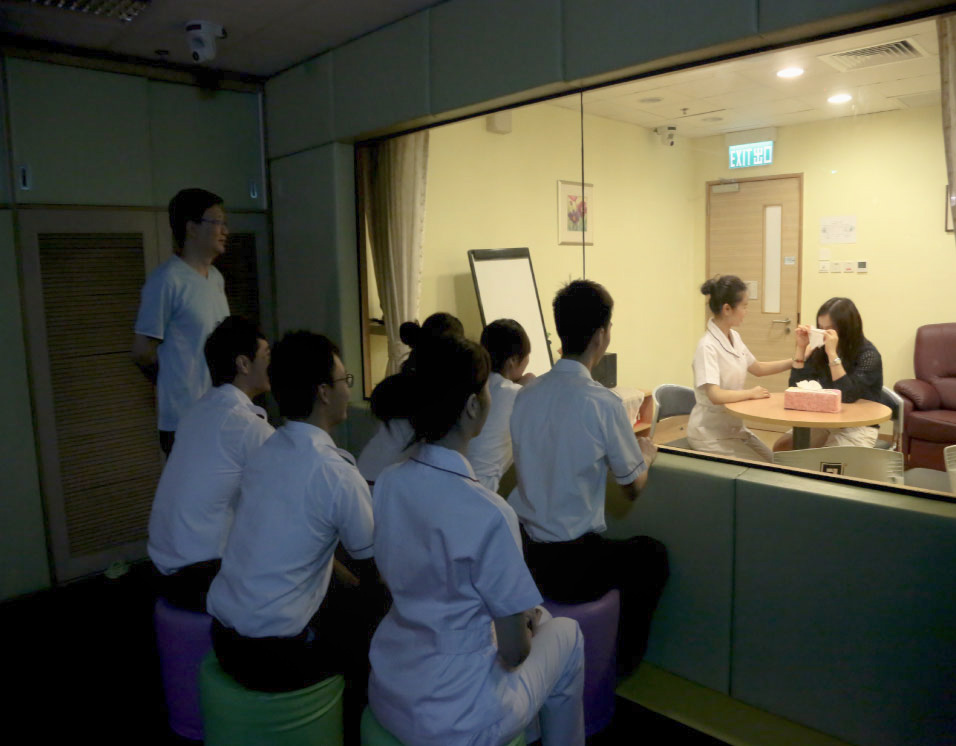 The audio-visual equipment is connected to the mental health nursing laboratory at FG409, which facilitates student learning in practice, and allows teachers to analyse students' practice and assess various psychosocial skills. The laboratory is also used to test innovative clinical skills curriculum. The laboratory has a resource corner with useful references and information to promote learning.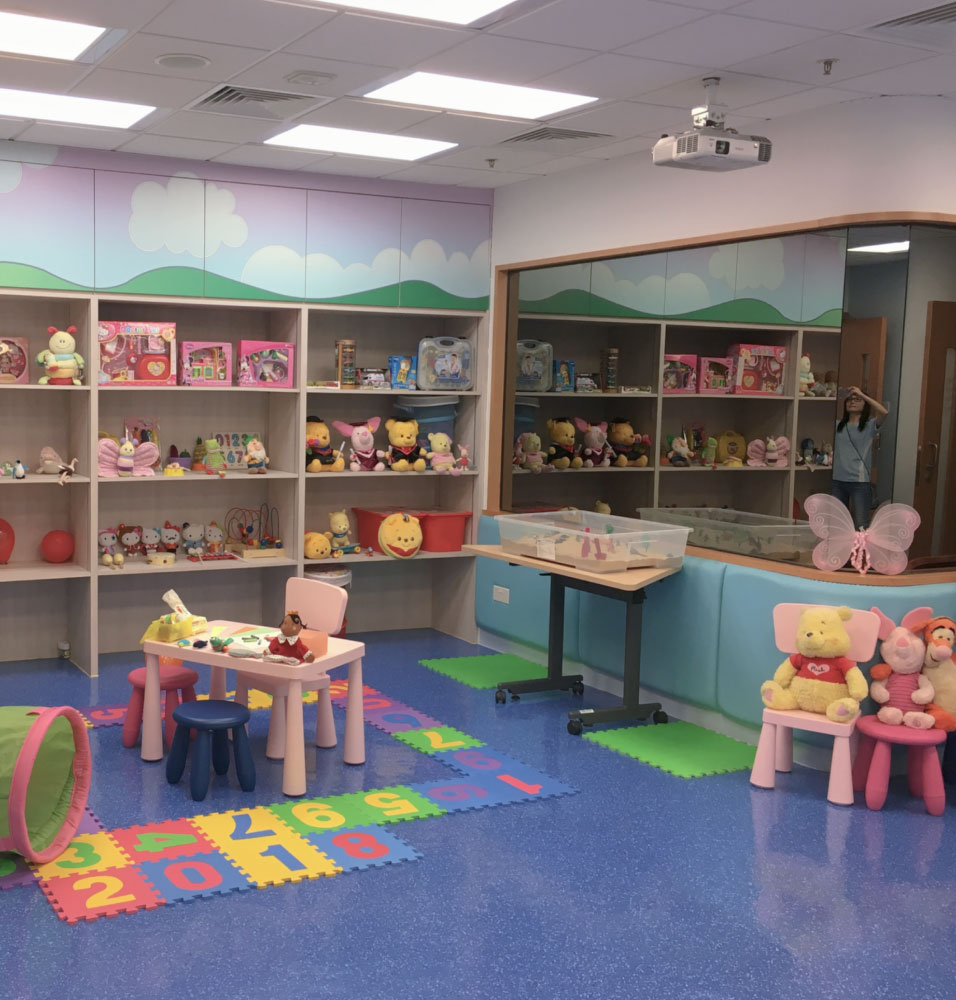 Our fourth new mental health nursing laboratory was open in August 2014. The new lab, located at GH189, is designed for teaching expressive therapy and play therapy. It is bigger than the mental health nursing lab located at FG 4th floor. The new space provides suitable settings for psychotherapy teaching, art therapy learning, child and adolescent mental health care activity and behavioural training. Clear observation is allowed via the room at GH190 where a big one-way mirror is installed. Assessor and observer are able to observe and discuss the activity next door without disturbing it in any way.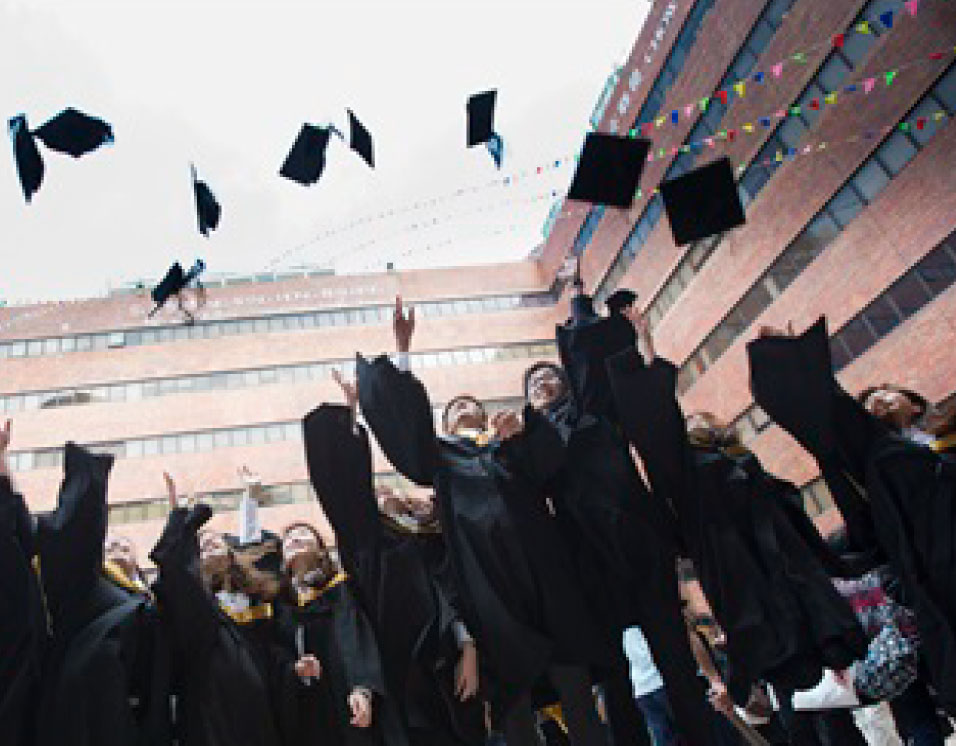 PolyU's School of Nursing aims to build knowledge and skills, to apply information and other technologies to support learning and practice, to cultivate culturally competent care, to foster professional integrity, and ultimately, to improve health outcomes of patients, families, and communities across the continuum of care. Our new mental health nursing laboratory is well-decorated to give a bright and lively atmosphere to users.
Gerontological Nursing Laboratory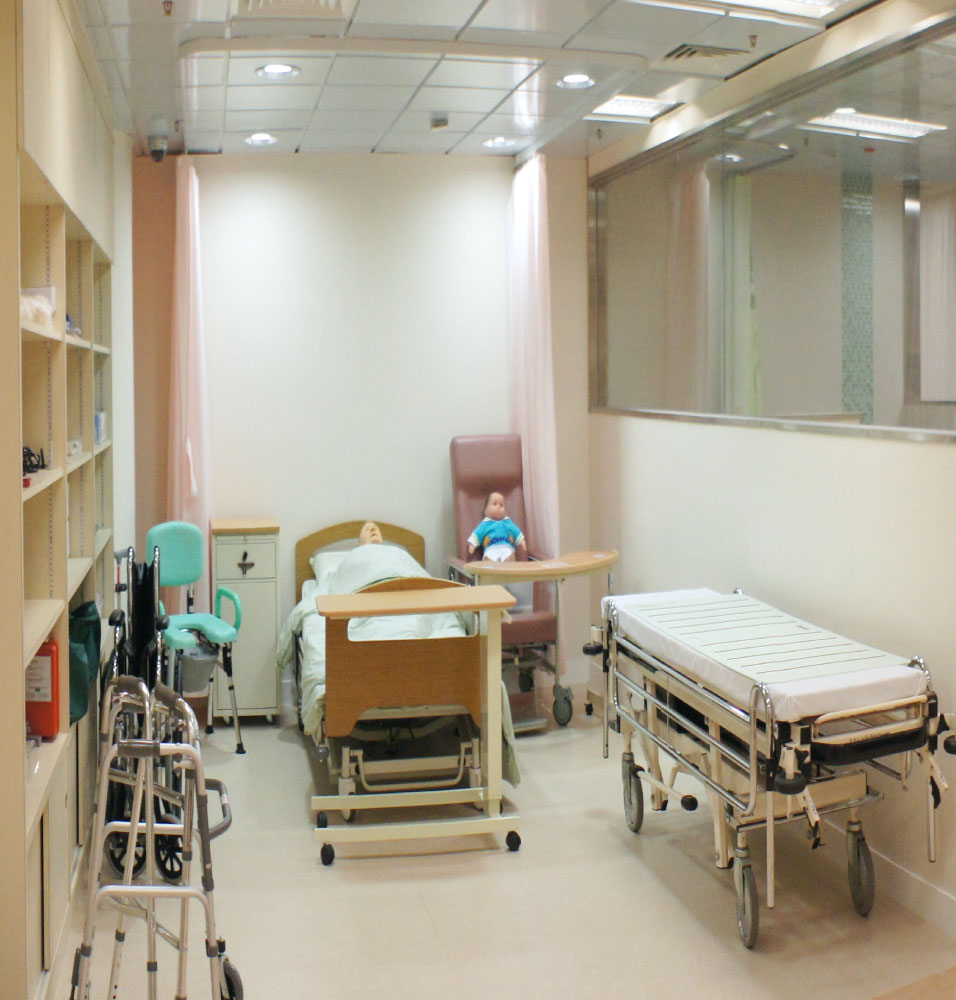 Located in A107, the new gerontological nursing laboratory, opened in September 2014, provides a simulated environment in which students can experience age-related changes, assess the physical and psychosocial health of older people and practise skills in gerontological nursing. The laboratory allows students to gain deeper understandings of the care needs of older people and their caregivers that will facilitate better care planning and quality care provision.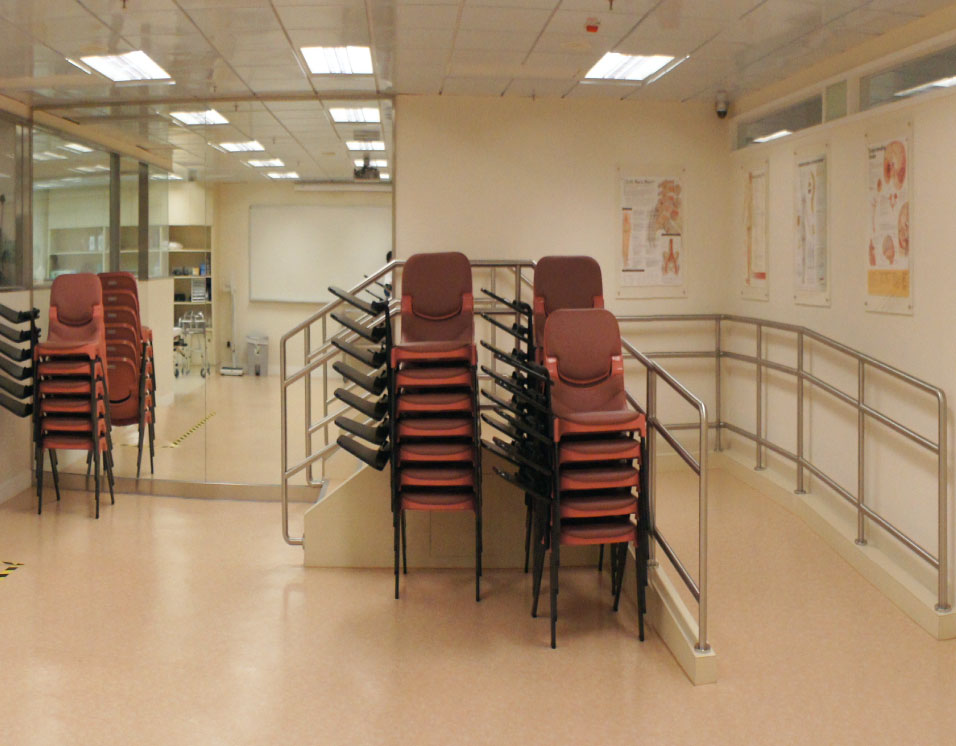 The laboratory also serves as a venue for conducting research activities, where questionnaires and interviews will be conducted, and interventions will be delivered. By engaging in research activities, we promote the development of gerontological nursing research.
Please put at least one valid content allocate to this component.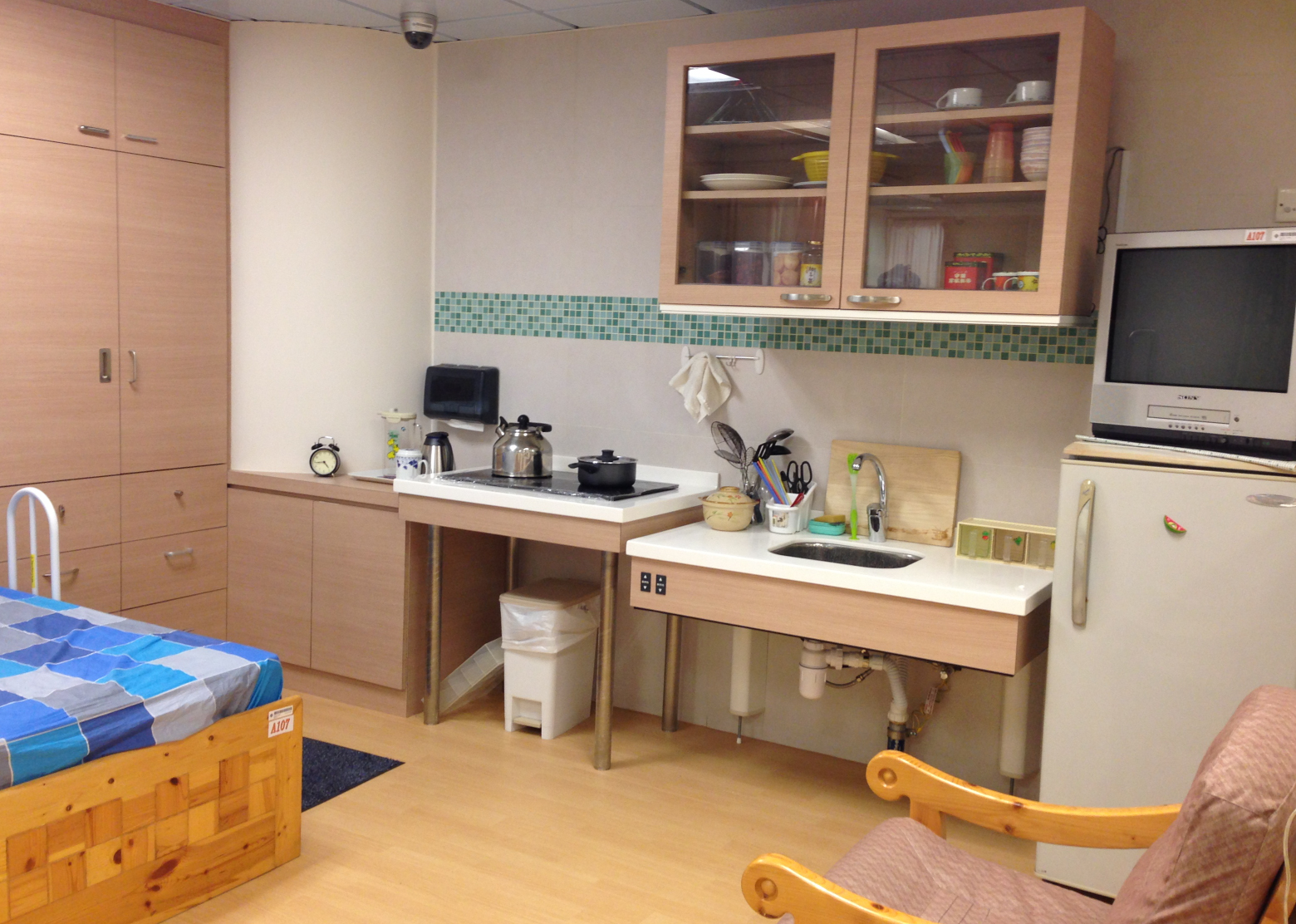 Model Home
Model home allows students to practise care in a residential setting.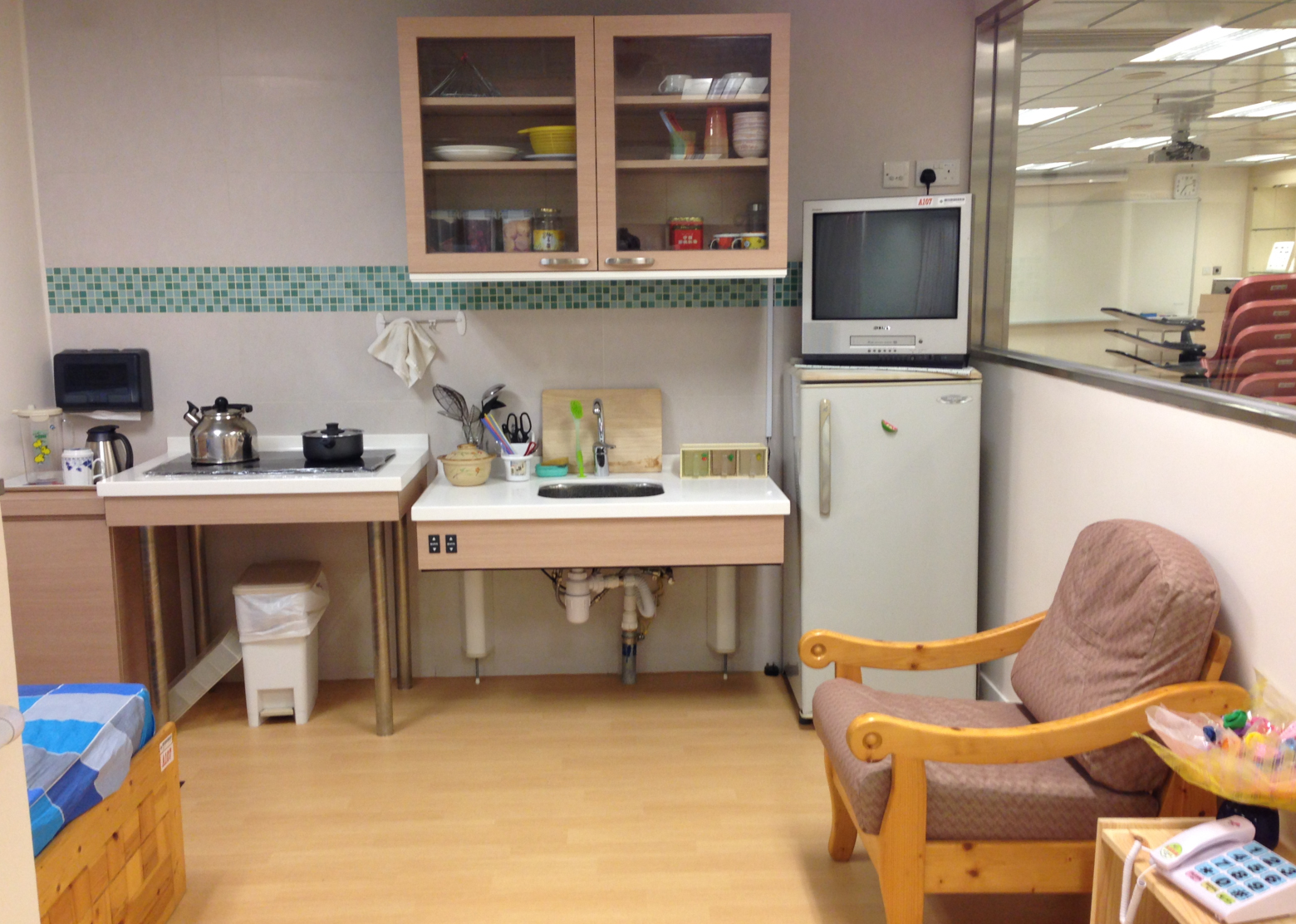 Model Home
Model home allows students to practise care in a residential setting.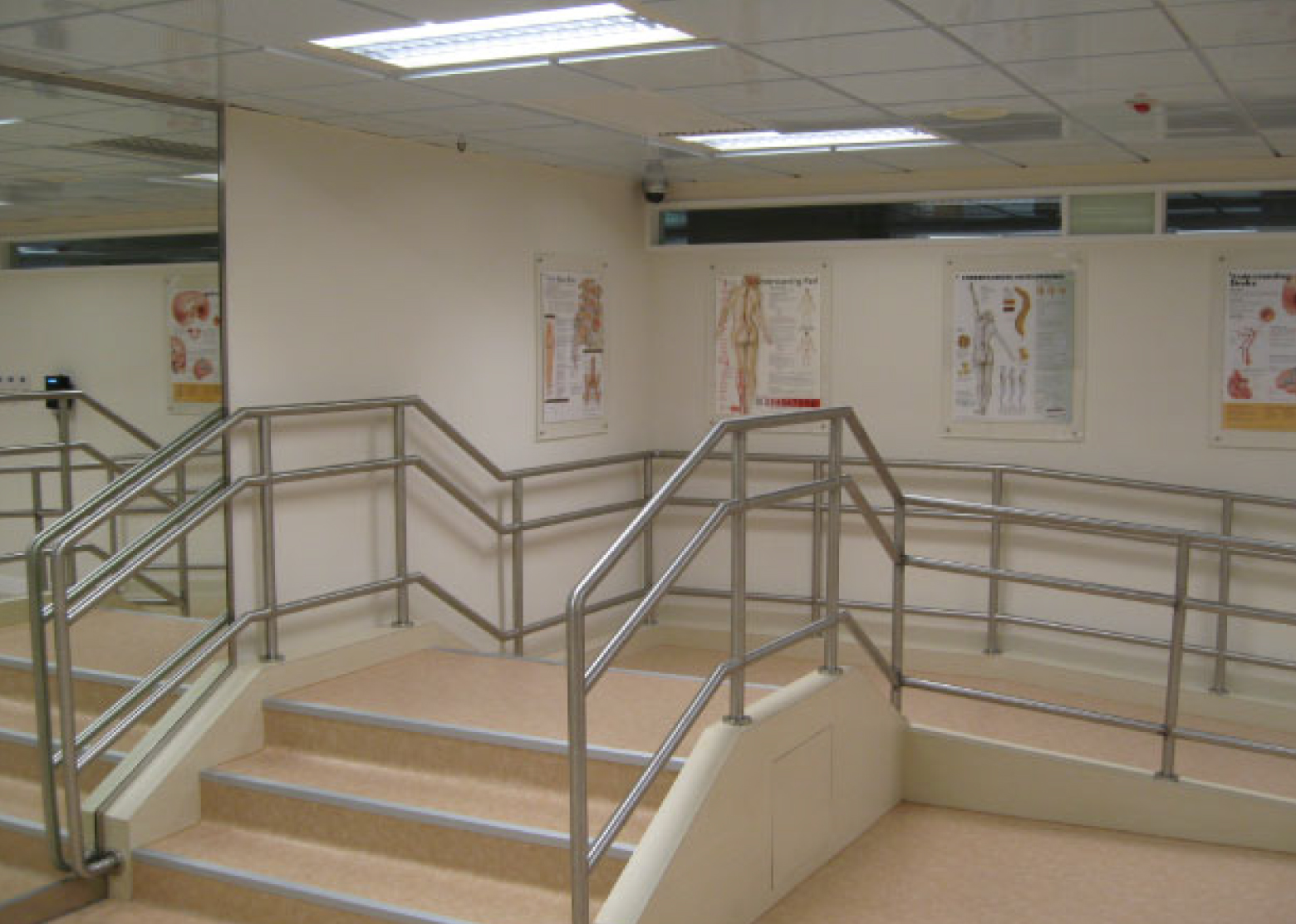 Experiential area where students learn safe handling of wheelchair up and down a ramp or assist the aged to walk the stairs with a cane.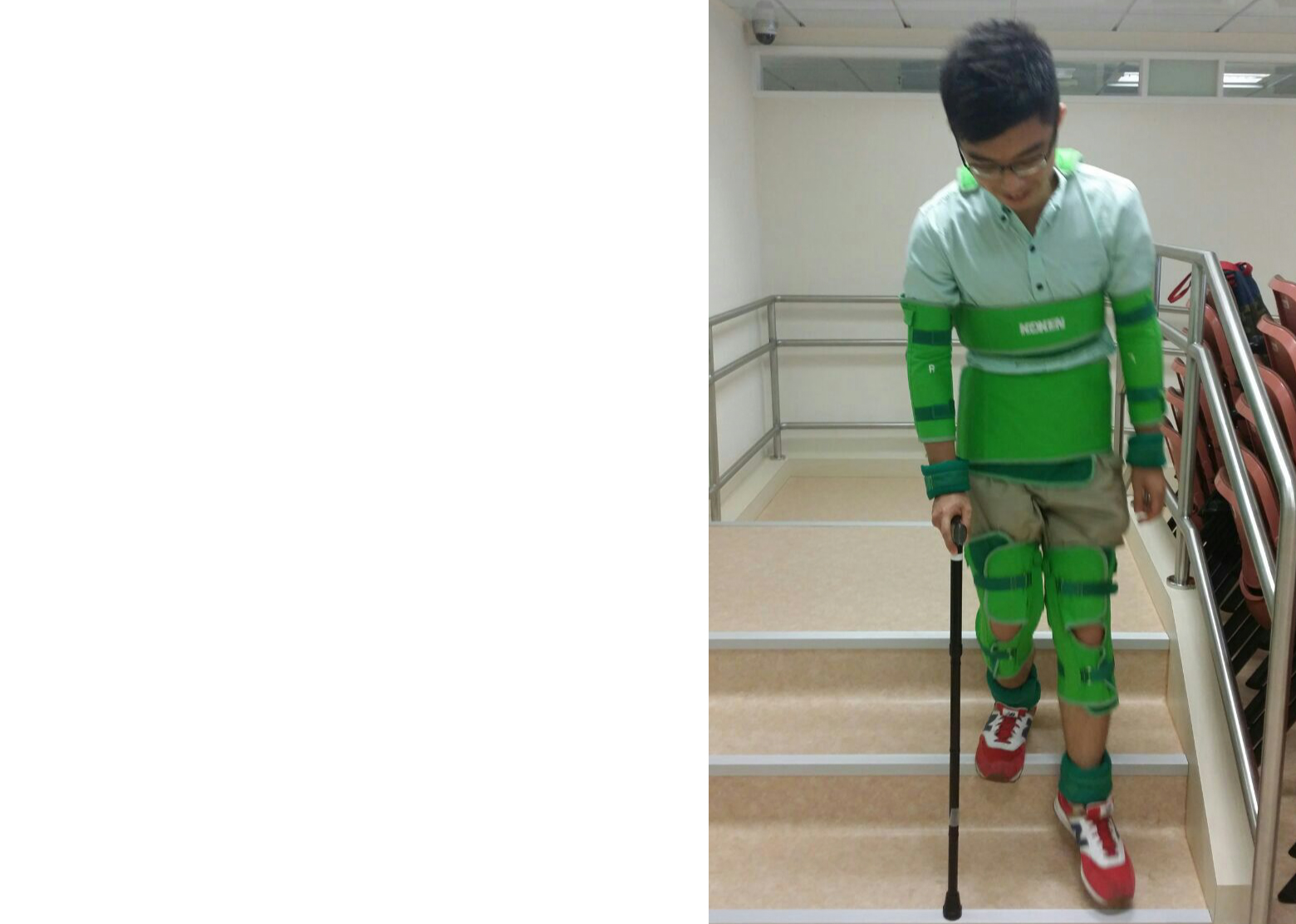 Student wearing the aged simulation set to experience limited motion of the elbow joints and the knees— the inconveniences felt by the aged due to musculoskeletal changes.