Laboratory enthusiast gets closer to dream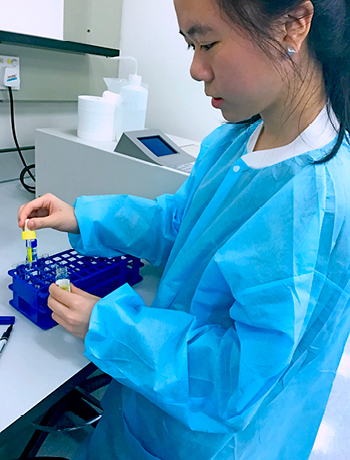 Angela Lee On-ying commenced her BSc (Hons) in Medical Laboratory Science at PolyU's Department of Health Technology and Informatics this academic year. She describes receiving her offer to study at the University as being a "very good present". In reality, it was an opportunity she had worked hard to achieve herself.
Angela completed her Hong Kong Diploma of Secondary School Examination two years ago and received an offer from a local university to study a bachelor's degree programme. To many people's surprise, she turned it down and instead enrolled in an associate degree in biomedical sciences. She was so interested in this area that she would look up reference material at libraries and continue to read even during the semester breaks. With persistence and hard work, she attained the highest GPA (4.0) in her studies, leading to her receiving offers for bachelor's degree programmes from three universities, namely PolyU, the Hong Kong University of Science and Technology and the Chinese University of Hong Kong. She was happy to choose PolyU because, for her, studying medical laboratory science at PolyU is a dream come true.
Angela has been interested in the medical field since her secondary school days, and aspires to be a medical laboratory technologist (MLT). She had a taste of the profession during a short course in which she gained experience shadowing the work of practicing MLTs in the laboratory.
"I especially enjoyed doing experiments in examining blood types, and learning about different parasites and microbes during the microbiology lectures," Angela said. "I want to pursue a career as an MLT because I hope to help patients find the right treatment for their diseases."
Her enthusiasm is set to grow further while studying the PolyU programme, which nurtures much sought-after MLTs, the unsung heroes working behind the scenes, particularly during epidemics.