PolyU wins Public Policy Research Funding for studies on social incidents
Five PolyU-led projects have been awarded a total of HK$2.08 million by the Public Policy Research Funding Scheme in a special round of funding launched by the Government's Policy Innovation and Co-ordination Office. The special round of funding was set up to support research into the underlying causes of the social incidents that took place in the second half of 2019, and the political, economic, cultural and societal issues that have contributed to deep-seated problems in society.
The following projects are being led by PolyU:
Project Title
Topic
Principal Investigator
Funding (HK$)
A Stepped-Care, Multi-disciplinary, Evidence-based Approach to Strengthen Adolescence and Family Well-being after Social Unrest
Communication, support and conflicts among family members and friends
Dr Herman Lo
Associate Professor, Department of Applied Social Sciences
560,165
Effects of Social and Political Unrests on Mental Health of Older People in Hong Kong
Mental health of the general public, psychosocial support and rehabilitation
Professor Daniel Lai
Former Head of Department of Applied Social Sciences
492,200
Hong Kong Junior Secondary School Students' Attitudes Towards and Engagement in Political Activities Involving Violence and Destruction: The Associated Individual, Family, and School Factors from a Positive Youth Development Perspective
The orientation of young people and school education
Dr Yu Lu
Associate Professor, Department of Applied Social Sciences
455,580
The Influences of Social Mobility Beliefs on Social-Political Attitudes among Hong Kong College Students
Underlying causes of the recent social incidents (including the socio-demographic characteristics of the participants)

Development opportunities and upward mobility of young people
Dr Lin Li
Research Assistant Professor, Department of Applied Social Sciences
276,115
Hashtag Activism in Hong Kong Protests
The impacts and importance of social media on social and political development
Dr Aditi Bhatia
Associate Professor, Department of English
285,171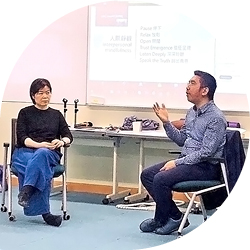 All the research projects started in April 2020. The projects will provide professional training to social workers, study the mental wellbeing of elderly people affected by the social incidents in Hong Kong, investigate the social factors affecting the political behaviour of young people and find out how social and political views were formed through social media during the unrest.