An interview with Professor Yung Kai-leung - From homemade gadget to high-precision instrument
Professor Yung's journey to space exploration
Professor Yung Kai-leung
---
Diploma in Mechanical Engineering, Hong Kong Technical College (PolyU's predecessor), 1970
BSc in Electronic Engineering, Brighton University, 1975
MSc, DIC in Automatic Control Systems at Imperial College of Science, Technology & Medicine, University of London, 1976
PhD in Microprocessor Applications in Process Control, Plymouth University, 1985
Fellow Member of the Hong Kong Institution of Engineers
Fellow of the Hong Kong Academy of Engineering Sciences
Joined PolyU in 1986
My dream is to use my knowledge to help the nation's scientific and technological advancement, as well as to invent things that benefits people.
When the Chang'e-4 lunar probe successfully landed on the far side of the Moon on 3 January 2019, Professor Yung Kai-leung, Associate Head of PolyU's Department of Industrial and Systems Engineering and Sir Sze-yuen Chung Professor in Precision Engineering, breathed a huge sigh of relief and was able to smile again.
Professor Yung was the brains behind the Camera Pointing System (CPS) mounted on the upper part of the probe's lander, which enabled the probe to capture and send back stunning panoramic images of its landing and rover deployment on the Moon. When the precision engineer looked at those images, sent from the far side of the Moon 400,000km away from the Earth, all he felt was joy and excitement.
First Hong Kong scientist working for China's space missions
Manufacturing a space tool such as the CPS is the ultimate challenge for precision engineers. This challenge first came to Professor Yung a decade ago when the China Academy of Space Technology (CAST) invited him to design and develop an instrument that could control the rotation of a camera for a space probe's landing on the Moon.
The first-generation CPS that Professor Yung's research team designed made its debut at the launch of Chang'e-3 in 2013. It functioned well during the lunar mission, capturing images of the Moon and facilitating the movement of the lunar rover. With his work designing the CPS, Professor Yung was marked by the honour of being Hong Kong's first scientist to participate in research work for instruments used in China's space missions. The success of the CPS in the 2013 mission led to the CPS being used on the nation's next lunar exploration—the Chang'e-4 mission to the uncharted side of the Moon.
After participating in these two lunar exploration projects, Professor Yung went on to contribute to the design of the "Mars Landing Surveillance Camera" ("Mars Camera") for China's first-ever Mars mission, Tianwen-1. The spacecraft for this mission launched in July this year and is scheduled to arrive in Mars' orbit in February 2021, and land on the surface of Mars in around May 2021. Professor Yung is currently also working on the Lunar Surface Sampling and Packaging System for Chang'e 5 to collect samples from the Moon. This mission is slated for takeoff towards end of 2020.
An interest that emerged during adolescence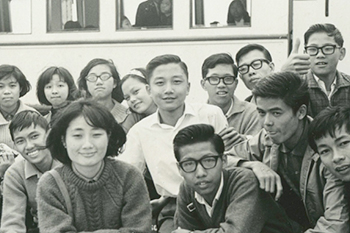 While the CPS, Mars Camera and the Lunar Surface Sampling and Packaging System are standout innovations that Professor Yung is proud of, he is equally fond of the invention he made when he was still a schoolboy. One of his favorite pastimes during secondary school was photography but it was a hobby that was too expensive for a student. "I could not even afford to buy the ready-made chemicals for developing film and prints, let alone a projector for printing photos," he recalls.
Undaunted by the difficulty, the young scientist went to a public library to learn the formulas for producing the chemicals needed for developing films and prints. "With little money, I then purchased the necessary chemical components from street stores, and mixed them in the right proportion according to the book," he recalls. "I found old, abandoned camera lenses, and put a light bulb beneath a piece of glass inside a self-designed homemade wooden box to create a makeshift apparatus for exposing the prints," Professor Yung explains. His enthusiasm led him to found the school's photography club and he was its chairman for the first two years. The club used his homemade chemical developing solution and projector system for some time before a proper darkroom was established at the school.
After secondary school, Professor Yung studied at the Hong Kong Technical College, the predecessor of PolyU, and obtained a Diploma in Mechanical Engineering in 1970. He then worked for two years to save enough money for his study in electronics in the UK. While the precision engineer's interest in engineering and technology emerged during his adolescence, it grew into an abiding passion when he pursued his undergraduate and postgraduate studies abroad in the 1970s. After graduation, Professor Yung worked for several UK companies, including the internationally-recognised Cranfield Unit for Precision Engineering.
His 14 years of overseas experience sharpened Professor Yung's knowledge of the design and development of high-precision equipment. When he joined PolyU in 1986, he was already a seasoned researcher, ready to take up challenges he had never dreamt of.
From space tools to medical equipment
At PolyU, he stepped into the area of space engineering, adapting dental forceps to become the "Space Holinser Forceps" used by astronauts for precision soldering. He also participated in space research projects for the European Space Agency's 2003 Mars Express Mission and the Sino-Russian Space Mission in 2011.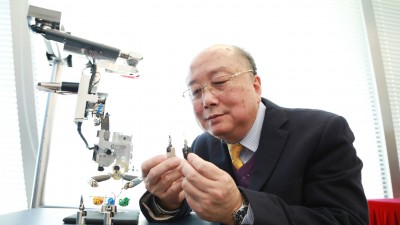 Professor Yung has used his knowledge in precision engineering for space explorations to make precision instruments for medical use too. Along with a team of researchers from the Department of Surgery of The University of Hong Kong and funding support from industry, he helped to develop a novel surgical robotic system with internally motorised surgical arms that enable surgeons to conduct minimally invasive surgeries.
Professor Yung's long-standing commitment to research and his outstanding achievements have won him numerous accolades. These include President's Awards for Outstanding Performance/Achievement from the University in 1999 and 2014. He was also awarded the Bronze Bauhinia Star by the Government in 2015 in recognition of his contributions to scientific research, particularly in machine design, automatic control systems and space technology.
Dreams of a space scientist
While Professor Yung very much enjoys working on his dream research projects at PolyU, he likes teaching young people too. For students who aspire to do research work, the veteran space scientist says: "Besides having a strong skill for basic research, communication ability is also important. Scientists not only need to have an innovative mind, but they also need to communicate their ideas with others clearly, as new inventions are the result of close teamwork."
Professor Yung says his dream is to use his knowledge to help the nation's scientific and technological advancement, as well as to invent things that bring benefits to people. With his dedication, this is certainly a dream that is coming true.