Surfing the wave of market trends
Mr Edwin Wong
---
BBA (Hons) in Marketing, PolyU (2011-2014)
Founder & CEO, Cloudbreakr
---
PolyU has long embraced the spirit of entrepreneurship and innovation. To this end, the PolyU Micro Fund (the Fund) was set up to support students and alumni in business and social enterprise start-ups. Many of these ventures provided students with the inspiration to continue their entrepreneurial pursuits after graduation. Cloudbreakr is one example of how a student's early entrepreneurial experience was used to grow a successful social media enterprise that covers local and overseas markets.
The idea for Cloudbreakr dates back to when one of its founders, Edwin Wong, was a student of the Department of Management and Marketing. Edwin remembers that while he was not particularly interested in academic lectures, he enjoyed attending sessions where entrepreneurs shared their experience, enabling him to learn about the practical aspects of running a business. Noticing Edwin's enthusiasm for business, his professors advised him to enter entrepreneurial competitions to hone and test his skills.
A final-year business venture
With this encouragement, Edwin spent much of his final year crafting proposals for his own start-up. "Putting theory into practice is the real test of how much you have gained from your studies. I applied the knowledge I learnt in classes to design marketing, operational and budgeting plans for my start-up," Edwin says. His business proposal went on to win seed funding of HK$100,000 from the Fund.
With the seed fund, Edwin established his first business venture in 2014, when he was still a final-year student. It was a social enterprise that used a "buy one, give one" concept to promote conscious consumption. "It provided an online sales platform for companies. When consumers bought one item through the platform, a similar item was given to someone in need," the 29-year-old entrepreneur explains.
While running this worthy cause, Edwin observed that endorsements and repostings by internet celebrities increased visits to and purchases from the online platform. This experience not only taught him the importance of influencer marketing in the social media world, but also planted the idea for a bigger business venture.
In 2014 and 2015, after his graduation, Edwin realised there was no software in the market that helped people identify the right spokesperson and media for different brands. Nor was there a way to measure the impact of key opinion leaders and online public opinions on a brand's value. After one year of incubation, Edwin started Cloudbreakr in 2016 in an attempt to bridge these gaps.
Combining data analysis and influencer marketing
Supported by the HKSTP-PolyU Tech Incubation Fund, Cloudbreakr is a social media analysis platform which combines data analysis and influencer marketing to provide clients with marketing tools and service solutions. By analysing big data, the platform helps companies understand market trends, create unique content and improve the effectiveness of influencer marketing. "Cloudbreakr is a metaphor borrowed from windsurfing. Like windsurfers riding on a wave, we stay on top of market trends," the social media expert explains.
The company did well from the beginning. Edwin remembers that upon its launch, a company whose product design conveys a strong sense of social mission consulted him for advice. "Through identifying the right bloggers, celebrities and media, we orchestrated a series of publicity manoeuvres that boosted the brand's image and charity sales," he recalls.
That said, Cloudbreakr also encountered challenges during its initial stage of operation. While Cloudbreakr focused on Instagram analysis, their competitors were running Facebook marketing or other related businesses. "Back then, many brands still did not pay much attention to Instagram and we had to wait for the right moment. It takes time to educate the market," Edwin says.
Venturing out of Hong Kong
Although there were moments of hardship, Edwin received support when he needed it most. Edwin says the departure of a partner upset him and made him worried that investors would be deterred. But in reality, investors remained highly supportive of Edwin. One investor even sent him a cheque to express his faith in Cloudbreakr. He told Edwin: "Go ahead with confidence."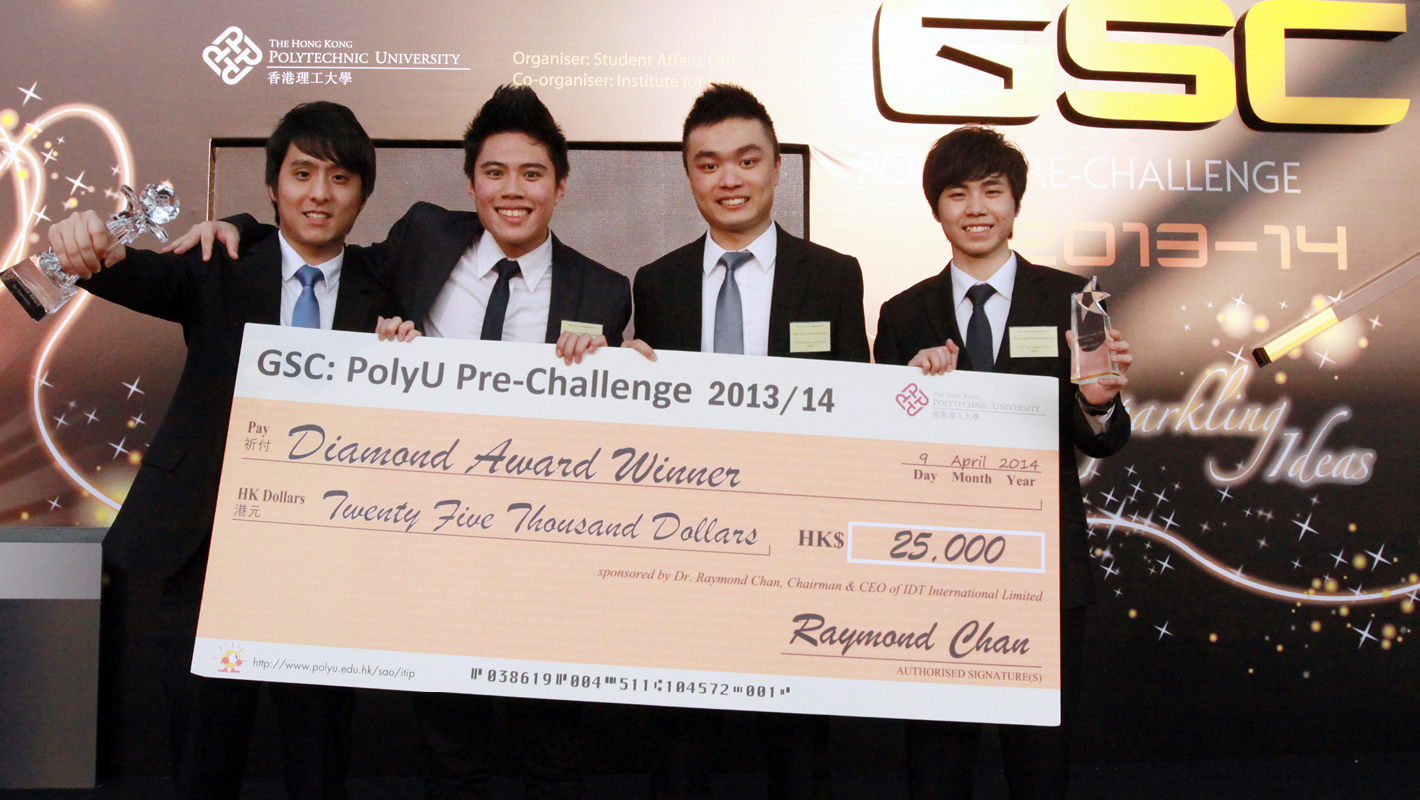 Edwin (second right) and his team won the Diamond Award in the Global Student Challenge: PolyU Pre-Challenge 2013/14. The Challenge is an international competition open to students from business schools and universities across the world.
Edwin greatly treasures the appreciation he receives from investors. He recalls a similar experience he had when launching his first business venture at PolyU. "Many teachers at my department and staff at the Institute for Entrepreneurship helped me. Sometimes, it was as simple as making a phone call for me," he says.
Since its launch in Hong Kong, Cloudbreakr has expanded its operations to Taiwan, Thailand and Malaysia. It has also moved from focusing on Instagram to including analysis of Facebook and YouTube. Along with the success of Cloudbreakr, Edwin has also developed a more mature business sense. To aspiring PolyU students, he says: "Grasp opportunities to participate in innovation projects. Widen your horizons and step out of the campus to get to know people in the industry."
What is PolyU Micro Fund?
Launched in 2011, PolyU Micro Fund Scheme is the University's first seed fund programme to encourage entrepreneurialism in the PolyU community and to promote knowledge transfer and commercialisation of innovation and technology developed at PolyU.
It is open to applications from both current students and alumni, with each successful start-up awarded a maximum of HK$120,000 of funding, as well as receiving entrepreneurship training and business consultations. Since its launch, the scheme has granted more than HK$15 million to support over 160 start-ups. PolyU is the first university in Hong Kong to launch a seed funding programme to support start-ups.