An interview with Mr Banting Sze Wai-pan - A road doctor  
Thriving on innovation with hard and soft skills as well as inner strengths
Mr Banting Sze Wai-pan
---
Higher Diploma in Mechanical Engineering, Hong Kong Polytechnic, 1989
Master of Science in Information Technology, University of Warwick, 1991
Master of Arts in Quantitative Analysis for Business, City Polytechnic of Hong Kong, 1994
Chairman and CEO, Freetech Road Recycling Technology (Holdings) Limited
Adjunct Professor, University of Chinese Academy of Sciences and PolyU
Member, Departmental Advisory Committee, Department of Mechanical Engineering (ME), PolyU
First Outstanding ME Alumni Award, PolyU
Member, Nanjing Municipal Committee, Chinese People's Political Consultative Conference
Expert member, Public-Private Partnerships, United Nations Economic Commission for Europe
---
Banting Sze, Chairman, CEO and founder of Freetech Road Recycling Technology (Holdings) Limited, is a man for all seasons. Now a successful entrepreneur, the mechanical engineering graduate from the then Hong Kong Polytechnic (predecessor of PolyU) is thankful for his alma mater for not only paving a path for his business venture, but also providing the ingredients for him to develop his own philosophy on innovation.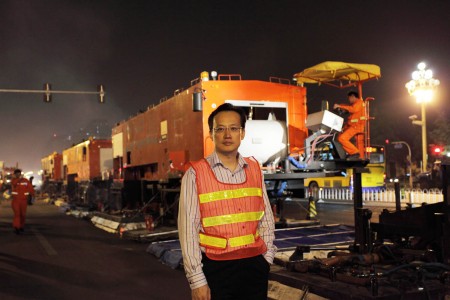 Freetech is the only Hong Kong-based green road maintenance company listed on the Main Board of Hong Kong Stock Exchange. Also known as the "Road Doctor", the company performed the critical task of maintaining Beijing's Chang'an Avenue before national day parade on the nation's 60th anniversary in 2009, establishing the company a leading position in the industry.
From humanities knowledge to innovative thinking
PolyU has helped to make Mr Sze the well-rounded person he is today. "At PolyU's wonderful library, I used to read books about history and philosophy for inspiration. Our lecturers instilled in me the love of cultural roots too. Professor H. C. Man, now Dean of the Faculty of Engineering, shared stories about old Hong Kong. The late Ir Professor Leung Tin-pui, then Hong Kong Polytechnic's head of mechanical engineering and a master of the Chinese language, enlightened me about the importance of mastering Chinese." The exposure to humanities during his adolescence eventually helped Mr Sze develop his own theory on how to keep his business innovative.
The entrepreneur later went to study a master's degree in information technology in the UK and completed with distinction. Back to Hong Kong, he obtained a Master of Arts in Quantitative Analysis for Business from another local university. But among all these, PolyU has the most profound influence on him. "I acquired the skill of self-learning at PolyU which brings lifelong impact to me. It was an extremely fruitful and memorable time," he said.
''Healing'' highways
After working as a young engineer for two years, he followed his entrepreneurial dream to set up a trading company introducing imported machines for infrastructural projects in Hong Kong. Aspiring to establish his own brand and expand his business, he went to Nanjing in the mid-1990s. Since then, he has developed a business empire centred on road maintenance, which now encompasses R&D, equipment manufacturing, contracting, material design, education and training.
Dedicated to recycling and low-carbon economy, he believes his company's world-leading innovative green technology creates win-win-win scenarios for all parties involved. The hot-in-place recycling train and engineering technology the company developed, for instance, involves using a unique radiating heating technology to heat up and soften pavements, and adding in new asphalt mix for paving and compacting. With this recycling technology, revamped roads have high qualities that comply with standard requirements of new-built roads. Most importantly, this is achieved by a 100% recyclable process with low-carbon emission.
The helmsman of the technology-driven company, Mr Sze remarked, "Innovation is a painful process. It is more demanding than creativity because innovation requires concrete output." The arduous process to innovate does bear fruit. Freetech now owns over 200 national and international patents that cover multiple disciplines such as material science, control and mechanical engineering.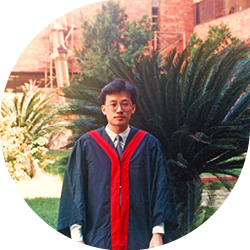 The entrepreneur explains his philosophy of business innovation that involves three dimensions: in-depth analysis on market needs, strong logical reasoning, and a risk-conscious mindset. Market knowledge is a soft skill and an art, logical thinking is a hard skill and a science; both can be acquired. Mindset, however, is about the inner strengths that cannot be learned from any curriculum.
Mr Sze is grateful that his education and personality have blessed him with the three qualities that enable innovation. "Engineering education trained up my logical thinking. My interest in history and culture that has developed since studying at PolyU enriched my perspectives. Also, I have constant reflections as I walk through life's journey," he said.
Inner strengths of leaders
Today, Mr Sze has businesses all over China, but success did not come easily. Back in the 1990s, he was frustrated by people's mistrust of him as a young man. Weeping alone one night, he shared his feelings in a hand-written letter to his staff. This has become a practice as he continued to write to staff in the decades that followed.
The altruistic leader is keen on passing on knowledge. He is an adjunct professor at the Chinese Academy of Science and at PolyU. He also gives back to his alma mater by setting up Freetech Technology Bursary for PolyU students, and by sharing his rich business experience with students and alumni.
As the head of an enterprise of 1,000 staff members, Mr Sze believes leaders need to have inner strengths: courage, endurance, perseverance and tolerance. When asked for words of encouragement for young people, he said, "Be open-minded and look beyond Hong Kong."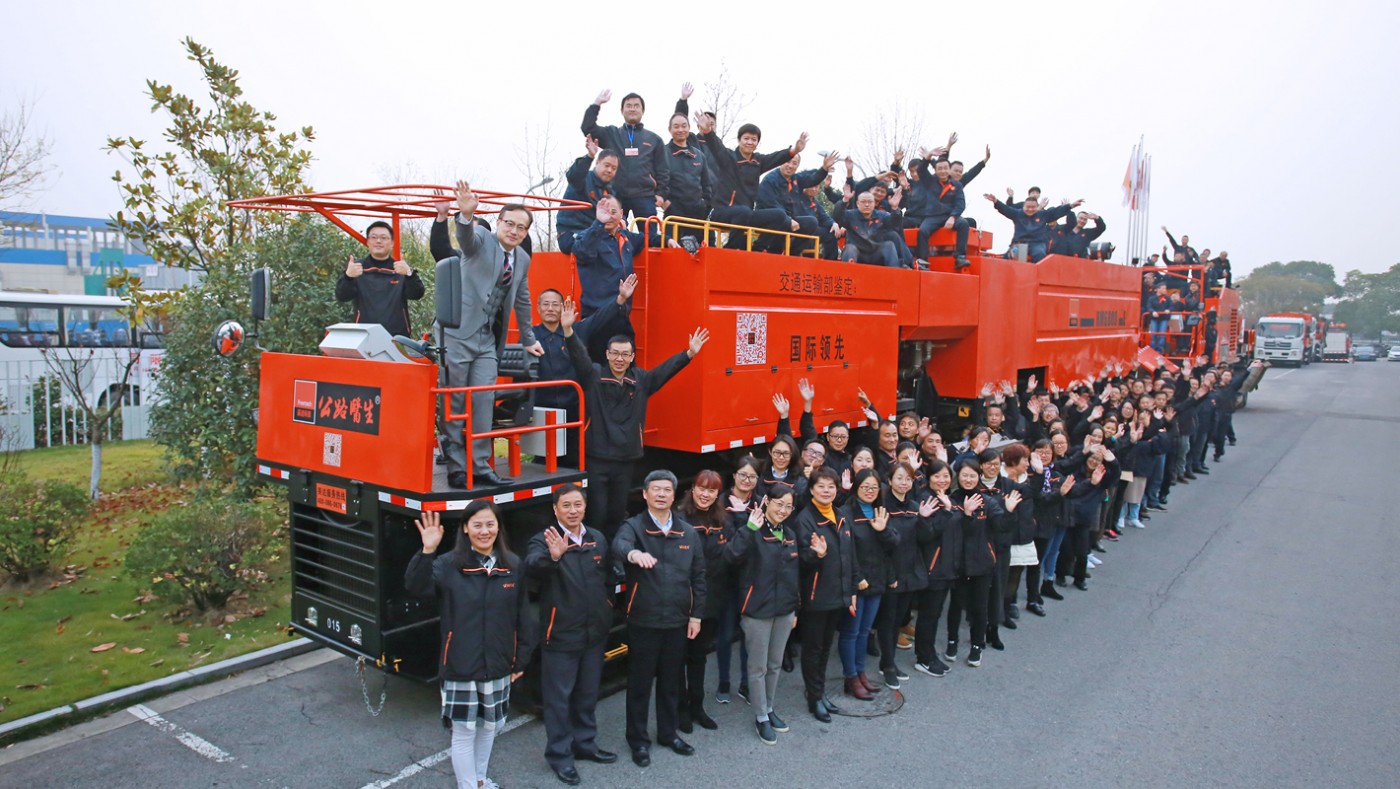 Mr Sze and his staff in Nanjing with the hot-in-place recycling train