Mathematics prodigy thrives at PolyU
Mathematics prodigy Manson Ip Chun-yin is only 15 years old but he is already a second-year student at PolyU. With his extraordinary mathematical talent, Manson, who has an IQ of 141, had a special educational journey, going to university after only two years at secondary school.
When Manson was only two years old, his parents realised he could already master multiplication rules meant for primary school students. The gifted child had completed the entire primary school mathematics programme when he was still only a primary two student. Encouraged by his parents, Manson went on to sit the International Advanced Level examinations when he was in secondary one and two, and attained a grade A in Mathematics and A* in Further Mathematics.
In 2018/19, Manson joined the Research Internship Programme organised by PolyU's Faculty of Applied Science and Textiles (FAST), which aims to nurture gifted secondary school students in science. Manson's strong interest in and remarkable sense of mathematics were immediately noticed by those teaching the programme. Manson was later admitted to PolyU's Bachelor of Science (Hons) in Investment Science and Finance Analytics programme at the Department of Applied Mathematics (AMA) after completing his secondary two studies.
Conscious of how young Manson is, the University is providing him with the necessary care and support to help him adapt to university life. The Department formed a team which meets Manson regularly to understand and support his learning needs, as well as assigning a senior student to be a peer mentor to share advice and experience.
Manson has become used to the new learning environment. "Unlike secondary school teachers, professors at university are hands-off. I need to be much more self-disciplined and self-motivated in my study. At the same time, I have more freedom here in terms of my learning schedule, the subjects I choose and campus life. I mingle well with my classmates and we enjoy learning together," he says.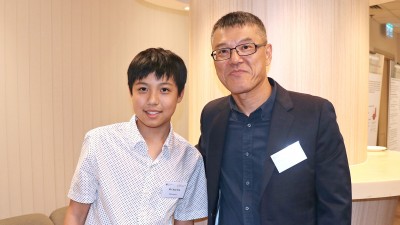 Dr Raymond Sze, AMA's Associate Professor and Programme Leader, also a member of the advising team, says: "During the year, we have been happy to witness Manson grow both mentally and physically. Sometimes, he just acts like a secondary school kid, sharing his teenager life with us. But when it comes to solving mathematical problems, his thinking is quite mature."
Looking ahead, Manson aspires to pursue further studies when he graduates. "After completing the master's and doctoral programmes, I want to go overseas for post-doctoral study," the prodigy says.