A conversation with Deputy President and Provost Professor Alex Wai ― Accelerating world-changing research to drive impact
Ir Professor Alexander Wai Ping-kong is an expert in high-speed optical fibre communication systems. He obtained his PhD degree from the University of Maryland, USA in 1988. He then worked on a space shuttle project before conducting his own research at the University. In 1996, he returned to Hong Kong to join PolyU's Department of Electronic Engineering as an Assistant Professor, and has served in various leadership roles during the past 24 years.
---
How has PolyU changed since you joined in 1996?
PolyU has changed tremendously. When I first joined, PolyU was in a transition from a polytechnic to a bona fide university. We put a great deal of effort into promoting a research culture and gradually improved our competence in academic and scientific research, leading to significant achievements with major breakthroughs. Now we are doing very well in both basic and translational research. PolyU is a world-renowned university delivering interdisciplinary research that benefits the community.
You assumed the role of Vice President (Research Development) in 2010. How did you assist PolyU's development in research and innovation?
As Vice President (Research Development), I aimed to bolster the research culture in different disciplines and advocated interdisciplinary collaboration. To create an environment of peer support, one initiative I took was setting up a dialogue platform called "research salon" for our academics from different disciplines to meet and exchange ideas regularly. Leveraging this platform, we invited speakers to give short presentations on specific research topics, which often triggered fervent discussions. I also took the opportunity to talk about how to pool and allocate research resources appropriately.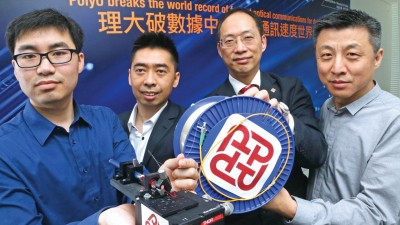 In addition, I started a vetting process for colleagues applying for significant research funding from the Research Grants Council. They had to explain the gist of their proposals to their peers, who might not be experts in the field. In the first few years, I intentionally gave the Principal Investigators a hard time by asking challenging questions. But it helped our research colleagues collect their thoughts and refine their proposals before submission. Thanks to the hard work of my colleagues, PolyU has made significant improvements in receiving large research grants in the past 10 years.
You are currently PolyU's Deputy President and Provost. What is your aspiration for education?
New technology is rapidly changing the landscape of tertiary education. Automation, artificial intelligence (AI), big data and other evolving technological innovations are not only altering how classes are conducted, but also making some professional skills obsolete, with jobs disappearing. We need to equip students with the mindset and capabilities for self-learning and life-long learning, as well as strengthening their core competences, such as critical thinking, problem solving, and communication skills. Furthermore, we are going from a mass production concept of education to one of mass customisation. We should be able to offer individual students a mix of quality educational contents that best fit their interests, potentials and aims. I have introduced a strong sense of urgency that this is something we need to address because I think PolyU can take a lead in this area.
Could you share some words of encouragement with young scholars/researchers and students?
I am a diehard optimist. When there is change, there are opportunities. Many jobs in the future will become obsolete due to AI revolution, but this change will also create significant opportunities for students, scholars and researchers who are brave enough to seize them. I would like to share one of my mottos with them: never give up.
Could you share some moments or important decisions that had a major impact on your life?
Two incidents stand out. The first was deciding to go the US to attend graduate school when I was young. I had never left Hong Kong before and I was not sure I was good enough. The second was the reverse: coming back to Hong Kong. I did not think I had done enough to prove myself as a researcher in the US. So, I originally intended to return to Hong Kong for only a couple years to witness the 1997 transition.
What are your passions and hobbies?
I have run 10K in the marathon race every year since I came back to Hong Kong. I really love martial arts and I practice Tai Chi almost every day early in the morning. I work a lot. My family jokes that when I retire, they will need to find an office for me to go into every day.
As you will be leaving PolyU to take up a new role at Baptist University, can you share a memorable moment at PolyU?
What happened on this campus in November last year changed me as a person. The protestors' occupation and the police standoff made the campus intensely dangerous. I was relieved when the issue was finally resolved peacefully. I will never forget the moment I led a line of students calmly off the campus in the early morning of 19 November. I was put to the test and I think I passed. It got me thinking about whether I could do more in a different role. In my new post, I will try to bring the two universities closer.