PolyU wins record-breaking number of awards at Geneva Inventions Expo and snatches highest number of prestigious Grand/Special Prizes among HK delegations
Achievements
Knowledge Transfer and Entrepreneurship Office
---
Impactful innovations from The Hong Kong Polytechnic University (PolyU) have won a record-breaking number of accolades at the 48th International Exhibition of Inventions Geneva (Geneva Inventions Expo), widely regarded as among the most important annual global events devoted exclusively to inventions.
In particular, 28 PolyU innovations garnered 31 prizes – the highest number of prizes PolyU teams have ever received at this event. They include 3 Grand/Special Prizes, 5 Gold Medals with Congratulations of the Jury, 12 Gold Medals, 5 Silver Medals and 6 Bronze Medals.
In fact, PolyU teams won the highest number of the prestigious Grand/Special Prizes among Hong Kong delegations at the Expo. The PolyU inventions which earned the Grand/Special Prizes include a highly efficacious myopia control spectacle lens, a long-acting anti-obesity and insulin-sensitising drug, and a lightweight surveillance camera with ultrawide vision for the Tianwen-1 Mars mission.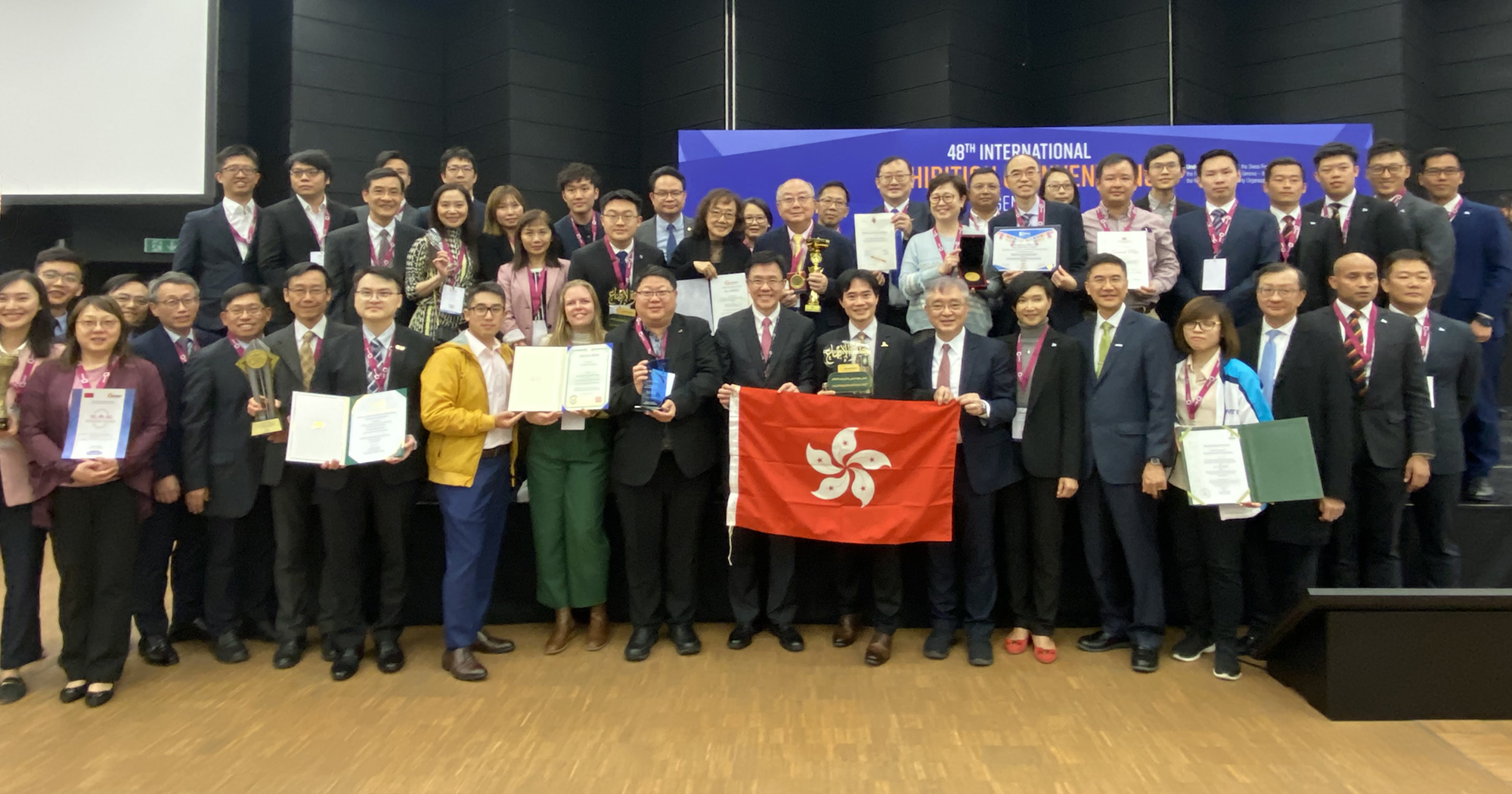 PolyU's innovations garnered 31 prizes at the 48th Geneva Inventions Expo, alongside the achievements of other Hong Kong delegations, cementing Hong Kong's reputation as a key innovation and technology hub.
The award-winning innovations by PolyU improve people's lives and expand humankind's horizons – with applications not only here on Earth, but also in space. In addition, these innovations help the world adapt to climate change and prepare for future pandemics, as well as safeguard people's health and well-being.
Among the awarded innovations, 12 are driven by PolyU start-ups, including those led by PolyU scholars – a testament of the University's start-up ecosystem that has supported over 7,600 PolyU academics, researchers, alumni and students in their entrepreneurial endeavours.
The exceptional performance of PolyU teams at the Geneva Inventions Expo underscores the University's aspiration to harness its excellence in education, research and knowledge transfer to drive PolyImpact – inventions and innovations by the PolyU community that create long-lasting, real-world impact.
The Geneva Inventions Expo this year attracted about 1,000 inventions from about 40 countries and regions. To learn more about PolyU's impactful innovations showcased in the Expo, please refer to the Appendix and the website of the Knowledge Transfer and Entrepreneurship Office at https://www.polyu.edu.hk/kteo/Knowledge-Transfer/Innovations-and-Technologies/Award-winning-Innovations/Geneva2023/.
Project

Principal Investigator(s)

Award(s)

Novel High Efficacy Nano Multi-ring Defocus Incorporated Spectacle Lens for Myopia Control

Prof. Benny CHEUNG Chi-fai
Chair Professor of Ultra-precision Machining and Metrology, Department of Industrial and Systems Engineering and Director of State Key Laboratory of Ultra-precision Machining Technology

Prof. TO Chi-ho
Visiting Chair Professor of Experimental Optometry, School of Optometry

Mr Jackson LEUNG Tze-man
Co-founder, Vision Science & Technology Co Ltd (a PolyU Academic-led startup)

Prize of the State of Geneva
Gold Medal with Congratulations of the Jury

ABarginase: First-in-class Drug for Treatment of Multiple Obesity-related Metabolic Disease

Prof. Thomas LEUNG Yun-chung
Professor, Department of Applied Biology and Chemical Technology and Lo Ka Chung Charitable Foundation Professor in Pharmaceutical Sciences, The Hong Kong Polytechnic University

Prof. Alisa SHUM Sau-wun
Associate Professor, School of Biomedical Sciences, Faculty of Medicine, The Chinese University of Hong Kong

Prize of the International Federation of Inventors' Association – IFIA
Gold Medal with Congratulations of the Jury

Mars Landing Surveillance Camera for Tianwen-1 Mars Soft Landing Mission

Prof. YUNG Kai-leung
Sir Sze-yuen Chung Professor in Precision Engineering, Director of Research Centre for Deep Space Explorations, Chair Professor of Precision Engineering and Associate Head, Department of Industrial and Systems Engineering, PolyU

Prize of the Technical University of Cluj-Napoca Romania
Gold Medal with Congratulations of the Jury

AI-Assisted Design of Functional Clothing for Scoliosis Treatment

Dr Joanne YIP Yiu-wan
Associate Dean and Associate Professor, School of Fashion and Textiles

Gold Medal with Congratulations of the Jury

MicroGlue: Microbial-derived Technology to Remove Microplastic Pollutants

Dr CHUA Song-lin
Assistant Professor, Department of Applied Biology and Chemical Technology

Dr LIU Yang
GBA Startup Postdoctoral Fellow, Department of Applied Biology and Chemical Technology

Gold Medal with Congratulations of the Jury

A Novel Wireless Self-adaptive Hydropower Harvesting System for Applications in Urban Water Supply Pipelines

Prof. YANG Hongxing
Professor, Department of Building Environment and Energy Engineering

Gold Medal

Advanced Real-time Prediction and Early Warning System for the Spread of Emerging Pathogens

Prof. John SHI Wenzhong
Otto Poon Charitable Foundation Professor in Urban Informatics, Chair Professor in GISci and Remote Sensing, Director, PolyU-Shenzhen Technology and Innovation Research Institute (Futian), Director, Smart Cities Research Institute, Academician, International Eurasian Academy of Sciences, Fellow, Academy of Social Sciences (UK)

Gold Medal

A Sport-Specific Soft Manikin System for Sports Bra Design

Dr YICK Kit-lun
Associate Professor, School of Fashion and Textiles

Gold Medal

Revolutionary Mussel-inspired Polyester for Next Generation Sportswear and Functional Clothing

Prof. John XIN Haozhong
Lee Family Professor in Fashion & Textiles, Chair Professor of Textile Chemistry, School of Fashion and Textiles

Gold Medal

Safe and Eco-friendly Antimicrobial Materials with High Efficiency

Prof. TAO Xiaoming
Director, Research Centre of Smart Wearable Technology, Vincent and Lily Woo Endowed Professorship in Textiles Technology, Chair Professor of Textile Technology, School of Fashion and Textiles

Dr ZHANG Ziheng
Postdoctoral Fellow, School of Fashion and Textiles, CEO, Ecolar Technology Limited (a PolyU Academic-led start-up)

Gold Medal

Advanced Intelligent System for Radiation-free Scoliosis and Posture Evaluation

Mr Jackal XU Zhenda
PhD Student, Department of Computing, Founder, Zero Dynamic Medical Technology Company Limited (a PolyU Academic-led startup)

Prof. GUO Song
Professor, Department of Computing, Chief Scientist, Zero Dynamic Medical Technology Company Limited (a PolyU Academic-led startup)

Gold Medal

Novel AI Automated Histological System for Carcinoma Detection

Dr Martin YEUNG Ho Yin
Research Assistant Professor, Department of Health Technology and Informatics, Co-Founder, Anatomic Technologies Limited (a PolyU startup)

Gold Medal

A Portable Non-invasive and Ultrasensitive Saliva Glucose Sensor

Prof. YAN Feng
ADoRI-IWEAR & Chair Professor of Organic Electronics, Department of Applied Physics

Gold Medal

Gold-LAMP: A Portable Ultra-fast Nucleic Acid Testing System

Prof. YIP Shea-ping
Chair Professor and Head, Department of Health Technology and Informatics, Co-Founder, Pocnat Limited (a PolyU Academic-led startup)

Dr Thomas LEE Ming-hung
Associate Professor and Associate Head (Academic), Department of Biomedical Engineering, Co-Founder, Pocnat Limited (a PolyU Academic-led startup)

Gold Medal

High-throughput Microfluidic Platform for CTCs Detection in Cancer Precision Diagnostics

Prof. YANG Mo
Associate Head (Research) and Professor, Department of Biomedical Engineering

Gold Medal

Long-lasting Self-disinfecting Materials Technology

Dr Chris LO Kwan-yu
Associate Professor, School of Fashion and Textiles, Co-Founder, Immune Materials Limited (a PolyU Academic-led startup)

Prof. KAN Chi-wai
Professor, School of Fashion and Textiles, Co-Founder, Immune Materials Limited (a PolyU Academic-led startup)

Gold Medal

Durable, High-Selectivity, and Energy Efficient CO2 Electroreduction System

Prof. Daniel LAU Shu-ping
Head, Director of UMF, Associate Director of PRI, Chair Professor of Nanomaterials, Department of Applied Physics

Gold Medal

One-Stop Solution with AI Visual Object Recognition for 3D Model Generation

Dr LI Yaxin
Postdoc Fellow, Department of Land Surveying and Geo-informatics, CEO, Micro Dimension Limited (a PolyU startup)

Prof. CHEN Wu
Head and Professor, Department of Land Surveying and Geo-informatics

Silver Medal

PolyPi: Edge-AI Empowered Robot for Autonomous In-pipe Inspection

Prof. CAO Jiannong
Dean of Graduate School, Otto Poon Charitable Foundation Professor in Data Science, Chair Professor of Distributed and Mobile Computing, Director of Research Institute for Artificial Intelligence of Things (RIAIoT), Associate Director of University Research Facility in Big Data Analytics (UBDA)

Silver Medal

BioCharttery: A Climate-smart and Carbon-negative Growing Material

Prof. Daniel TSANG Chiu-wa
Professor, Department of Civil and Environmental Engineering, Co-Founder, BioCharttery Limited (a PolyU Academic-led startup)

Dr HE Mingjing
Research Associate, Department of Civil and Environmental Engineering, Co-Founder, BioCharttery Limited (a PolyU Academic-led startup)

Silver Medal

System for Evaluation and Triage for Healthy Knee

Prof. Amy FU Siu-ngor
Peter Hung Professor in Pain Management, Assoc. Head (RS) & Professor, Department of Rehabilitation Sciences

Prof. CHEN Changwen
Chair Professor of Visual Computing, Department of Computing

Silver Medal

All-in-one Luminescence-based Point-of-care Testing Device for Virus Diagnosis

Prof. HAO Jianhua
Chair Professor of Materials Physics and Devices, Department of Applied Physics

Silver Medal

Mutual Cognitive Human-robot Collaborative Manufacturing System

Dr ZHENG Pai
Assistant Professor, Endowed Young Scholar in Smart Robotics, Department of Industrial and Systems Engineering, Co-founder, CobotAI Limited (a PolyU Academic-led start-up)

Bronze Medal

Novel Smart Precast Porous Road System Against Flooding

Prof. WANG Yuhong
Professor, Department of Civil and Environmental Engineering

Bronze Medal

The Fleming Ankle – Lightweight and Wearable Exoskeleton for Mobility Enhancement

Dr Kelvin HEUNG Ho-lam
Research Assistant Professor, Department of Building and Real Estate, Co-Founder & CTO, Fleming MedLab Limited (a PolyU Academic-led startup)

Bronze Medal

HiVE: Hybrid Immersive Virtual Environment

Dr Jacky CHUNG Kin-hung
Senior Engineering Manager (Building Services, Construction & Safety), Industrial Centre

Dr Kevin WONG Ka-fai
Senior Engineering Manager (Building Services, Construction & Safety), Industrial Centre

Bronze Medal

Modular Rail Particle Damper for Noise and Vibration Reduction in Railways

Prof. NI Yi-qing
Yim, Mak, Kwok & Chung Professor in Smart Structures, Chair Professor of Smart Structures and Rail Transit, Director of National Rail Transit Electrification and Automation Engineering Technology Research Centre (Hong Kong Branch)

Dr AO Wai-kei
Research Assistant Professor, Department of Civil and Environmental Engineering

Bronze Medal

Food Waste-derived 3D Printing Material

Prof. WONG Ka-hing
Director, Research Institute for Future Food, Professor, Department of Food Science and Nutrition

Prof. Daniel TSANG Chiu-wa
Professor, Department of Civil and Environmental Engineering, Core Member, Research Institute for Future Food

Bronze Medal
***END***
Press Contacts
Ms Idy To
Assistant Director, Knowledge Transfer and Entrepreneurship Office
Press Contacts
Mr Matt Ho
Senior Manager, Communications and Public Affairs