The Exercise is Medicine® On Campus (EIM-OC) has been a new initiative in PolyU since 2017. This is a global health initiative managed by the American College of Sports Medicine (ACSM), encourages primary care physicians and other health care providers to include physical activity when designing treatment plans and to refer patients to evidence-based exercise programs and qualified exercise professionals, especially those with the EIM credential.
ACSM call upon universities and colleges to promote physical activity as a vital sign of health. EIM-OC (PolyU) encourages faculty, staff and students to work together toward improving the health and well-being of the campus community by:
Promoting physical activity on campus
Assessing physical activity at every student health visit in our Wellness Centre
Organising campus-wide programmes for wellness enhancement
Connecting university health clinic with Wellness Centre to provide a referral system for exercise prescription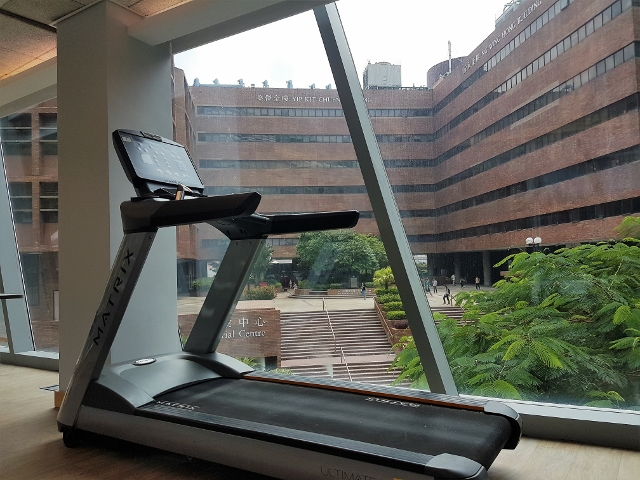 Various evidences support that regular physical activities/ exercises benefit our health.
For cardiovascular, Respiratory function and disease risk factors, exercise could help to:
Increase maximal oxygen uptake.
Decrease resting heart rate and blood pressure
Increase capillary density in skeletal muscle
Reduce total body fat
Increase high density lipoprotein and decrease low density lipoprotein.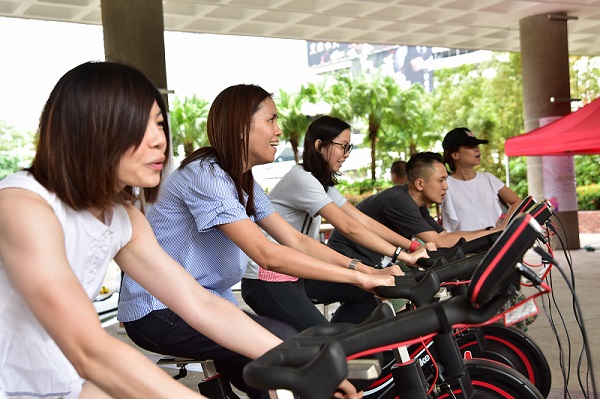 Other than the above, exercise could also help to:
Avoid anxiety and depression
Enhance balancing technique in elderly and reduce risk of falls
Reference:
Pescatello, L. S., Arena, R., Riebe, D., & Thompson, P. D. (2014). ACSMs guidelines for exercise testing and prescription. Philadelphia: Wolters Kluwer Health/Lippincott Williams & Wilkins.
With the idea of Exercise is Medicine on Campus initiated by American College of Sports Medicine (ACSM) in PolyU, we initiated an Exericse Buddy Scheme which is a collaboration between the Counselling and Wellness Section and the Department of Rehabilitation Sciences. With a group of Year three and four students, major in Physiotherapy group was recruited to be the EIM-OC Student Ambassadors.
EIM-OC Exericse Buddy Scheme
With the findings from the research, it revealed that social support to the participant who started to exercise played an important role. Also, the client, after the consultation in Wellness Centre, paired with an ambassador, might feel a sense of responsibility to the buddy who was assigned to monitor the client's exericse progress. Therefore, we designated these ambassadors as the exercise buddies to help track on the client's progress and worked out with the clients together e.g. in the Fitness Room.
Assistance in Wellness Consultation
Ambassadors are also scheduled to assist in the consultation with the Certified Exercise Physiologist in Wellness Consultation and it started from September to April every Academic Year.
Promotion of Campus-wide Exericse Activities in PolyU
Ambassadors are also necessary to promote health and fitness by organising different activities in campus e.g. PACER Challenge, Fitness Challenge and WinA programmes such as Wellness Challenge Award Scheme.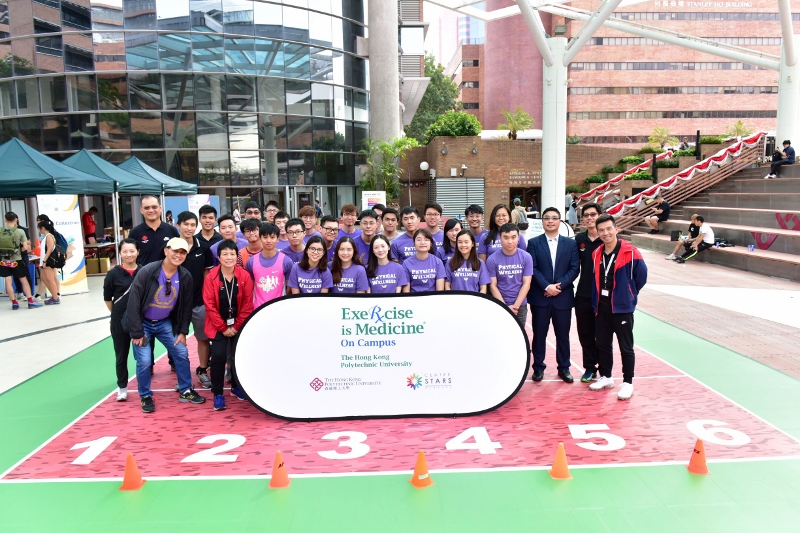 EIM-OC Student Ambassadors serving the PACER Competition
If you have any enquiry about the details of the program, you can email to the Wellness Centre at wellness.centre@polyu.edu.hk