AI for production automation
Distinguished Research Seminar Series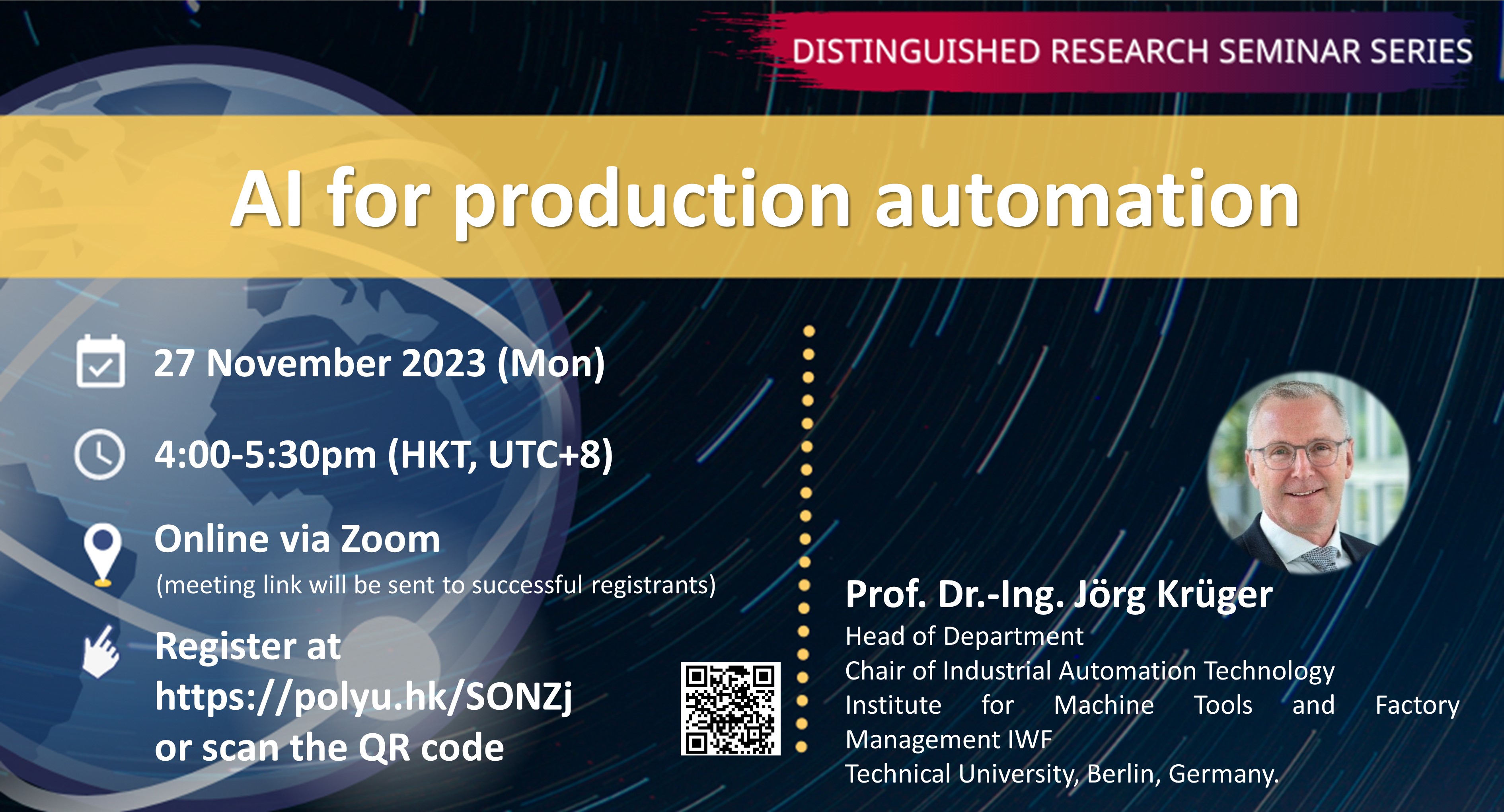 Organiser

Department of Industrial and Systems Engineering, PolyU
Speaker
Prof. Dr.-Ing. Jörg Krüger
Remarks
Meeting link will be sent to successful registrants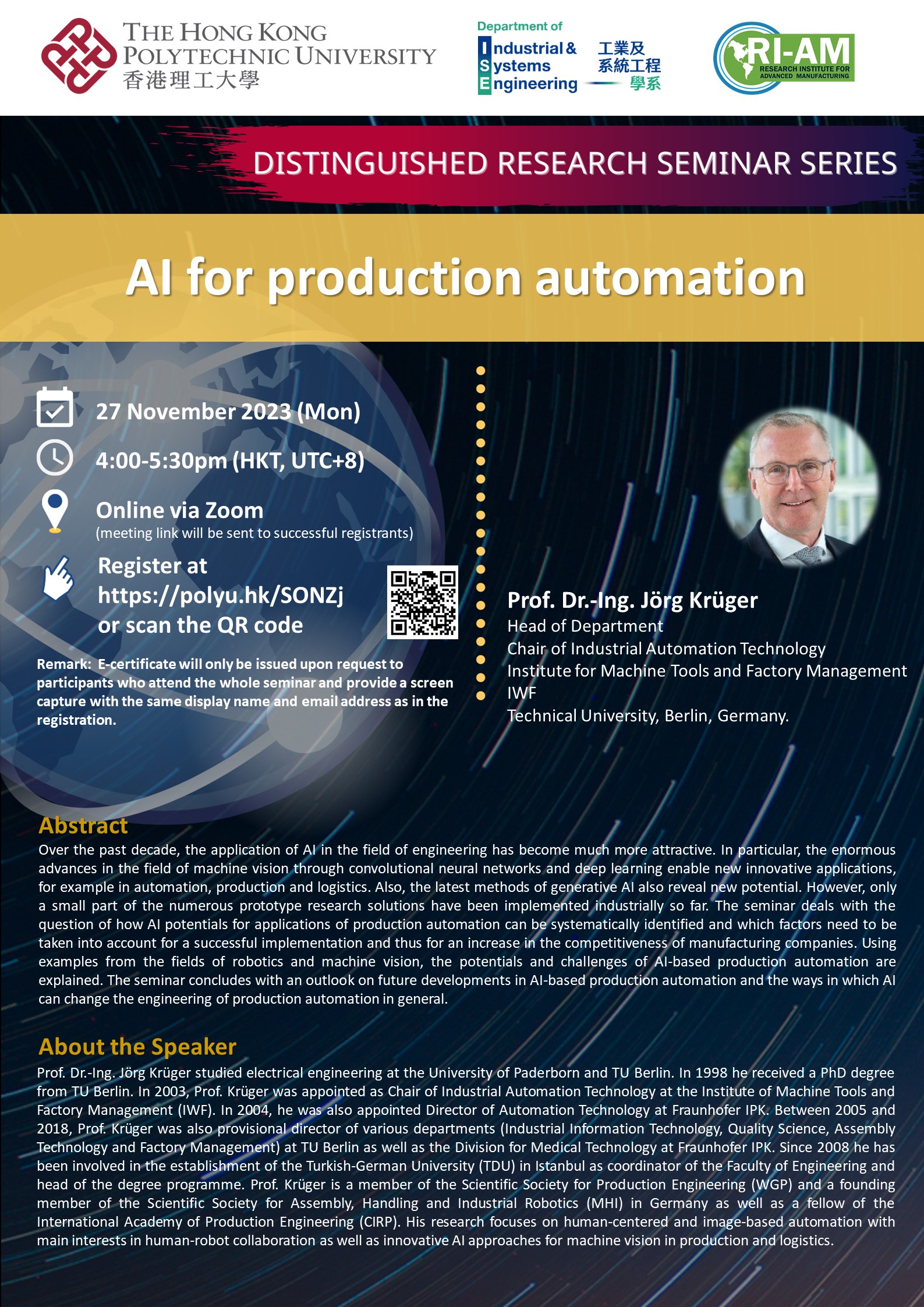 Summary
Over the past decade, the application of AI in the field of engineering has become much more attractive. In particular, the enormous advances in the field of machine vision through convolutional neural networks and deep learning enable new innovative applications, for example in automation, production and logistics. Also, the latest methods of generative AI also reveal new potential. However, only a small part of the numerous prototype research solutions have been implemented industrially so far. The seminar deals with the question of how AI potentials for applications of production automation can be systematically identified and which factors need to be taken into account for a successful implementation and thus for an increase in the competitiveness of manufacturing companies. Using examples from the fields of robotics and machine vision, the potentials and challenges of AI-based production automation are explained. The seminar concludes with an outlook on future developments in AI-based production automation and the ways in which AI can change the engineering of production automation in general.
Keynote Speaker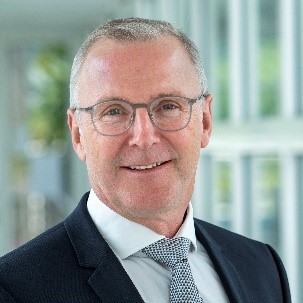 Prof. Dr.-Ing. Jörg Krüger
Head of Department
Chair of Industrial Automation Technology
Institute for Machine Tools and Factory Management IWF
Technical University, Berlin, Germany.
Prof. Dr.-Ing. Jörg Krüger studied electrical engineering at the University of Paderborn and TU Berlin. In 1998 he received a PhD degree from TU Berlin. In 2003, Prof. Krüger was appointed as Chair of Industrial Automation Technology at the Institute of Machine Tools and Factory Management (IWF). In 2004, he was also appointed Director of Automation Technology at Fraunhofer IPK. Between 2005 and 2018, Prof. Krüger was also provisional director of various departments (Industrial Information Technology, Quality Science, Assembly Technology and Factory Management) at TU Berlin as well as the Division for Medical Technology at Fraunhofer IPK. Since 2008 he has been involved in the establishment of the Turkish-German University (TDU) in Istanbul as coordinator of the Faculty of Engineering and head of the degree programme. Prof. Krüger is a member of the Scientific Society for Production Engineering (WGP) and a founding member of the Scientific Society for Assembly, Handling and Industrial Robotics (MHI) in Germany as well as a fellow of the International Academy of Production Engineering (CIRP). His research focuses on human-centered and image-based automation with main interests in human-robot collaboration as well as innovative AI approaches for machine vision in production and logistics.