Process-based Action Research for Supply Chain Management
Research Seminar Series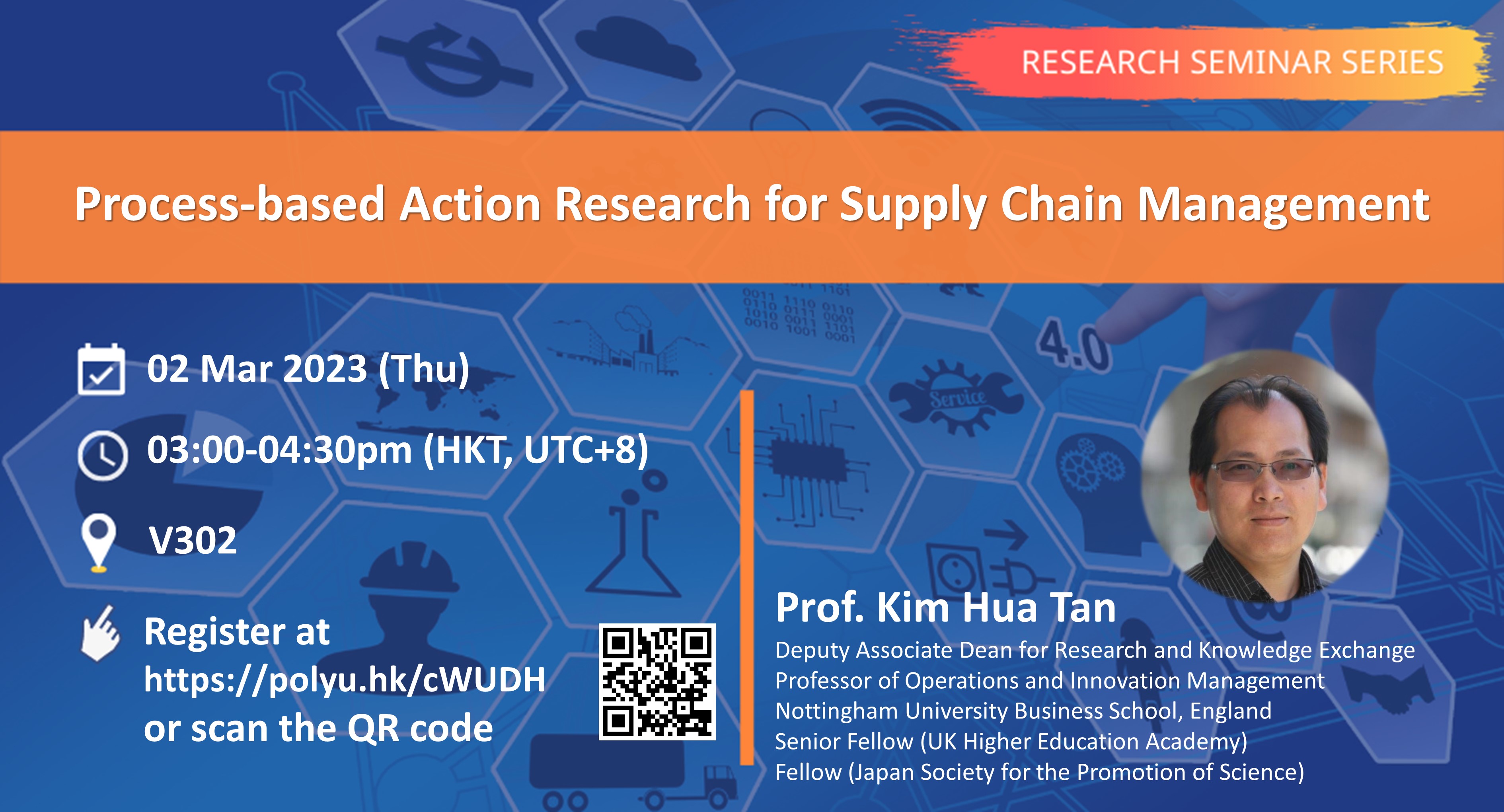 Organiser

Department of Industrial and Systems Engineering, PolyU; IEEE Technology and Engineering Management Society
Speaker
Prof. Kim Hua Tan (陈金华)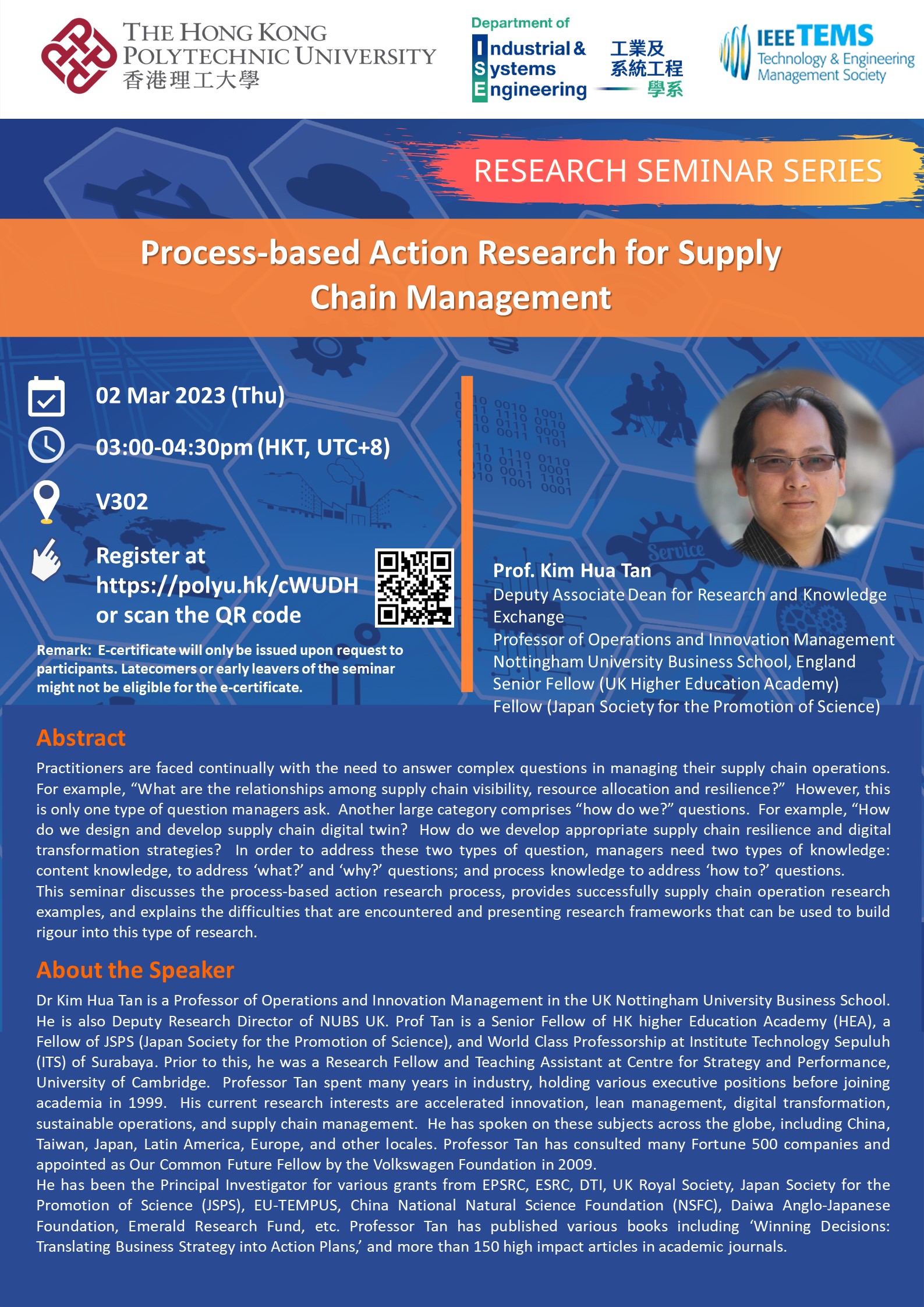 Summary
Practitioners are faced continually with the need to answer complex questions in managing their supply chain operations. For example, "What are the relationships among supply chain visibility, resource allocation and resilience?" However, this is only one type of question managers ask. Another large category comprises "how do we?" questions. For example, "How do we design and develop supply chain digital twin? How do we develop appropriate supply chain resilience and digital transformation strategies? In order to address these two types of question, managers need two types of knowledge: content knowledge, to address 'what?' and 'why?' questions; and process knowledge to address 'how to?' questions.
This seminar discusses the process-based action research process, provides successfully supply chain operation research examples, and explains the difficulties that are encountered and presenting research frameworks that can be used to build rigour into this type of research.
Keynote Speaker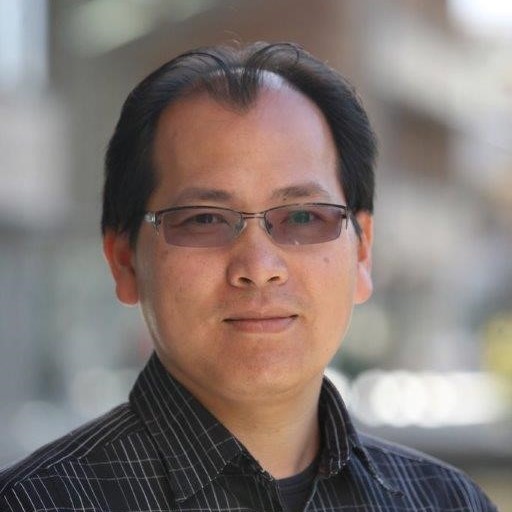 Prof. Kim Hua Tan (陈金华)
Deputy Associate Dean for Research and Knowledge Exchange
Professor of Operations and Innovation Management
Nottingham University Business School, England
Senior Fellow (UK Higher Education Academy)
Fellow (Japan Society for the Promotion of Science)
Dr. Kim Hua Tan is a Professor of Operations and Innovation Management in the UK Nottingham University Business School. He is also Deputy Research Director of NUBS UK. Prof Tan is a Senior Fellow of HK higher Education Academy (HEA), a Fellow of JSPS (Japan Society for the Promotion of Science), and World Class Professorship at Institute Technology Sepuluh (ITS) of Surabaya. Prior to this, he was a Research Fellow and Teaching Assistant at Centre for Strategy and Performance, University of Cambridge.  Professor Tan spent many years in industry, holding various executive positions before joining academia in 1999.  His current research interests are accelerated innovation, lean management, digital transformation, sustainable operations, and supply chain management.  He has spoken on these subjects across the globe, including China, Taiwan, Japan, Latin America, Europe, and other locales. Professor Tan has consulted many Fortune 500 companies and appointed as Our Common Future Fellow by the Volkswagen Foundation in 2009.  He has been the Principal Investigator for various grants from EPSRC, ESRC, DTI, UK Royal Society, Japan Society for the Promotion of Science (JSPS), EU-TEMPUS, China National Natural Science Foundation (NSFC), Daiwa Anglo-Japanese Foundation, Emerald Research Fund, etc. Professor Tan has published various books including 'Winning Decisions: Translating Business Strategy into Action Plans,' and more than 150 high impact articles in academic journals.