Date: 27 September 2019 (Friday)
Time: 18:30 - 19:00 (Reception), 19:00 - 21:30 (Forum cum Ceremony)
Venue: M1603 Senate Room, Li Ka Shing Tower, PolyU campus
Organizer: PolyU Faculty of Business
* The Forum was conducted in English supplemented by Mandarin
19:00 – 19:05


Introduction

19:05 – 19:10

Welcoming Remarks

Prof. Edwin CHENG
Dean of Faculty of Business
The Hong Kong Polytechnic University

19:10 – 19:20

Opening Remarks

Dr Justin LAW
Director
Faculty of Business Case Consortium
The Hong Kong Polytechnic University

19:20 – 19:35


Launch Ceremony and Group Photo Session

19:35 – 20:35

Recent developments and challenges for GBA companies

Mr Raymond CHAN
Managing Director
9F International

Ms Katie LEE
Founder and CEO
QCURE – Global Healthcare Services Booking Website

Mr SU Yang
Director of Private Wealth Management
Huatai Financial Holdings (HK) Limited

Mr Keith WU
Executive Director and Group COO
Tsit Wing Group

Dr Eddy ZHANG
Company President
Shenzhen Century Global Supply Chain Company Limited

20:35 – 21:05

Roundtable Discussion: GBA Opportunities and Challenges under shadow of US/China Trade War

Moderator
Prof. LU Haitian
Associate Dean (External Relations and Development)
Faculty of Business
The Hong Kong Polytechnic University

21:05 – 21:10


Concluding Remarks

Dr Justin LAW
Director
Faculty of Business Case Consortium
The Hong Kong Polytechnic University

21:10 – 21:30


Refreshments
Welcoming Remarks


Prof. Edwin CHENG
Dean of Faculty of Business
The Hong Kong Polytechnic University

Opening & Concluding Remarks


Dr Justin LAW
Director
Faculty of Business Case Consortium
The Hong Kong Polytechnic University

Speakers

Mr Raymond CHAN
Managing Director
9F International

Ms Katie LEE
Founder and CEO
QCURE – Global Healthcare Services Booking Website

Mr SU Yang
Director of Private Wealth Management
Huatai Financial Holdings (HK) Limited

Mr Keith WU
Executive Director and Group COO
Tsit Wing Group

Dr Eddy ZHANG
Company President
Shenzhen Century Global Supply Chain Company Limited
Roundtable Discussion


Moderator
Prof. LU Haitian
Associate Dean (External Relations and Development)
Faculty of Business
The Hong Kong Polytechnic University
The Knowledge Transfer Forum held on 27 September 2019 brought together executives and entrepreneurs from Greater Bay Area to share their experience and perspectives on opportunities and challenges of this spotlighted area's development.
Meanwhile, Case Consortium was officially launched at the forum. Prof. Edwin Cheng, Dean of the Faculty of Business of The Hong Kong Polytechnic University, welcomed the guests and participants, stressing the importance of the Faculty of Business Case Consortium and the uncertain and unpredictable China-US trade and relations.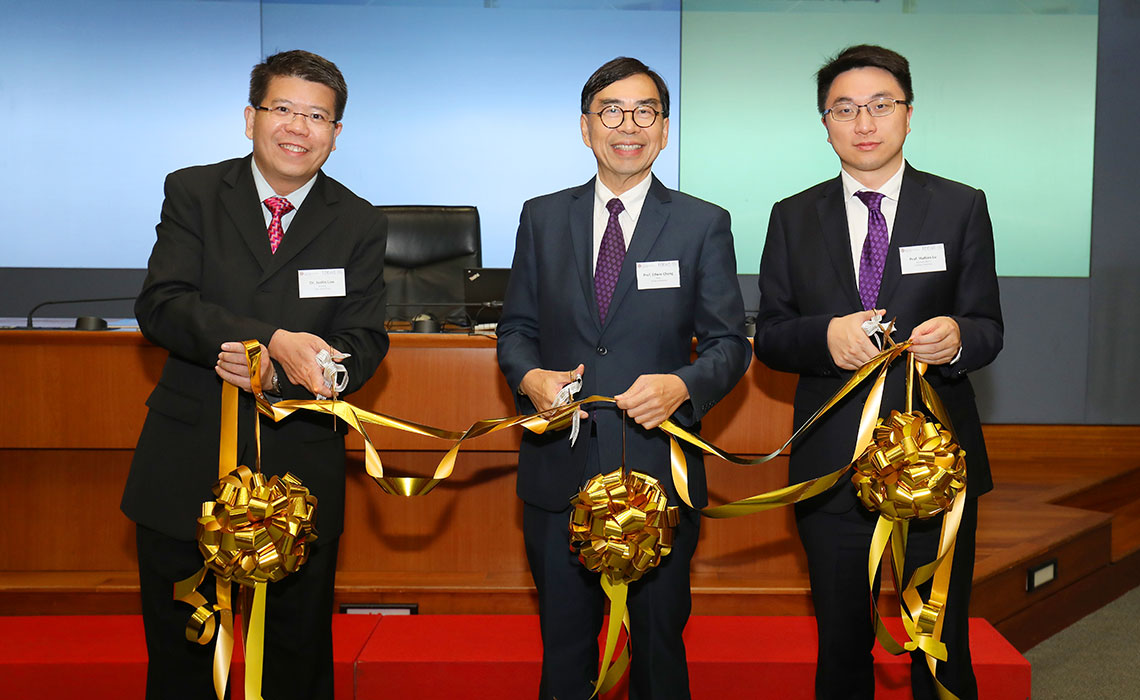 The opening speech was then delivered by Dr Justin Law, Director of the Consortium, who gave a definition and elaborated on the trend and method of business cases. "The new consortium launched by the Faculty aims to promote and innovate pedagogies, produce high quality case materials with special focuses from Greater Bay Area to Belt and Road countries, and provide a platform to promote knowledge transfer between academics and practitioners," said Dr Law.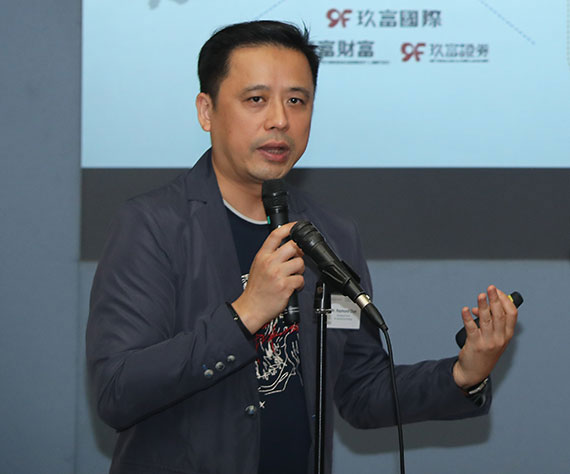 During the forum on the recent developments and challenges for GBA companies, Raymond Chan, Managing Director of 9F International, introduced 9F as a leading digital financial account platform with RMB 5.55 billion net revenue and RMB 2.48 billion adjusted net profit in 2018. As of 31 March 2019, its registered users reached 76.7 million. 9F completed its IPO at NASDAQ with US$ 84.55 million on 15 August this year, marking a milestone for the company and taking it to the next level of transparency, governance and compliance.
In terms of the company's business exposure in Greater Bay Area, Chan added that "9F users are across the nation while concentrating in coastal areas, especially GBA. The GBA registered user number is now over 8 million equaling more than 12 percent of total population. With convenience provided by GBA, the international network of the company has gradually spread to South East Asia countries including the Philippines, Vietnam, Indonesia, and Thailand."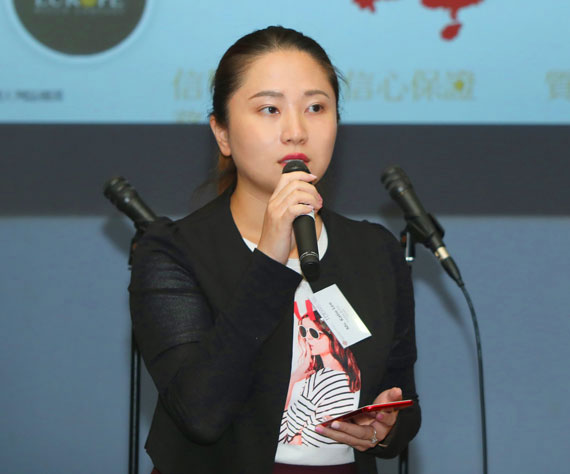 Katie Lee, Founder and CEO of QCURE, a global healthcare services booking website, discussed the significance of Hong Kong as an intermediary. "With business in Hong Kong, it is notably advantageous for connecting the mainland China and oversea markets," Lee pointed out, adding that "Hong Kong entrepreneurs are generally more professional in their industries and our core values are no culture difference, quality assurance and precise contract management." Lee also compared mainland Chinese talent with Hong Kong talent. From her personal experience, mainland Chinese professionals are more diversified, studious, and diligent, while Hong Kong professionals are more rigorous, industry focused and flexible.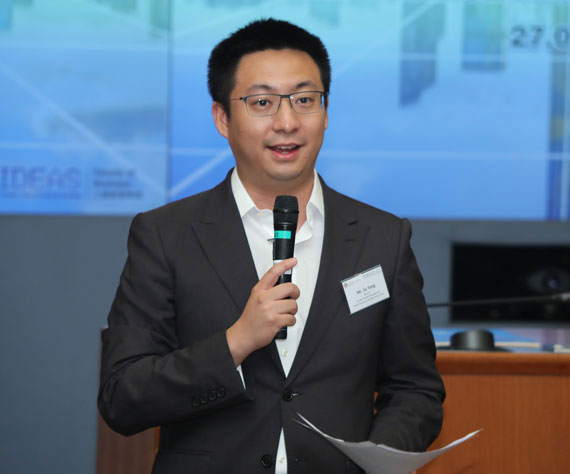 Su Yang, Student in Class 11 of Doctor of Management, emphasized the current advantage of Hong Kong as an international financial hub and how effectively it can serve clients from mainland China.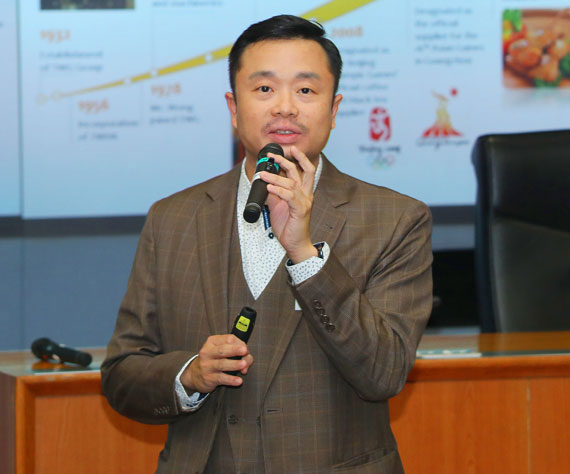 Keith Wu, Executive Director and Group COO of Tsit Wing Group, delivered an elaborated report of his company, an integrated B2B coffee and black tea provider with 87 years of history. The brand now makes a total of 253.2 to 337.7 million cups of coffee and 302.4 to 403.2 million cups of milk tea per year. The brand was also the official provider for 2008 Beijing Olympics, 2010 Guangzhou Asia Games and 2011 Shenzhen Summer Universidad Games.
"The mainland China market has great potential," Wu said. He elaborated that "Firstly, western culture influences consumers' preference and the mainland is a highly fragmented market with potential for consolidation. Secondly, consumers are now highly aware of food safety and quality and that's what we target to provide. We can see higher growth in demand for customized total solution in the PRC market, in particular from the chain restaurant business customers".
He further mentioned his views on the opportunities and challenges in Greater Bay Area. In terms of opportunities, the bay area has huge economic potential as GDP of GBA in 2018 was 10.87 trillion yuan (US$ 1.64 trillion) which was larger than Korea's GDP of US$ 1.53 trillion. And the initiative enhances cooperation among Guangdong, Hong Kong and Macau with a larger market of a population of 70 million. Moreover, the continuously upgrading of transportation infrastructure allows residents to reach over 50 percent of the Greater Bay cities within an hour.
The challenges they are facing include procurement risks as raw material prices may be affected by exchange rate fluctuation, the transformation of the past physical channels to omni-channel and the acceleration of industrial transformation and upgrading.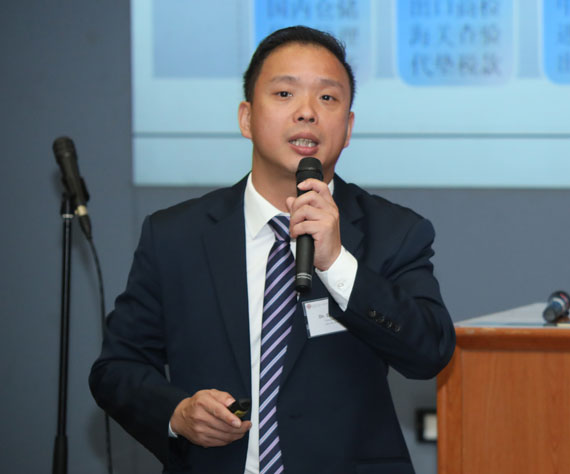 Eddy Zhang, President of Shenzhen Century Global Supply Chain Company Limited, delivered his speech lastly. The company, established in 2008, aims at providing customers with import export clearance services, international procurement, logistics services, warehousing management, fund settlement, information management and abnormality solutions.
He said that "the industry's strategic development in Greater Bay Area benefited from the top port facilities, high concentration of more than 80 percent of China's supply chain enterprises, over 300 diversified industry groups in this area. The size of this economy, rational industry structure, high openness, and creativity are some of the main advantages".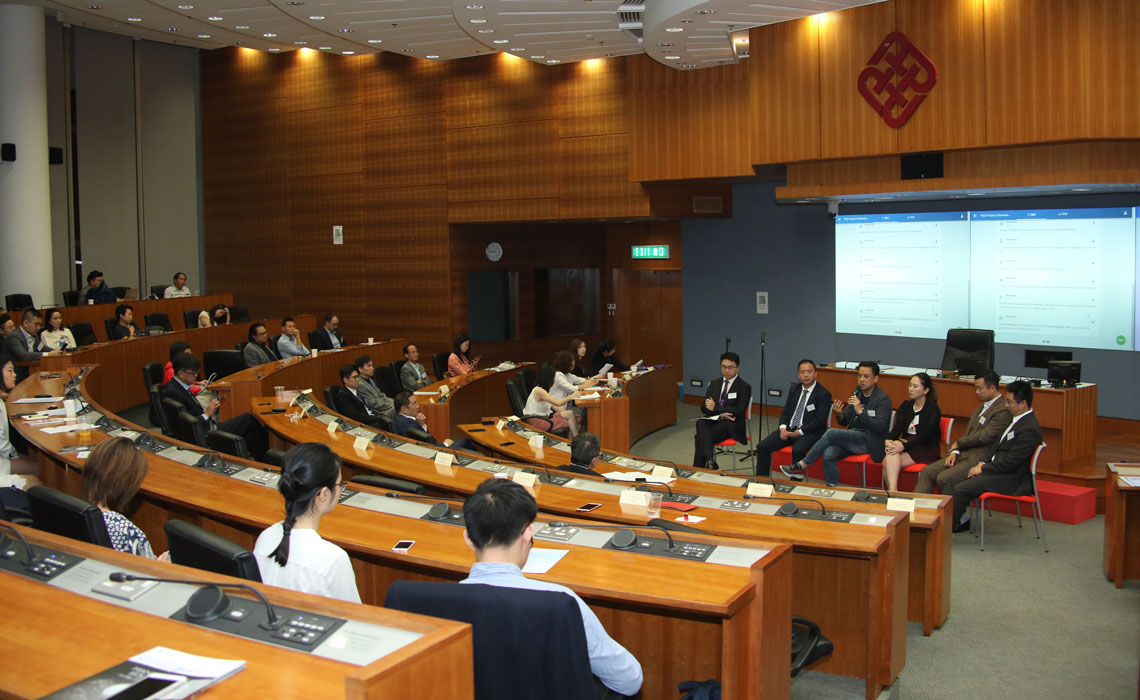 The roundtable discussion, on Greater Bay Area opportunities and challenges under the shadow of US-China Trade War, was moderated by Prof. Lu Haitian, Associate Dean (External Relations and Development) of the Faculty of Business. Participants shared their views and insightful ideas with participants.