Date: 25 June 2019 (Tuesday)
Time: 15:30 - 17:30
Venue: N101, Block N, PolyU campus
* The Forum was conducted in English
15:30 – 15:45


Introduction

15:45 – 16:30

Presentation and Sharing

Dr Ricky SZETO
Executive Director
Hung Fook Tong Group Holdings Limited

Mr Simon MAK
CEO
Friends of the Earth (HK) Charity Ltd.

16:30 – 17:00

Roundtable Discussion

17:00 – 17:30


Networking Reception
Organizers:

Supporting Organizations:

Dr Ricky SZETO
Executive Director
Hung Fook Tong Group Holdings Limited

Dr Ricky Szeto has been the General Manager and Executive Director of Hung Fook Tong Group Holdings Limited (Stock Code; 1446) since 1999. He is appointed by the government and its agencies to serve a member of various public service committees, including the Employees Compensation Assistance Fund Board, the Committee on Reduction of Salt and Sugar in Food for the Centre for Food Safety, the Committee on Lump Sum Grant Steering and the Advisory Committee on Enhancing Employment of People with Disabilities. Dr Szeto is currently the Member of the Executive Committee, and the Chairperson of Committee on Social Enterprise and Employment of the Society of The Hong Kong Society for Rehabilitation. He is also the chairman of the Hong Kong Professional and Educational Service (HKPES).

Dr Szeto received his PhD from the University of Southern Mississippi, his MBA, MEd and Ed.S from Northeast Louisiana University, his MTh and MA (Theology) from the Lutheran Theological Seminary, and a Honour Diploma in Economics from Hong Kong Shue Yan College. Dr Szeto is a Fellow [FCPA (Aust.)] of CPA Australia.

Mr Simon MAK
CEO
Friends of the Earth (HK) Charity Ltd.

Mr Simon Mak is the founder and chief executive of Ascent Partners, a corporate valuation and advisory firm based in Hong Kong. He graduated from McGill University with a Bachelor of Science. Mr Mak is a CFA charter holder, a Certified Management Accountant (CMA) and a member of the Institute of Public Accountant (MIPA). He has extensive experience in financial valuation and sustainability reporting.

Besides his professional work, he is committed to fulfil his social duty. He serves in a variety of not-for-profit organizations and charities. He is the Founding Chairman of IP Commericialization Alliance, President of Lions Club of Hong Kong IFC, Vice-Chairman and CEO of Friends of the Earth (HK), member of UN ESCAP ESBN and committee members in a variety of chamber of commerce and trade organizations.
Environmental, social and governance (ESG) criteria are key to companies' sustainable development and should be taken into consideration by investors when screening potential investments, according to experts at a symposium themed "ESG Investment Engagement: The Perspective of Participating CEOs", held by the Faculty of Business and the Center for Economic Sustainability and Entrepreneurial Finance (CESEF) of The Hong Kong Polytechnic University (PolyU) on 25 June 2019.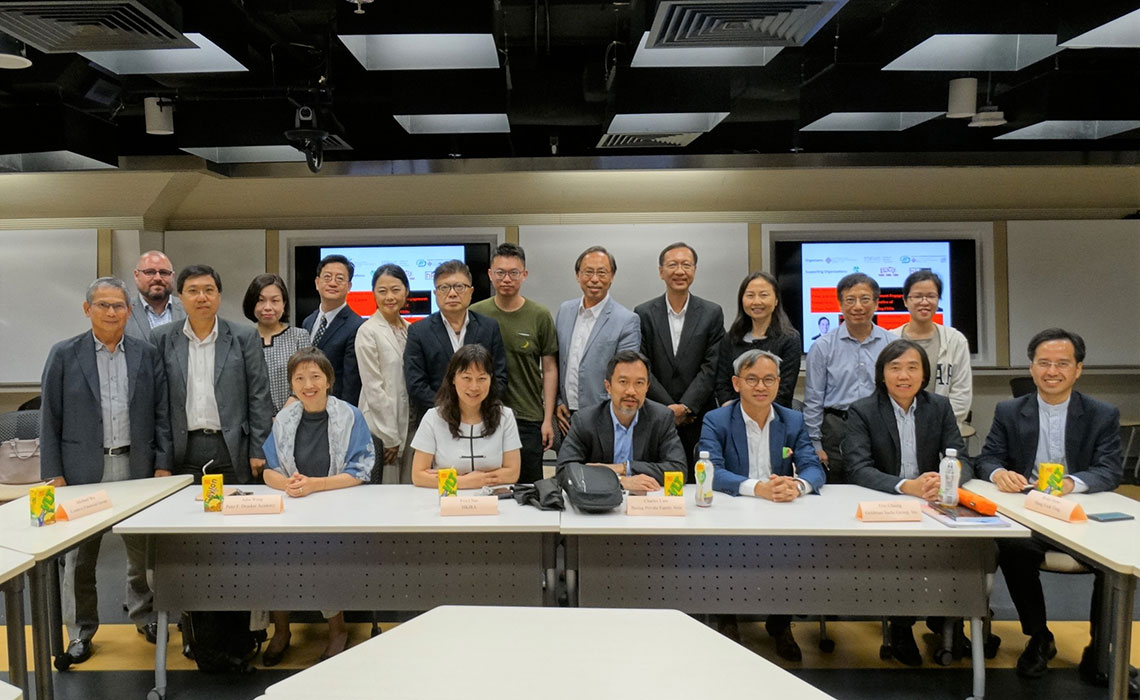 Louis Cheng, Professor of Finance at PolyU's School of Accounting and Finance and Director of CESEF, pointed out in the opening speech, that the event was aimed at improving awareness of ESG factors among companies and investors.
Since 2015, ESG investing has become very popular. ESG is related to how a company performs as a steward of nature, how it manages relationships with employees, suppliers, customers, and the communities where it operates, and how it deals with a company's leadership, executive pay, audits, internal controls, and shareholder rights.
Cheng elaborated that companies adopting ESG approach would make a happier and greener society and improve shareholder value, and ESG standards are attached to a goal which is to make sustainable investing so people who are involved in the supply chain of investment should think highly of ESG factors.
"Whoever cares about the society actually makes more money," he stressed the importance of ESG criteria by addressing the idea from a report called Who Cares Wins done by a joint initiative of financial institutions invited by previous United Nations Secretary-General Kofi Annan to develop guidelines and recommendations on how to better integrate environmental, social and corporate governance issues in asset management, securities brokerage services and associated research functions.
Cheng added that the implementation of ESG and green finance would help companies to improve ratings by commercial data providers including Bloomberg, Morningstar and MSCI.
The difference between ESG Investing and Socially Responsible Investing (SRI) was also elaborated by Cheng. He said that SRI is more related to factors including religious concerns and ethical principles, and each SRI portfolio could be independent, while ESG standards are more focused on long-term sustainability.
Mr Simon Mak, CEO at Friends of the Earth (HK), one of Hong Kong's most prominent green groups, emphasized the importance of adopting ESG standards, mentioning that finance is a crucial element of driving other initiatives within the economic system and green finance approach is necessary for ensuring sustainable development.
Mak said their organization has been promoting environmental philosophy through policy advocacy, corporate partnership and community engagement, and they focus on five subjects – climate and energy, waste, land use, urban forestry and green finance.
Friends of the Earth (HK), established in 1983 as a charitable organization, is a leading environmental advocate in Hong Kong and the organization has been committed to cooperating with the government, businesses and the community to create sustainable policies, business practices and community lifestyles over the past 35 years. Currently it has a membership of more than 15,000 individuals and 30 corporates.
Dr Ricky Szeto, Executive Director of Hung Fook Tong Group Holdings Limited, emphasized corporate social responsibility (CSR) and creating shared value (CSV) based on the company's own strategies.
He said that he had witnessed improvement in public awareness of CSR. Companies have been evolving from previously being defensive, charitable and promotional into the present stage of focusing on sustainable development of companies and society.
Szeto believed that companies should pay more attention to such areas as corporate governance, risk management, sustainable development, green economy, company reputation and corporate culture.
In terms of ESG report, he said it is critical to be factual, quantitative, consistent and balanced.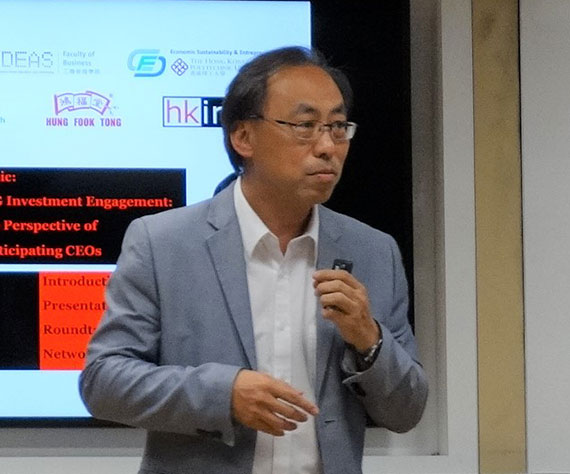 At the forum, Prof. Cheng announced CESEF's collaboration with Friends of the Earth (HK) and Hung Fook Tong to set up "ESG Investment Education Pledge", with the latter two parties setting aside funding within their corporate accounts up to HK$ 10 million and HK$ 2 million respectively. The pledge provides research opportunity for PolyU students to analyze ESG performance of listed firms in Hong Kong and Mainland. The research findings will be considered and adopted (if appropriate) for ESG Investment of these two organizations using the funding pledged. This initiative aims to push for sustainability through ESG investments using research from PolyU students as part of their investment processes.
Such a pledge will help the School of Accounting and Finance at PolyU to educate its students about ESG and its importance, according to Cheng. Students of its Master's programme in Financial Economics in Energy and Environment will have the opportunity to participate in research supported by the ESG Investment Education Pledge and launch their careers as specialists in one of the fastest growing niche areas in the financial industry after graduation.
Master of Finance (Financial Economics in Energy and Environment) at PolyU has been designed for degree graduates with no or little work experience to specialize in the energy and environment areas of the financial industry. The curriculum, built on solid economic and finance foundation, has incorporated up-to-date industry practices for a unique synthesis of theories and applications. As a participant of the CFA Institute University Affiliation Program, this master's degree prepares students to sit Chartered Financial Analyst (CFA®) examination. For details of the programme, please visit here.
The symposium also invited Dr David Broadstock , Assistant Professor in PolyU's School of Accounting and Finance and CESEF Deputy Director (Economics); Dr Eva Chan, Chairman of Hong Kong Investor Relations Association; Dr Eric Chiang, Executive Director of Investment Management Division at Goldman Sachs (Asia) LLC; Dr Charles Lam, Managing Director of Real Estate at Baring Private Equity Asia; Dr Julia Wang, President at Peter F. Drucker Academy; Mr Patrick Yeung, CEO of Asian Capital Limited; and Dr Michael Wu, Chairman at Creative Asset Management Limited to be the guest speakers in the roundtable part to share their views.