Date: 21 October 2019 (Monday)
Time: 18:00 - 18:30 (Registration), 18:30 - 21:30 (Forum)
Venue: M1603 Senate Room, Li Ka Shing Tower, PolyU campus
* The Forum was conducted in English supplemented by Mandarin
18:00 – 18:30


Registration

18:30 – 18:35

Welcoming Remarks

Prof. Haitian Lu
Associate Dean (External Relations and Development)
Faculty of Business
The Hong Kong Polytechnic University

18:35 – 20:35

Forum on "Trend and Latest Development in InsurTech"

Mr William BU
Managing Director
China Elite Actuarial Consulting Limited

Ms Carol CHAO
Founder and CEO
BZN

Mr CHIANG Chun Yuan
Founder
IHDpay Group

Mr William YU
China Life Insurance (Overseas) Company Limited Shenzhen Center

20:35 – 21:05

Q&A Session

Moderator
Prof. LU Haitian
Associate Dean (External Relations and Development)
Faculty of Business
The Hong Kong Polytechnic University

21:05 – 21:30


Networking
Organizers:

Co-organizer:
Moderator

Prof. Haitian Lu
Director, Chinese Mainland Affairs Office
Professor in Law and Finance, Faculty of Business
The Hong Kong Polytechnic University

Speakers

Mr William BU
Managing Director
China Elite Actuarial Consulting Limited

Ms Carol CHAO
Founder and CEO
BZN

Mr CHIANG Chun Yuan
Founder
IHDpay Group

Mr William YU
China Life Insurance (Overseas) Company Limited Shenzhen Center
This symposium held on 21 October 2019 brought together executives and entrepreneurs in the insurance industry to share their experience and perspectives on tendency and updated development in insurtech, and the practices in both Hong Kong and mainland China.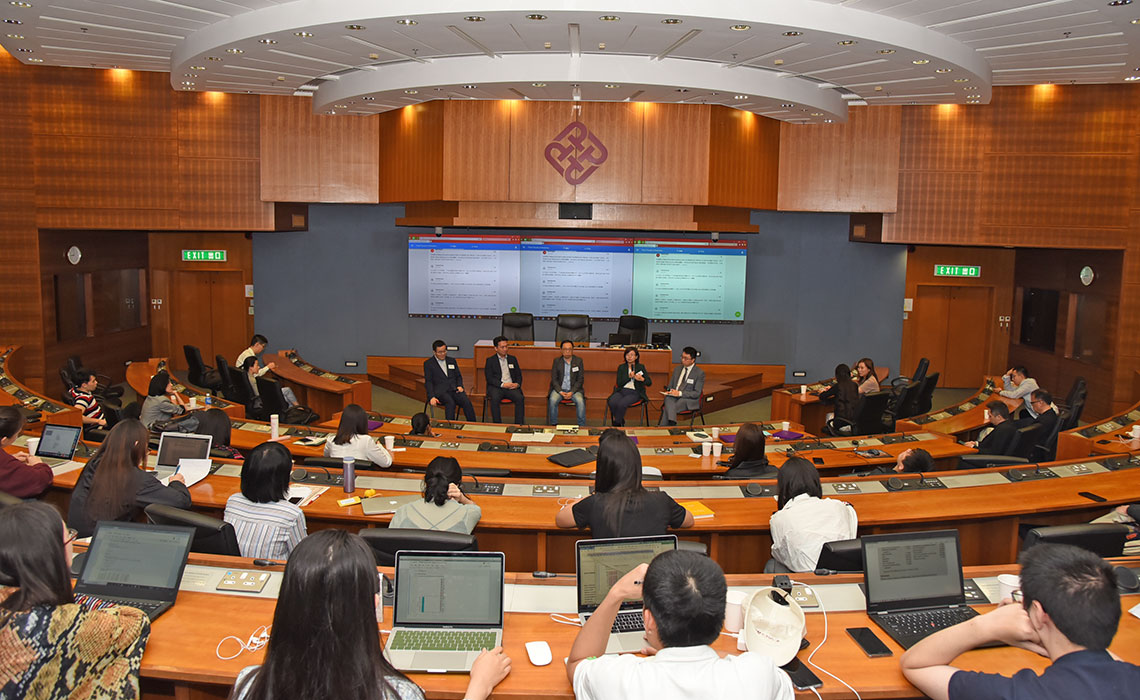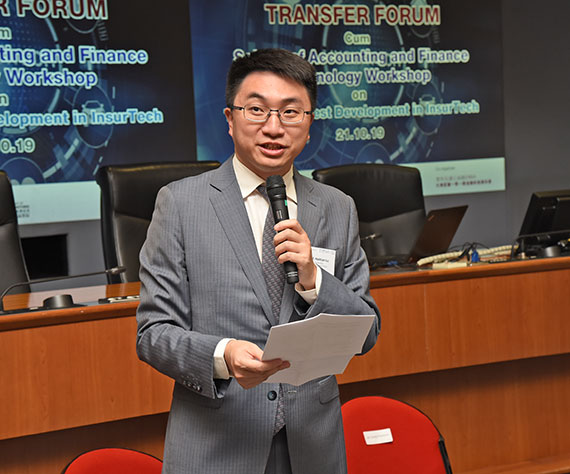 Prof. Lu Haitian, Associate Dean (External Relations and Development) at the Faculty of Business in The Hong Kong Polytechnic University welcomed the guests and participants by addressing the importance of adopting modern technology in the traditional insurance industry. Following his speech, a photo taking session and souvenir presentation marked the commencement of the forum.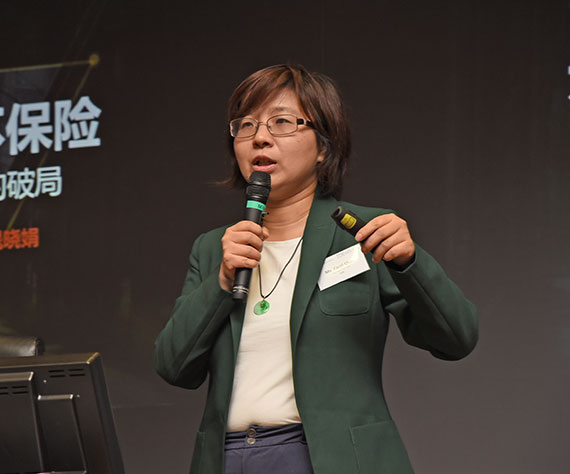 The presentation started with Ms Carol Chao, Founder and CEO of BZN, a global customized insurance platform driven by insurance technology and data. She discussed the significance of technology revolutions to the traditional insurance industry.
To start with, she explained her definition of online business as a people oriented experience as well as value exchange lifestyle. Her company, BZN spotting this feature, was established to cater for the customized insurance needs of high frequency, small amount and fragmented scenarios.
"Finance industry has strong professionalism which covers macroscopic and microcosmic aspects, state strategy and people's livelihood." She added, "Thus, step by step renovations are necessary where innovations and upgrades should be compliant to regulations. By using Regulatory Sandbox method, the process can possibly reach the balance." She further mentioned the recent insurance industry evolvements in China. "The industry is progressing fairly quickly but the density and profundity still have significant potentials." She said. "From investment aspect, in the first half of year 2019, 156 projects were related to insurance with the scale of over 2.83 billion US dollars. From the company quantity aspect, there were 1,302 insurance start-ups. Out of them, more than 200 insurtech companies have operations across the globe including North America, China, South East Asia and Australia. For BZN, it has customized thousands of insurance solutions in more than 10 different industries including sectors of sharing economy, human resource, O2O, sports, healthcare, outing, education, tourism, catering and property. Features of her company are exact pricing, dynamic risk management and efficiency assurance. Ms Chao ended her speech by elaborating cases of automation of insurance application and underwriting as well as dynamic pricing and risk management for enterprises.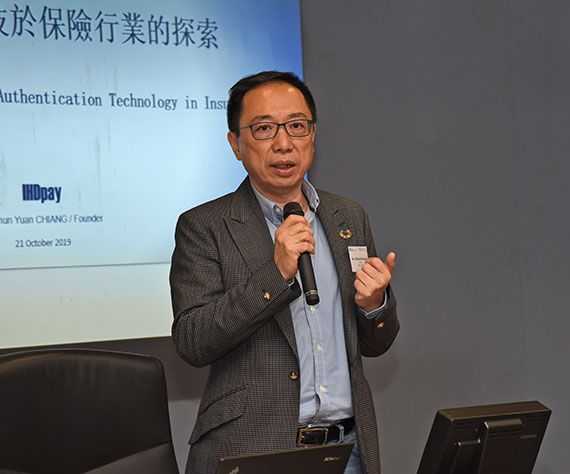 Mr Chiang Chunyuan, Founder of IHDpay Group, delivered his speech with the topic of exploration of innovative authentication technology in insurance. By narrating the evolution of transaction, he described the demands arising from the development of insurance services and the necessity of authentication service architecture based on regulation, privacy and risk control in the industry. It is a secure digital authentication system and biometric authentication application with advantages of anti-counterfeiting ID and person, reflecting a client's genuine intention, convenience in tracking and tracing as well as being economical. Mr Chiang demonstrated how the "real name, real person, real authentication" service system could work at the end of his speech and its implication in obtaining approval from various regulators for cross-border insurance products in Hong Kong & the Greater Bay Area.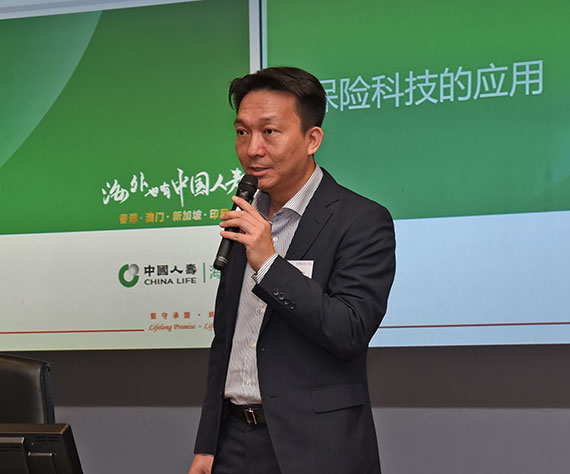 Mr William Yu, Business Director of China Life Insurance (Overseas) Company Limited Shenzhen Centre, shared his experience of insurtech applications. He introduced blockchain technology, its definition, features and types. "The value of its application in the finance sector lies in achieving highly efficient and economical transactions, re-building trust mechanism, privacy protection and scarcity and lower regulatory costs," he emphasized. "Digital currency, transaction settlement, digital bill, asset securitization, and supply chain finance etc. would be the promising applications in finance. However, there are hurdles and challenges including practical difficulties in system integration, value recognition and regulatory polices etc."
Mr Yu further explained the development process and applications of artificial intelligence. By adopting AI technology, considerable improvements could be achieved for operation efficiency and user experience in terms of underwriting and claims settlement, risk management, customer services and sales processes. To conclude, he emphasized that although artificial intelligence is trending, it had reached a technique bottleneck before it could be adoptable. "AI development is still at its initial stage and research and applications of artificial intelligence still need to be massively conducted before it can be generally utilized," said Mr Yu.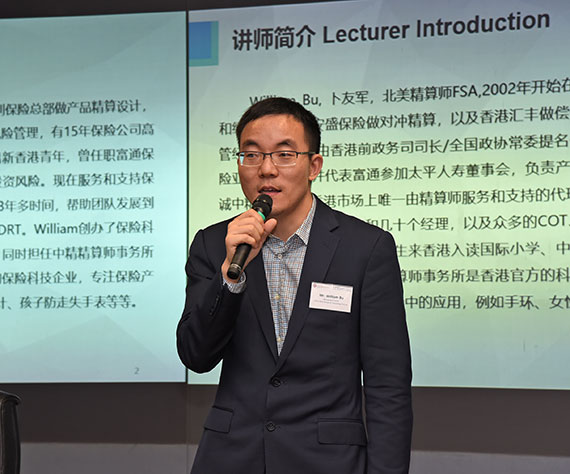 As the last speaker, Mr William Bu, Managing Director of China Elite Actuarial Consulting Limited, who used to be an actuary, described how insurtech had granted additional abilities to insurance agents.
About five years ago, ZhongAn Insurance initiated online insurance business and became the first company of its kind in mainland China, which unfolded a great upsurge in insurtech. Particularly, he elaborated on four practical aspects of the technologies that could be beneficial to insurance agents. Firstly, artificial intelligence algorithm enables insurance plan categorization by client groups.
Secondly, AI underwriting can generate quick and accurate results of purchasable insurance products for customers with certain diseases. Thirdly, big data application improves the efficiency of agents in terms of sales and claim settlement. Last but not least, insurtech can refine risk management system and enforce compliance throughout underwriting, pricing, settlement of claims, anti-fraud and regulatory operations.
For the prospects of insurtech, Mr Bu further shared his perspective before he ended his speech. He reckoned that by 2030, the role of insurance agents would be significantly altered and the number of agents would be reduced. The remaining agents would focus on key and high-end clients. With the assistance of database, insurance companies could better conduct underwriting and pricing and provide clients with composite prices based on their risk statuses and demands. In addition, the regulatory organizations could utilize artificial intelligence models for adopting open and transparent ways to ensure the traceability of risk rankings.
Following guests' speeches, a Q&A session with regard to the topic was moderated by Prof. Lu. Participants air their own views and a few insightful ideas were recognized during the discussion.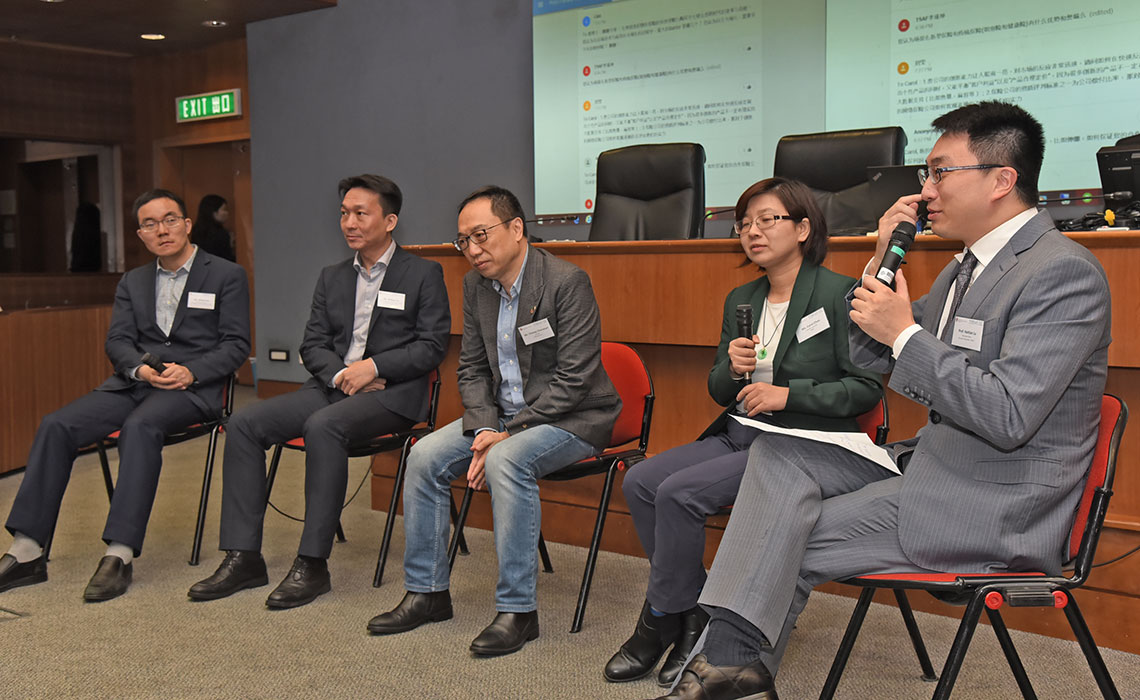 The symposium was concluded by Prof. Lu.