Stepping up to the challenge and doing what it takes –Outstanding Alumnus Ir Chan Siu-hung shares how he realises the "Can Do DNA" in him
Life is beautiful but it isn't always easy. As we encounter challenges at different stages of our life, it is our attitude that makes the difference. Ir Chan Siu-hung (SH), an Outstanding PolyU Alumni awardee and the Honorary Secretary of the Outstanding PolyU Alumni Association, chooses to embrace life's challenges by keeping his spirit up to find new paths that lead to positive change. Along the way, he exemplifies his "Can Do DNA" that rides him through the storms in his life and career.
Good old days at the then Hong Kong Polytechnic
SH drives past the campus of PolyU on the way to his office located in Hunghom almost every working day. Although the university looks completely different from the days he studied there, he still feels connected to his alma mater and is glad to see how it has evolved and grown in scale over the years. "All the iconic landmarks of PolyU conjure up a picture of what it represents today – dynamic, international, and forward-looking. Be it the award-winning Jockey Club Innovation Tower, the iconic red brick main campus, or the modern Hotel ICON, they all represent a university with vision and mission," said SH.
SH registered as a freshman for the Diploma in Electrical Engineering at the then Hong Kong Polytechnic back in 1975. Not long after he started studying, the institute commenced its first expansion and many container-like "huts" were built as temporary classrooms around the current Tsim Sha Tsui East area. SH, as well as his fellow classmates, had to walk along a long sandy road to attend classes.
"The pathway to these 'huts' turned muddy on rainy days and we all had our socks soaked in mud and water as we arrived at the classroom. Many of my classmates took their stinky socks off, trying to find a place to hang them," said SH. It sounds like quite a "challenge" for the young classmates to deal with such an awkward situation, but it also turned out to be one of the best memories they have together. "The classroom-turned-laundry-room is still a shared funny memory among my classmates as we recollect our campus life today," he added.
"I learned the importance of team spirit, which I am still practising and truly believe in."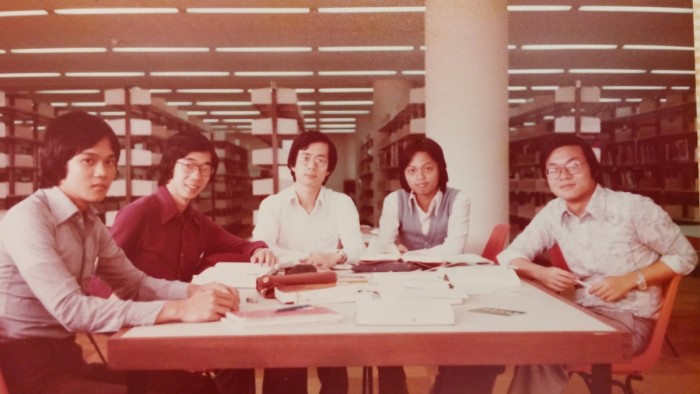 SH (2nd from right) has always enjoyed the debate with the study group at the Polytechnic Library (1978)
"Teamwork" is another important learning SH acquired from his school life at the HK Polytechnic. "We formed study groups of four to five and often challenged each other in a friendly manner." Debates had become an essential part of their study routine, through which they also recognised the power of togetherness.
To date, as Managing Director – China of CLP Holdings Limited and Chairman of CLP Power China Limited, SH is responsible for the company's China business with projects encompassing a wide range of energy technologies and spanning across 15 provinces, autonomous regions and municipalities in Mainland China. He still puts team spirit at the heart of what he does: "Teamwork among business units and regional offices is pivotal for driving outstanding performance in our business."
"When one faces adversity, one's 'Can Do DNA' is often exemplified."
"Chance favours the prepared mind" is one of SH's mottos. It is not just about preparing one's skillset but also one's mindset. A key success factor would be having a "Can Do DNA" rooted in you.
SH shared that a year after he joined CLP as an engineer, he was required to join a mandatory Outward Bound training course which included a sailing trip to the islands of the Philippines, during which he spent 18-days on a brigantine named "Ji Fung". "At the crack of dawn every day, each of the crew members had to line up on the deck and jump over a height of more than 4 metres into the water. It was indeed quite a psychological challenge to overcome," he recollected.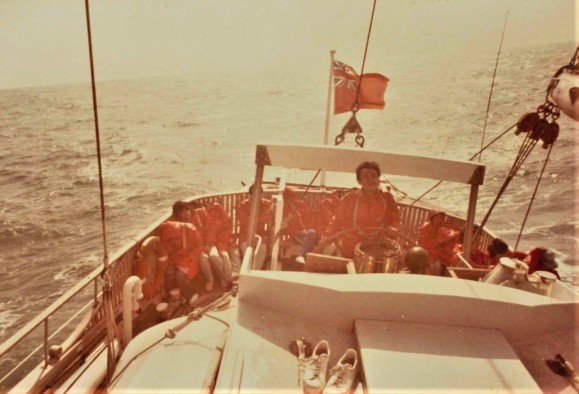 Daring the rough sea during the Outward Bound land and sea course, exhausted by seasickness
Looking back, SH said he can still feel his trembling feet before the first trial, but it was also the moment that he stepped out of his comfort zone and unleashed his "Can Do DNA". "I was not given a choice. After a few dips, I said to myself, 'why not?' and realised that I could do it."
"Sticking to your comfort zone will not lead you to greater success."
"During the course, each of us had to spend two nights alone on one of the deserted islands in Sai Kung, with only two bottles of water, two canned food (without an opener though!), a flimsy poncho, a paper notepad and a pen." After many years, SH still feels grateful for having such a "memorable" experience: "Starving, surprisingly, sharpened one's mind, and made you re-think what life is and what matters most."
Throughout the years, SH has continued to exemplify his "Can Do DNA" by taking up various management positions in CLP, as well as contributing his spare time to serve in different professional bodies and public posts. "The 'can do DNA' has indisputably benefited my nearly 40 years' career path – helping me to ride through the storms and conquer the many challenges that I have faced."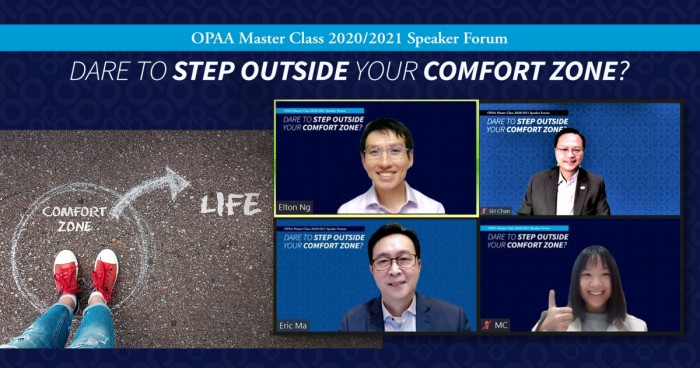 SH (top right) shares how he realises his "Can Do DNA" in the OPAA Master Class 2020/2021 Speaker Forum "Dare to step outside your comfort zone"
"Sticking to your comfort zone will not lead you to greater success," said SH. He encourages young people to be bold and courageous when setting out their career plan. "As you look beyond Hong Kong, you will find numerous opportunities that come with the development of the Greater Bay Area. Why not give them a try?"