PolyU hosts symposium to discuss teaching and learning in times of crisis
The Excellent Teachers on Teaching Excellence Symposium 2021 was hosted by PolyU on 15 January for honouring excellence in teaching and sharing insights and experiences on pedagogy. In the face of the COVID-19 pandemic, which has brought about unprecedented difficulties but also opportunities for change in higher education, the theme for the symposium was "Turning Challenges into Opportunities for Learning and Teaching in Times of Crisis".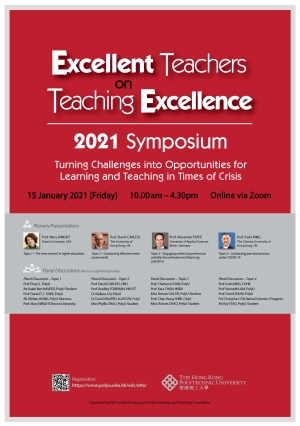 Professor Jin-Guang Teng, President of PolyU, said in the opening speech that the higher education landscape has changed because of the pandemic. "In the new normal, a hybrid mode of teaching and learning activities could be employed for the internationalisation of classes, with local students attending a class in person interacting with non-local students from afar via online, fostering a beneficial exchange of perspectives between students from different backgrounds." He added that the experience of online teaching will have an enduring effect, and real-time online teaching will become an important component of university education after the pandemic.
A number of esteemed experts in teaching and learning from local and overseas universities joined the symposium and the following distinguished speakers were invited to give plenary presentations - Professor Mary Wright, Associate Provost of Teaching and Learning at Brown University in the United States of America; Professor Alexander Taffe from the University of Applied Sciences Berlin, Germany; Professor Irwin King of the Department of Computer Science and the Director of the Centre for eLearning Innovation and Technology at the Chinese University of Hong Kong; and Professor David Carless from the Faculty of Education at the University of Hong Kong.
They shared invaluable insights on topics including what the new normal would be in higher education, how to ensure intended learning outcomes are achieved through online courses, what are the approaches for practical sessions under COVID-19, and how to conduct assessments during the pandemic. The symposium provided a good opportunity for local and overseas institutions to facilitate further discussion and deepen collaboration.