Knowledge Graph-enabled Quality Problem Solving in Manufacturing Industry
Research Seminar Series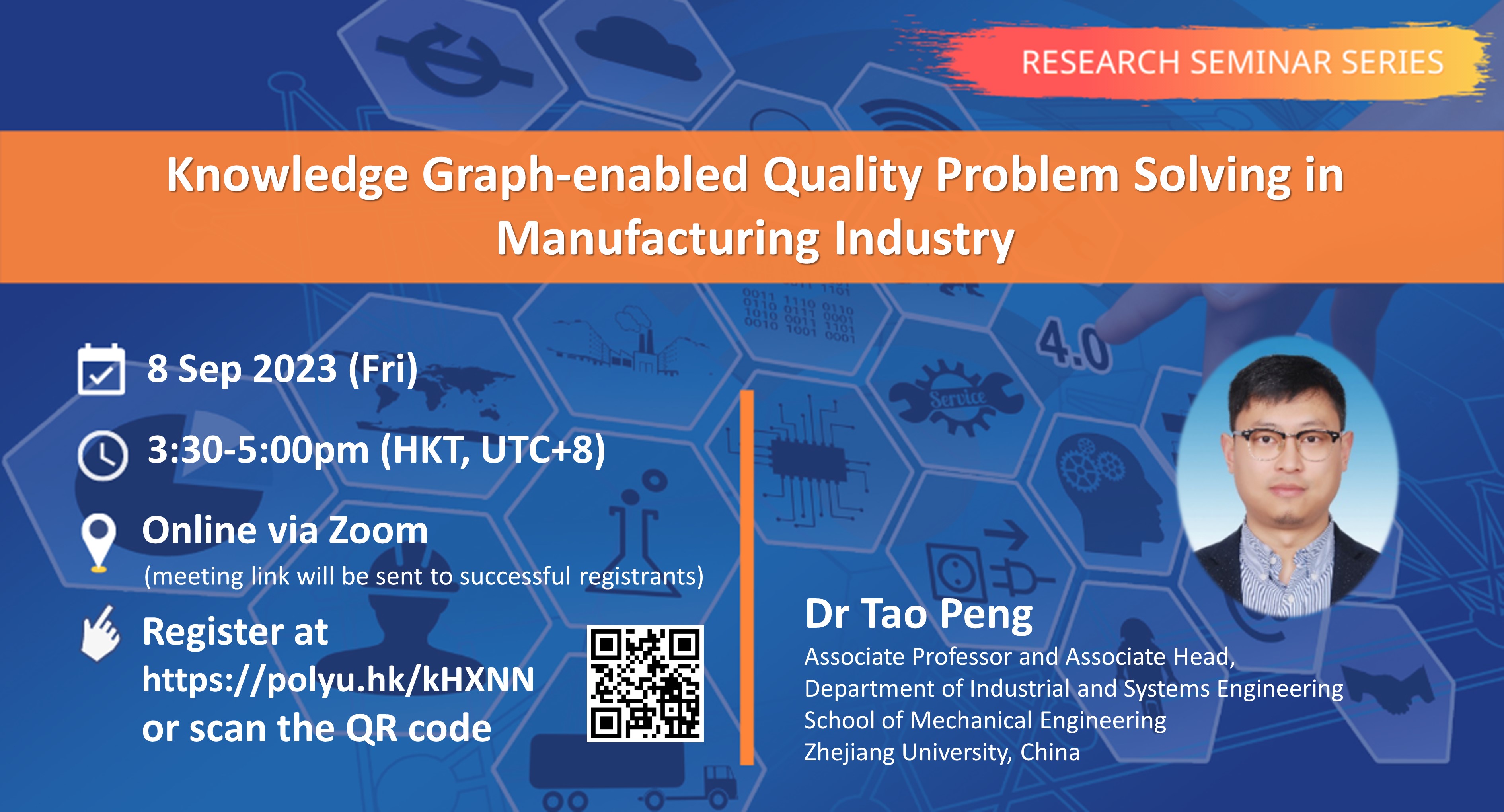 Organiser

Department of Industrial and Systems Engineering, PolyU
Remarks
Meeting link will be sent to successful registrants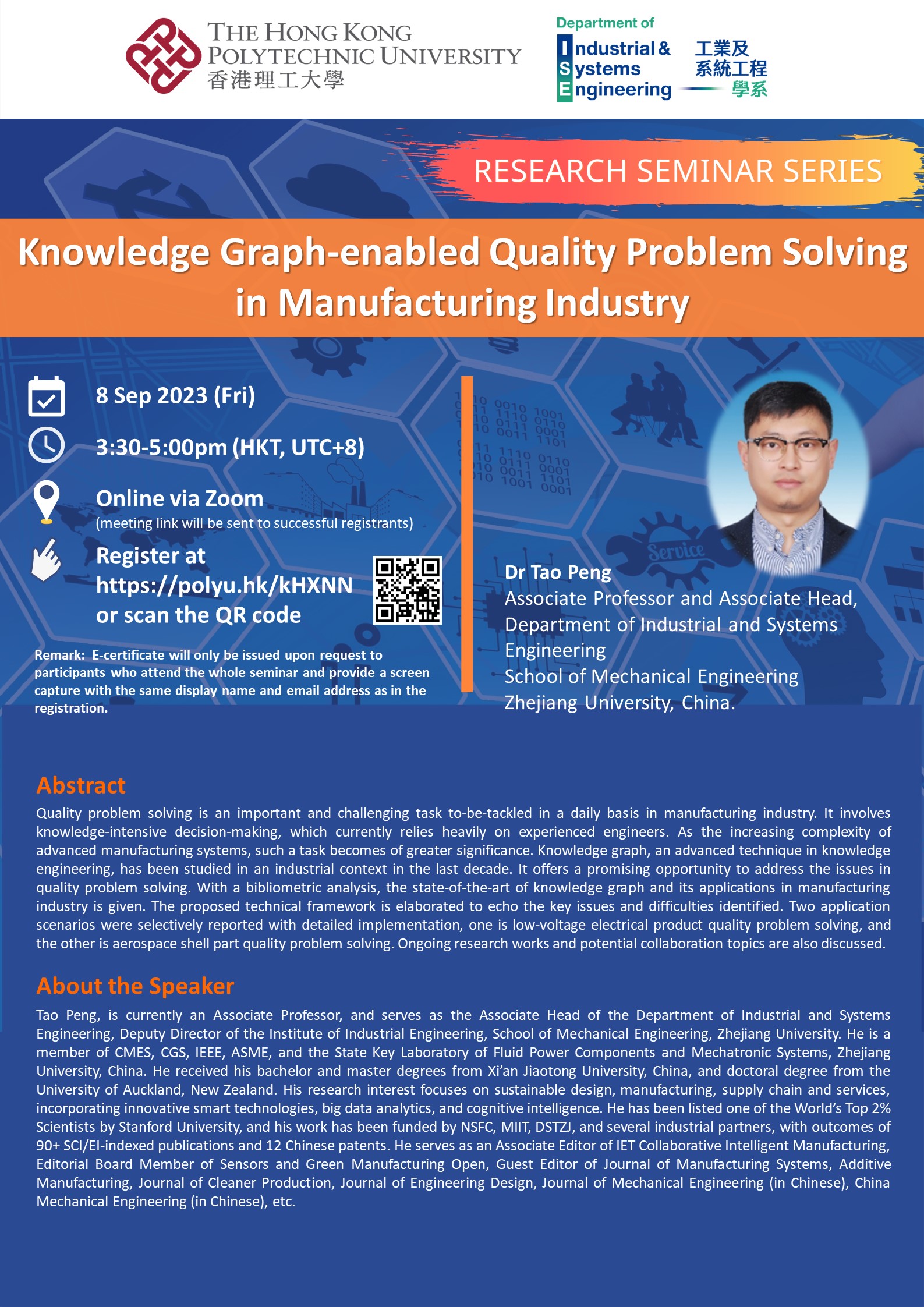 Summary
Quality problem solving is an important and challenging task to-be-tackled in a daily basis in manufacturing industry. It involves knowledge-intensive decision-making, which currently relies heavily on experienced engineers. As the increasing complexity of advanced manufacturing systems, such a task becomes of greater significance. Knowledge graph, an advanced technique in knowledge engineering, has been studied in an industrial context in the last decade. It offers a promising opportunity to address the issues in quality problem solving. With a bibliometric analysis, the state-of-the-art of knowledge graph and its applications in manufacturing industry is given. The proposed technical framework is elaborated to echo the key issues and difficulties identified. Two application scenarios were selectively reported with detailed implementation, one is low-voltage electrical product quality problem solving, and the other is aerospace shell part quality problem solving. Ongoing research works and potential collaboration topics are also discussed.
Keynote Speaker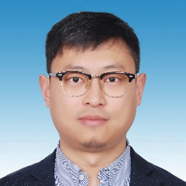 Dr Tao Peng
Associate Professor and Associate Head,
Department of Industrial and Systems Engineering
School of Mechanical Engineering 
Zhejiang University, China.
Tao Peng, is currently an Associate Professor, and serves as the Associate Head of the Department of Industrial and Systems Engineering, Deputy Director of the Institute of Industrial Engineering, School of Mechanical Engineering, Zhejiang University. He is a member of CMES, CGS, IEEE, ASME, and the State Key Laboratory of Fluid Power Components and Mechatronic Systems, Zhejiang University, China. He received his bachelor and master degrees from Xi'an Jiaotong University, China, and doctoral degree from the University of Auckland, New Zealand. His research interest focuses on sustainable design, manufacturing, supply chain and services, incorporating innovative smart technologies, big data analytics, and cognitive intelligence. He has been listed one of the World's Top 2% Scientists by Stanford University, and his work has been funded by NSFC, MIIT, DSTZJ, and several industrial partners, with outcomes of 90+ SCI/EI-indexed publications and 12 Chinese patents. He serves as an Associate Editor of IET Collaborative Intelligent Manufacturing, Editorial Board Member of Sensors and Green Manufacturing Open, Guest Editor of Journal of Manufacturing Systems, Additive Manufacturing, Journal of Cleaner Production, Journal of Engineering Design, Journal of Mechanical Engineering (in Chinese), China Mechanical Engineering (in Chinese), etc.