A Structural Estimation of Airport Ground Transportation Mode Choice Using Aggregate Data
Seminar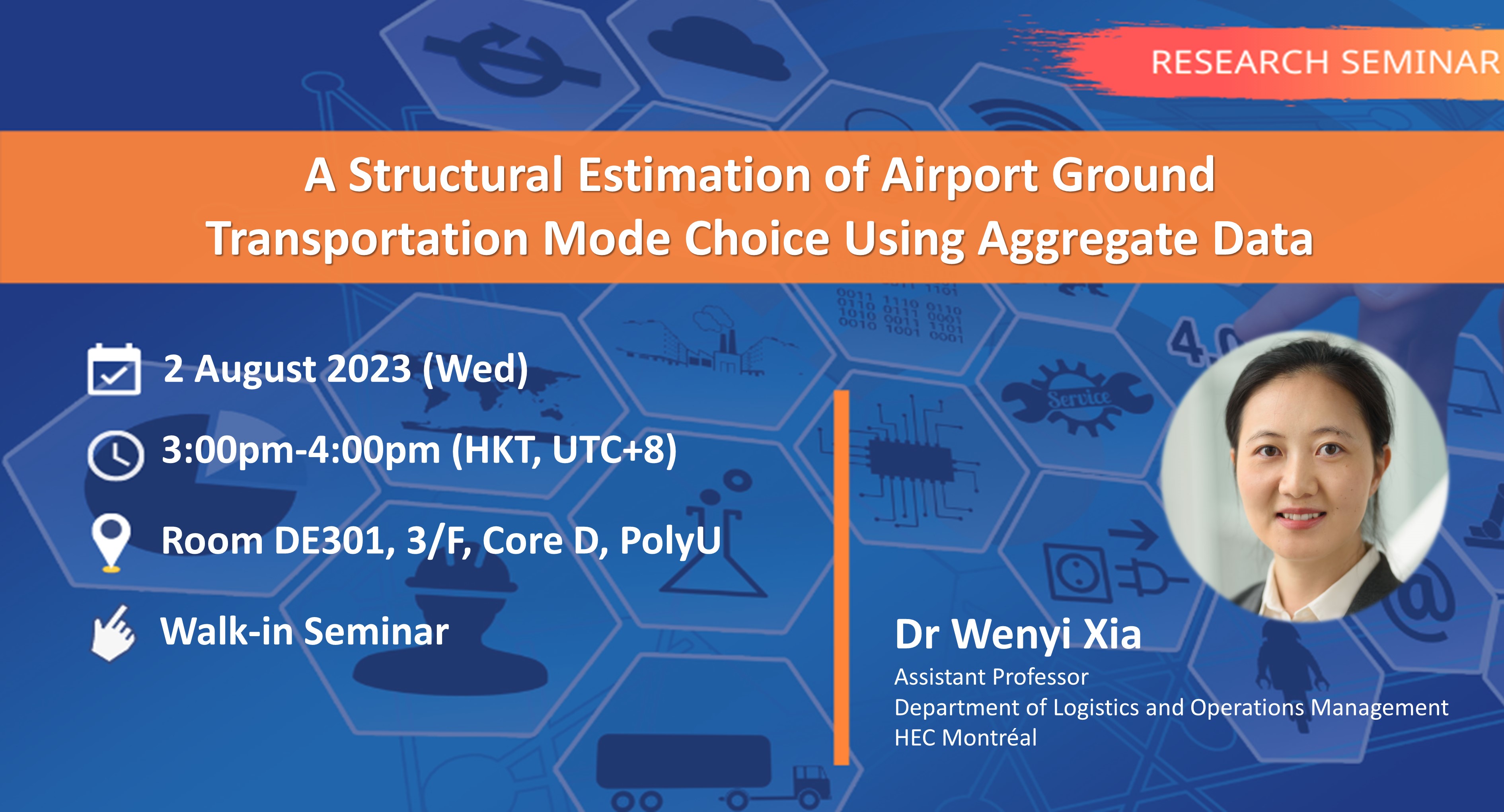 Organiser

Department of Industrial and Systems Engineering, PolyU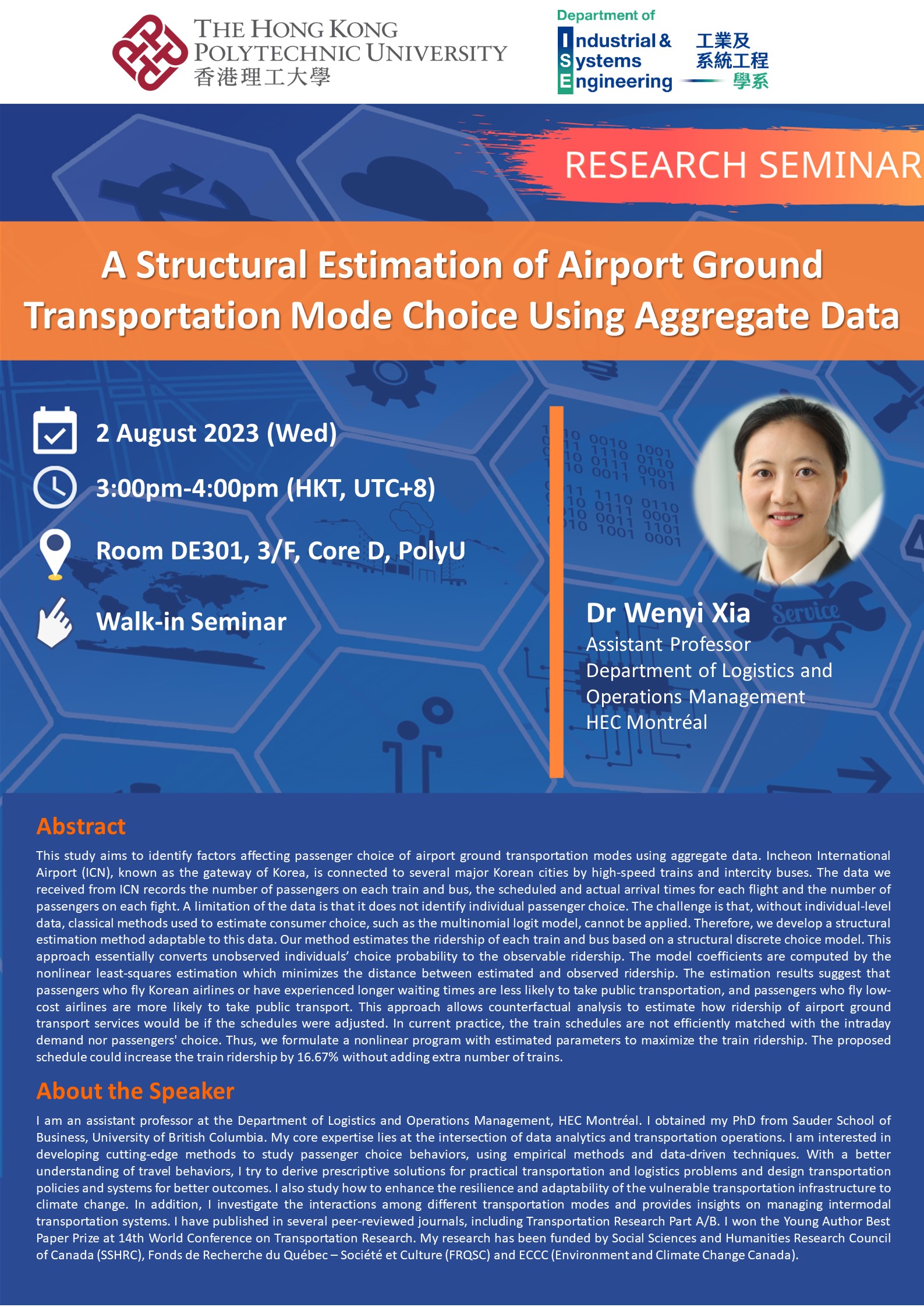 Summary
This study aims to identify factors affecting passenger choice of airport ground transportation modes using aggregate data. Incheon International Airport (ICN), known as the gateway of Korea, is connected to several major Korean cities by high-speed trains and intercity buses. The data we received from ICN records the number of passengers on each train and bus, the scheduled and actual arrival times for each flight and the number of passengers on each fight. A limitation of the data is that it does not identify individual passenger choice. The challenge is that, without individual-level data, classical methods used to estimate consumer choice, such as the multinomial logit model, cannot be applied. Therefore, we develop a structural estimation method adaptable to this data. Our method estimates the ridership of each train and bus based on a structural discrete choice model. This approach essentially converts unobserved individuals' choice probability to the observable ridership. The model coefficients are computed by the nonlinear least-squares estimation which minimizes the distance between estimated and observed ridership. The estimation results suggest that passengers who fly Korean airlines or have experienced longer waiting times are less likely to take public transportation, and passengers who fly low-cost airlines are more likely to take public transport. This approach allows counterfactual analysis to estimate how ridership of airport ground transport services would be if the schedules were adjusted. In current practice, the train schedules are not efficiently matched with the intraday demand nor passengers' choice. Thus, we formulate a nonlinear program with estimated parameters to maximize the train ridership. The proposed schedule could increase the train ridership by 16.67% without adding extra number of trains.
Keynote Speaker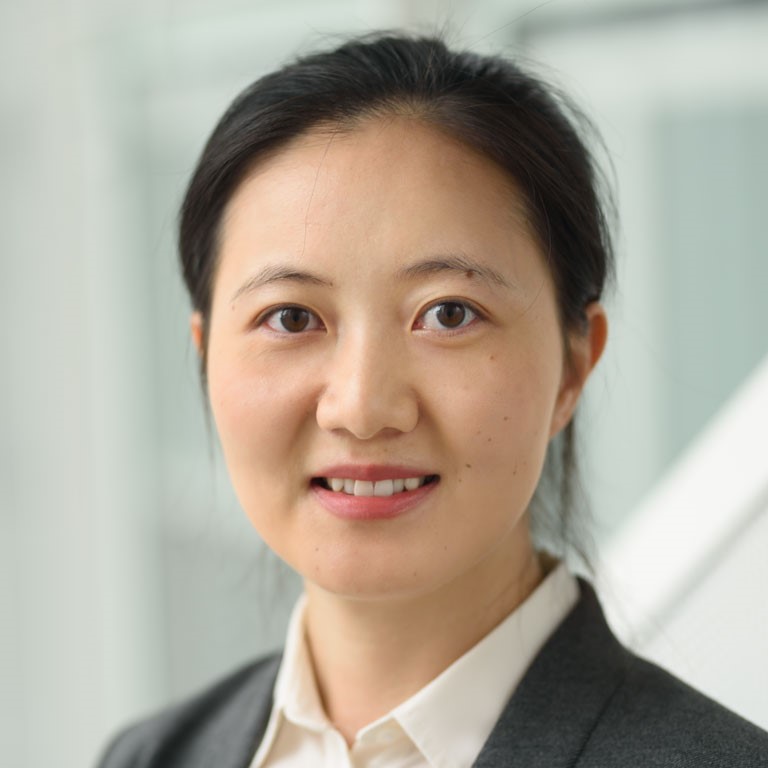 Dr Wenyi Xia
Assistant Professor
Department of Logistics and Operations Management
HEC Montréal
I am an assistant professor at the Department of Logistics and Operations Management, HEC Montréal. I obtained my PhD from Sauder School of Business, University of British Columbia. My core expertise lies at the intersection of data analytics and transportation operations. I am interested in developing cutting-edge methods to study passenger choice behaviors, using empirical methods and data-driven techniques. With a better understanding of travel behaviors, I try to derive prescriptive solutions for practical transportation and logistics problems and design transportation policies and systems for better outcomes. I also study how to enhance the resilience and adaptability of the vulnerable transportation infrastructure to climate change. In addition, I investigate the interactions among different transportation modes and provides insights on managing intermodal transportation systems. I have published in several peer-reviewed journals, including Transportation Research Part A/B. I won the Young Author Best Paper Prize at 14th World Conference on Transportation Research. My research has been funded by Social Sciences and Humanities Research Council of Canada (SSHRC), Fonds de Recherche du Québec – Société et Culture (FRQSC) and ECCC (Environment and Climate Change Canada).