---
The Department of Building Environment and Energy Engineering (BEEE) of The Hong Kong Polytechnic University (PolyU) is pleased to report that BE Research Group, led by our Chair Professor, Ir Professor Niu Jianlei as the Project Coordinator and with Prof. Cheuk-ming Mak and Dr Ruoyu You as Co-PI, was awarded $34.6 million by the RGC Theme-based Research Scheme 2021/22 for a project entitled "Healthy and Resilient City with Pervasive LoCHs."

The project aims to create localized outdoor comfort places/hubs (LoCHs) in the urban environment by employing a scientific microclimate design methodology based on advanced modelling and simulation of wind, heat, and moisture in the early stages of building design and planning, with the help of artificial intelligence in optimisation. The project team consists of 10 other researchers from various disciplines of PolyU and other local universities, including Dr Zheng Tan of the Department of Building and Real Estate (BRE), Prof. John Shi of the Department of Land Surveying and Geo-Informatics (LSGI), and Dr Ting-kei Pong of the Department of Applied Mathematics. The research team also includes 10 researchers from 8 overseas universities, and 2 collaborators respectively from the estate developer and software developer. The team looks forward to working with other stakeholders from the relevant government departments and estate development industry to speed up the application of the research results.

This is the 2nd project in the department to be supported by the prestigious TRS scheme. The previously awarded project was led by Prof. Asif Usmani, Head of BEEE.

The Department would like to congratulate Prof. Niu and his team on the excellent achievement. We wish them continued success.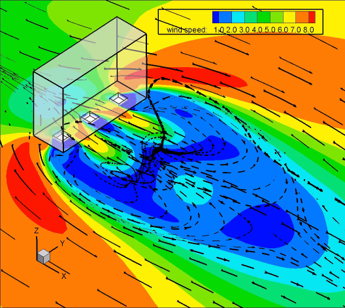 Urban wind and microclimate modelling.
Simulation based optimization
---