Fire & Safety Engineering
With the rapid increase in population in Asia, especially the development of big cities and city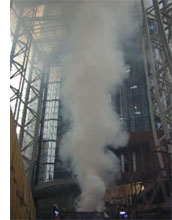 groups in China, and the increasing number of fire events, fire safety in dense urban areas has to be considered carefully. Big accidental fires had happened before in old high-rise buildings, tunnels, and many vital infrastructures, such as the fire in the World Trade Center induced by the 9-11 terrorist attack, the London Grenfell Tower fire on the façade, and the Tianjin port explosion. Today, the cost of fire on society is estimated at 1-2% of global GDP per year on average, and the cost is likely to be higher for industrialised regions. Fire safety should be examined carefully in new architectural features with deep-plan, high-rise, well-sealed structures, and underground spaces.
The overall aim of fire and safety engineering research in PolyU is to develop a scientific understanding of building fires and establish an adequate theoretical basis for fire protection engineering for the world. This includes the physical and chemical processes of material flammability, fire dynamics, heat transfer, fire engineering design, wildland fires, smoke spread patterns, and smart firefighting. With sound basic principles, the total fire safety concept can be implemented by smart fire safety design, advanced building fire protection systems, and new strategies of fire safety management and firefighting.
Research Focus
Smart firefighting.
As part of the smart city blueprint, we propose a smart fighting system (SureFire) that can achieve Super real-time forecast (SuRF) for complex building fire evolu
tion. The SureFire System adopts artificial intelligence (AI) and complex data generating networks that enable real-time monitoring of the evolution of urban environments and hazards. Proper analysis of this data based on artificial intelligence can deliver information that continuously determines the state and evolution of systems and diagnoses emergent pathologies, and support decision making. Here, we gathered a multi-disciplinary team with leading local and international researchers and research laboratories, government agencies, and multiple high-tech companies to find answers to the fundamental research questions required to develop the foundational technology for a smart firefighting system that takes advantage of the rapidly evolving technology landscape of cyber-physical systems. Implementation of such a system for smart firefighting will help Hong Kong achieve the status of the world's leading smart city.
Specialist Facilities
The Department laboratory houses three fire chambers (two 4 m x 3 m x 3 m and one 6 m x 3 m x 3 m) for full-scale burning tests. The chambers are equipped with detection instruments such as thermocouples, velocity sensors, oxygen analysers and gas analysers for measuring the heat release rates and fire environment. Fire protection systems including sprinkler systems, water mist systems, fire detection systems and smoke extraction systems are installed for studying system performance. A cone calorimeter is used for studying the heat release rates of building materials under controlled environment. Standard fire tests on materials, for the ease of ignitability, fire propagation index and the critical oxygen index flammability, etc., can be undertaken. Small wind tunnels for evaluating the thermal sensitivities of sprinkler heads and fire detectors are also available. Oxygen consumption calorimetry was developed with Harbin Engineering University, Harbin, Heilongjiang, China. A full-scale burning atrium of size (18 m x 12 m x 27 m) was developed at the State Key Laboratory of Fire Science, the University of Science and Technology of China, Hefei, Anhui, China.
Current Projects
Active fire protection in supertall buildings funded by the Croucher Foundation
Pyrolysis, ignition and combustion of different combustibles in buildings
Polymer-flame retardation in silicon/metal halide doped polymers
Thermal decomposition and combustion characteristics of polymeric materials under water mist application
Chemical kinetics of pyrolysis and combustion of combustibles for fire safe buildings
Theoretical analysis on buoyancy-induced turbulence encountered in building services engineering
Experimental studies on atrium fires and evaluation of the associated fire services system
Fire safety in train vehicles
Studies on the operation mode of selected environmentally clean fire extinguishments
Determination of the concentrations needed for extinguishing fires with clean agent heptafluoropropane (FM-200)
Fire safety for glass facades in #A23360 and sustainable buildings
The skybridge as an evacuation option for tall buildings in Hong Kong
Onsetting of internal fire whirls in buildings and associated safety provisions
Smoke emission in burning fire resisting glass with higher rating
Collaboration with University of Maryland on tunnel fires
Emergency evacuation in big halls and railway terminals
Fire safety in #A23360 or sustainable buildings
Risk analysis of escape time from residential buildings in Hong Kong
Fire safety in the residential care homes for the elderly persons in Hong Kong