Faculty of Health and Social Sciences
CREDIT REQUIRED
132 (including 23 clinical/field credits)
FUND TYPE
Government-Funded
Students will be awarded the following degree upon completion of the graduation requirements:
BSc (Hons) in Physiotherapy
Application Deadline
Non-JUPAS Year 1
2024-02-06
International / Other Qualification
2024-02-06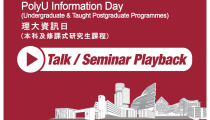 Talk / Seminar Playback is now ready
About Programme
Specific Notes
How to Apply
Aims & Characteristics
Programme Aims & Learning Outcomes
This programme aims to nurture professionals who can provide physiotherapy services that promote their clients' health and meet society's health-care needs. Our graduates have the knowledge, skills and professional attitudes required to practise physiotherapy reliably, ethically and effectively. They are also lifelong learners and active consumers of professional and scientific literature, which enables them to develop professionally through continuing education and by participating in investigative and evaluative projects. Their sense of social and professional responsibility is further reflected in their efforts to educate clients, the public and the next generation of therapists.
Programme Characteristics
The Physiotherapy curriculum is forward-looking with a strong scientific base. Clinical and university-based education are integrated using the latest teaching and learning resources.
Placement Opportunities
The Department trains students to develop global perspectives and actively encourages them to seize opportunities to experience life overseas. The Department also fully supports students who undertake exchanges for clinical placements. Year Three and Four students can undertake five-week clinical placements at universities internationally. In previous years, placements have been organised at universities in Australia, Canada, Denmark, Finland, Taiwan, Thailand, Sweden, Switzerland and the USA.
Recognition & Prospects
Professional Recognition
Graduate physiotherapists are eligible to register with the Physiotherapists Board of Hong Kong.
Career Prospects
Our graduates have a high rate of employment and a wide range of career options, from positions in acute care hospitals, special schools, homes for the elderly to community settings and private practices.
Physiotherapists can specialise, assume managerial positions or become involved in clinical education and research. Opportunities are also available for higher degree studies, such as MSc, MPhil or PhD programmes.
Graduates fulfil the normal entry requirements for the position of Physiotherapist II for the Hospital Authority, private organisations (e.g. private hospitals, private clinics, nursing homes and homes for the elderly), the Department of Health, the Education Bureau (i.e. special schools, early education and training centres), subvented non-governmental organisations and the Social Welfare Department (e.g. community centres, sheltered workshops and special childcare centres).
Curriculum
This is a four-year full-time programme that involves university-based study and clinical education. The programme comprises four main groups of subjects: basic sciences, professional studies, clinical education and the university core curriculum. Clinical education is provided in the form of clinical placements in hospitals, rehabilitation centres, special schools and institutions for the elderly. Students can also choose to take a Minor programme or free electives, according to their needs, aspirations and abilities.
Information on the subjects offered can be obtained at www.rs.polyu.edu.hk.
Entrance Requirements and Subject Weightings
Preferred Subjects with the Highest Weighting Caption
There is no compulsory subject requirement. Preferred subject(s) with the highest weighting for admission score calculation include(s):
Preferred Subjects with the Highest Weighting
Chinese Language
English Language
Biology
Physics
Combined Science: Biology + Physics
Other Information
Other Information
Preference is given to applicants who are able to communicate effectively in Chinese (i.e. spoken Cantonese) and English.
Applicants with good results in science subjects (Biology and/or Physics) are preferred.
Applicants should be fit within the normal range in fulfilling the physical requirements of physiotherapy practice.
Admission Score Calculation Mechanism for the Current Admission Exercise
Any Best 5 Subjects
Average HKDSE Scores of Admittees
Enquiries
For further programme information, please contact
the General Office (tel.: 2766 5399/2766 6719; email: rsdept@polyu.edu.hk).