Faculty of Health and Social Sciences
CREDIT REQUIRED
115 (plus 26 clinical/field credits)
FUND TYPE
Government-Funded
Students will be awarded the following upon successful completion of the graduation requirements:
BSc (Hons) in Radiography
Application Deadline
Non-JUPAS Year 1
2024-02-06
International / Other Qualification
2024-02-06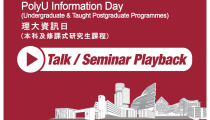 Talk / Seminar Playback is now ready
About Programme
Specific Notes
How to Apply
Aims & Characteristics
Programme Aims & Learning Outcomes
We provide a challenging and relevant education in radiography that encompasses medical imaging and radiation therapy.
An enquiring, analytical and creative approach to learning is encouraged so that students develop the clinical reasoning skills that they need to become competent and responsible professionals.
Our programme produces ethical and caring practitioners who are keen to pursue professional development and take on wider community responsibilities.
Our student-centred learning approach encourages independence in learning, enabling our graduates to keep abreast of developments in a dynamic profession.
Programme Characteristics
This programme comprises academic and clinical components.
Collaborations with universities in the Chinese mainland and overseas provide student exchange opportunities.
Recognition & Prospects
Professional Recognition
Graduates are eligible for registration in Part Two of the Register of the Radiographers Board of Hong Kong. They are also recognised by many overseas registration bodies, including those in the UK, Singapore, New Zealand and Australia (after gaining 1 year of clinical experience).
Career Prospects
Our graduates can find employment with the Hospital Authority, which recognises the degree as an entry qualification.
Employment opportunities are also available in private hospitals, in clinics and laboratories, and in the commercial sector. As the degree is recognised in many countries, many of our graduates take up employment in Australia, Canada, the UK, New Zealand and Singapore.
Postgraduate study opportunities are available in Hong Kong and overseas.
Curriculum
Year 1 establishes a foundation for degree-level education in relevant subject areas and develops the generic attributes required of graduates.

Year 2 provides the basis for gaining professional knowledge in the following years. It incorporates a range of professionally related Foundation Subjects and has a strong student-centred learning format.

Years 3 and 4 deepen students' learning of professional knowledge and integrate academic learning with applied clinical experience.

In Year 2, students can choose a concentration in medical imaging or radiation therapy. This continues into Year 4, which also provides a range of Elective Subject options for the continuous development of students' learning.
Information on the subjects offered can be obtained here.
Entrance Requirements and Subject Weightings
Preferred Subjects with the Highest Weighting Caption
There is no compulsory subject requirement. Preferred subject(s) with the highest weighting for admission score calculation include(s):
Preferred Subjects with the Highest Weighting
Chinese Language
English Language
Mathematics
Biology
Chemistry
Physics
Combined Science: Biology + Chemistry
Combined Science: Biology + Physics
Combined Science: Physics + Chemistry
Other Information
Other Information
Normal colour vision is not one of the admission criteria, but applicants should note that normal colour vision may be required for employment in the radiation therapy sector. Proficiency in Cantonese is also not an admission criterion; however, during clinical training, students in the radiation therapy stream often need to communicate with patients in Cantonese.
Admission Score Calculation Mechanism for the Current Admission Exercise
Any Best 5 Subjects
Average HKDSE Scores of Admittees
Enquiries
For further programme information, please contact
the General Office (tel.: 3400 8579; email: hti.dept@polyu.edu.hk).
No information is available at present.
Additional Documents Required
Interview Arrangement
Aims
To ascertain the suitability of applicants for the programme.
Date of Interview
December to June
Mode
Individual interview
Remarks
Suitable applicants may be invited to interviews.
Non-Local
International / Other Qualification
Additional Documents Required
Employer's Recommendation