Bio-inspired Monocular Vision and Control for Autonomous Micro Air Vehicles
Seminar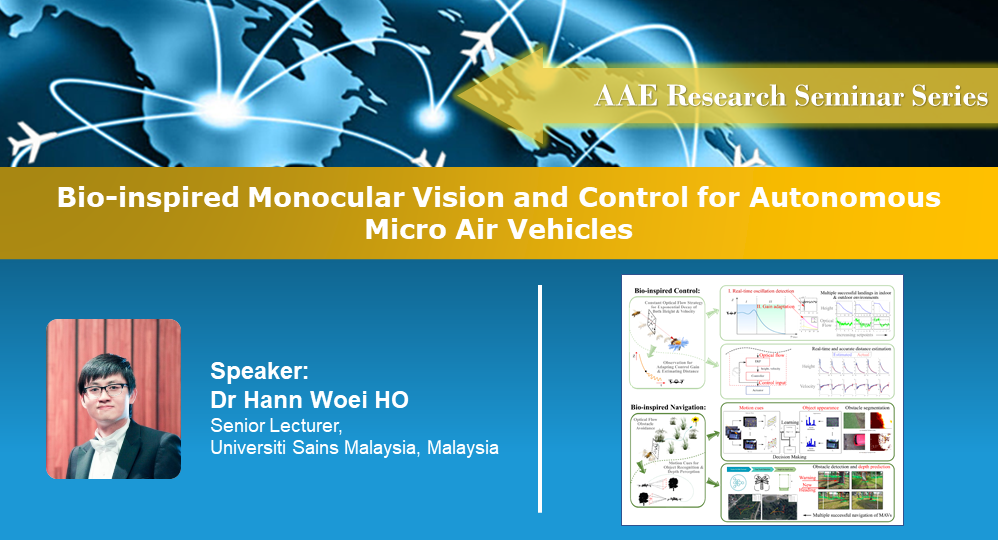 Organiser

Department of Aeronautical and Aviation Engineering
Summary
Abstract
With limited neural and sensory resources, flying insects demonstrate a remarkable ability to perform landing and navigate in obstacle-dense environments. Optical flow has been identified as the primary visual cue that governs the success of insect flight. Leveraging optical flow-based guidance and control strategies, Dr Ho aims to develop efficient control and navigation solutions for Micro Air Vehicles (MAVs), which are constrained in terms of payload and processing capability. However, optical flow is known to provide only the ratio of velocity to distance, but not either one independently. This inherent nonlinearity of optical flow has imposed enormous challenges in the controller design. Moreover, interpreting sparse optical flow information obtained from a single camera to discern flow patterns adds further complexity. 
In light of these challenges, this seminar will present several novel methods for MAV landing and navigation that primarily rely on optical flow. An adaptive control strategy has been developed to successfully implement the bio-inspired constant optical flow landing on MAVs, enabling both height and velocity to decay exponentially and smoothly to zero at nearly the same time. Based on the discovery of the distance-dependent closed-loop dynamics of optical flow control, an extended Kalman filter has been formulated with the knowledge of the control input and observed optical flow to estimate the distance and velocity of MAVs. This information has also been integrated into a deep learning framework for the effective navigation of MAVs in obstacle-dense environments. Attempting to go beyond optical flow approaches for tackling navigation tasks, a self-supervised learning setup has been introduced, in which optical flow cues serve as a scaffold to learn the visual appearance of obstacles in the environment, allowing the detection of obstacles by just analysing still images. All the proposed methods have been successfully demonstrated in real-world flight.
Speaker
Dr Hann Woei Ho received his BEng degree in Aerospace Engineering (gold medal) from Universiti Sains Malaysia (USM), Malaysia in 2009 and MSc degree in Aerospace Engineering (cum laude/distinction), specialized in Control and Simulation from Delft University of Technology (TU Delft), the Netherlands in 2012. He obtained his PhD degree in Aerospace Engineering at the Micro Air Vehicle lab (MAV-lab) of TU Delft in 2017, with the topic of Autonomous Landing of Micro Air Vehicles Through Bio-inspired Monocular Vision. Currently, he is a Senior Lecturer and UAV Lab Manager at the School of Aerospace Engineering of USM, and a Guest Researcher at the Faculty of Aerospace Engineering of TU Delft. His research interests include bio-inspired vision and control, machine learning, advanced flight control, Micro Air Vehicle (MAV) design, and swarm. Most of his research outcomes combine both theoretical and practical perspectives to create autonomous MAVs, which are extremely challenging, yielding numerous publications as the first/corresponding author, including IEEE Transactions on Robotics (T-RO), Aerospace Science and Technology (AESCTE), Robotics and Autonomous Systems (RAS), Robotics: Science and Systems (RSS), IEEE/RSJ International Conference on Intelligent Robots and Systems (IROS), and other prestigious journals. He has successfully secured several highly competitive national grants and has been awarded various prizes in both national and international conferences and competitions.