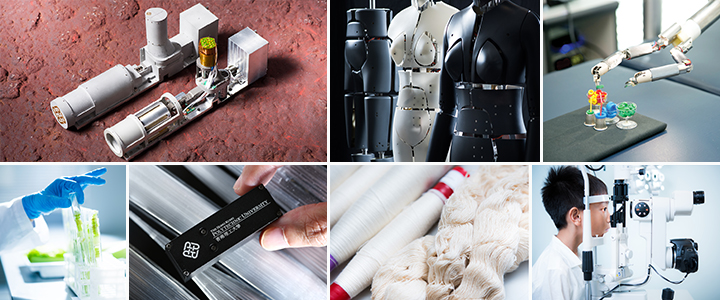 With a strategic emphasis on applied research, the University firmly believes that research is an integral part of academic life on campus. It informs teaching and advances the frontiers of knowledge and technology, thus contributing to enhancing the competitiveness of business and industry and to Hong Kong's move towards a knowledge-based economy.
Funding for Research
In addition to receiving funds allocated by the University, academics at PolyU applied for funding from external sources, either through competitive or non-competitive means, for their research projects in 2015/16. Total funding during the year amounted to HK$2,540 million in support of over 3,600 projects undertaken by more than 840 academic staff and around 1,450 research personnel.
More details on our research activities are available from the website of our Research Office.
Research excellence in PolyU
At PolyU, we have a long-established innovative research culture. Our innovations are meant to meet the practical needs of our community, our country and our world. PolyU Research Committee, a Committee of the Senate, is responsible for, amongst other things, developing research and research-degree policies, regulations and procedures; allocating research funds; and monitoring the progress and quality of research. Nominated Faculty staff are appointed as members of this committee for a fixed term of office.
Terms of Reference
To be responsible to the Senate for matters pertaining to research and research degrees.
To develop research and research-degree policy, regulations and procedures for approval by Senate and to oversee their implementation.
To confirm examination results and awards for research degrees.
To allocate research studentships and research funding to Departments and Faculties.
To monitor the progress and quality of research and research-degree activities, with the support of Faculty Research Committees, School Research Committees and Departmental Research Committees.
To monitor support services provided for research staff and research students.
To submit an annual report to Senate covering the Committee's activities for the previous 12 months from 1st July to 30th June.